Skip to content
Skip to navigation menu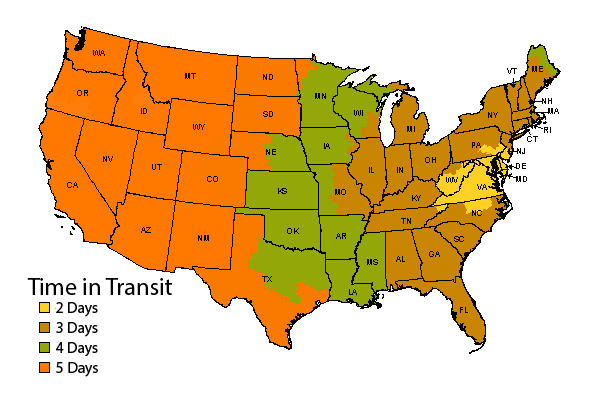 Delivery time estimates do not apply to personalized, large or heavy items (over 20lbs.) that require special shipping, items shipped directly from the manufacturer, or out-of-stock items.
Delivery estimates only apply to the contiguous United States. Saturday, Sunday and national holidays are not considered business days for these estimated transit days.
Tomatoes 101: The Basics for Beginners
"It's difficult to think anything but pleasant thoughts while eating a homegrown tomato."
— Lewis Grizzard
You say to-may-to, I say to-mah-to...two ways to say it, endless ways to be enjoyed! Lewis Grizzard's quote is a challenging statement to find fault in. Most, if not all, veggies taste better when grown by one's own hand, but few gastronomical experiences differ as much from store-bought to homegrown as the tomato.
Slice up a huge, juicy Beefsteak tomato to be the star of the show on any number of sandwiches. Add a beautiful and flavorful heirloom tomato to the culinary masterpiece that is caprese salad. Let the Roma tomato do the heavy lifting as a base for the refreshing summer headliner that is gazpacho.
Tomatoes are the star veggie of the summer months; juicy, delicious, and incredibly versatile. They are also surprisingly easy to grow! There are seemingly endless varieties to explore, and many adapt well to different planting methods. This allows for a bountiful harvest in almost any type or size of garden setup, from pots, to planters, to full sized gardens. Follow this guide to get started on your own tomato journey.
---
Know Before You Grow...
Your Tomato!
Not all tomato plants are the same, and different varieties will require different methods of care. It is important to know what you are working with before you begin so you can be sure you are using the correct kind of planter, and that you're ready come harvest time.
Determinate Tomato
This kind of tomato plant grows more as a bush and to a fixed size. Determinate tomatoes produce a single crop that all ripen within a short period of time. Typically, determinate tomato plants die after harvest, but there are some varieties that can produce a second, smaller crop. Even though more compact, this variety still benefits from structural support.
Indeterminate Tomato
This is the more common tomato variety and likely the one you will start with. Indeterminate tomatoes grow as vines continually throughout the season and set fruit over a longer timeframe, usually until the first frost. Because these tomatoes grow on vines, the plants will require some sort of trellis, cage, stake or other support.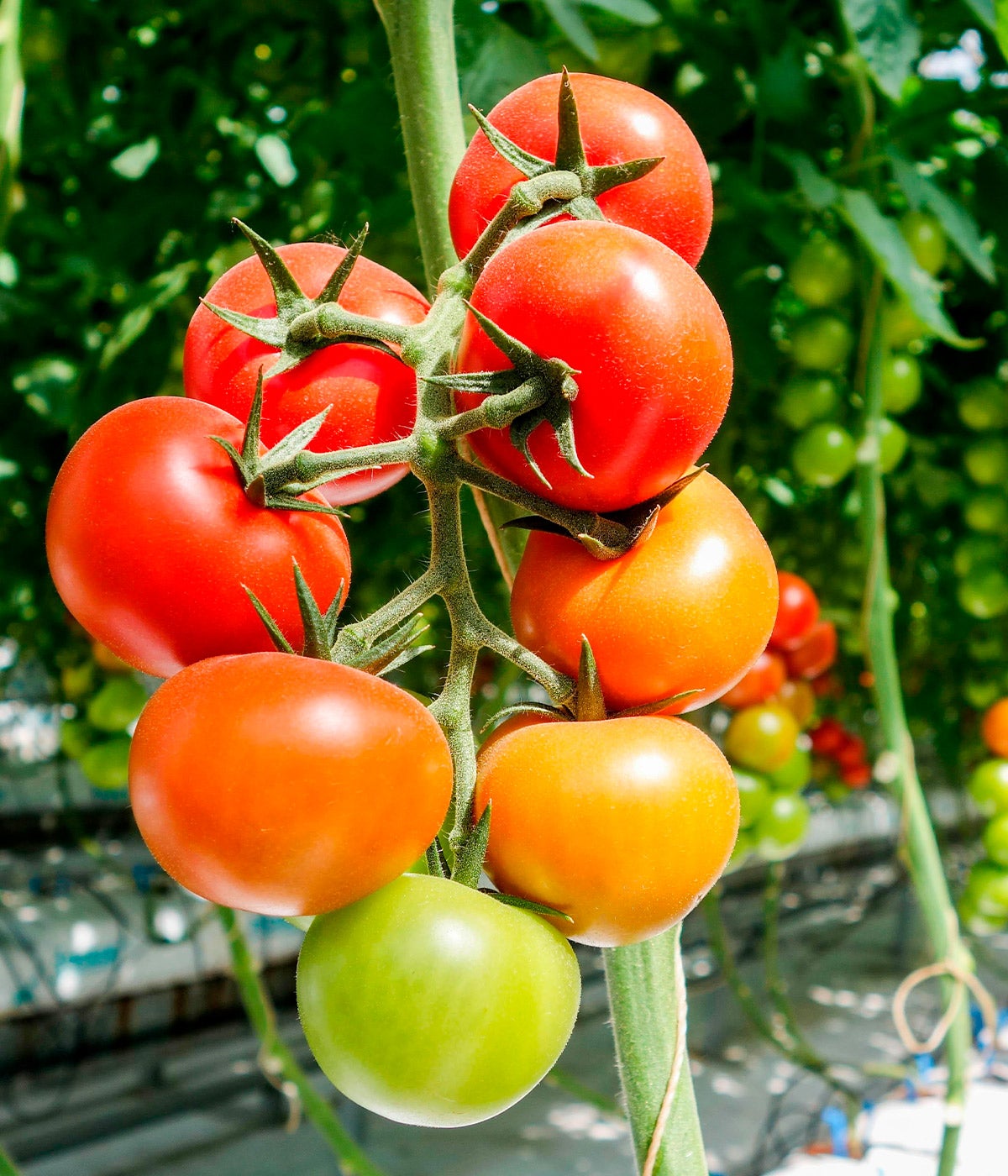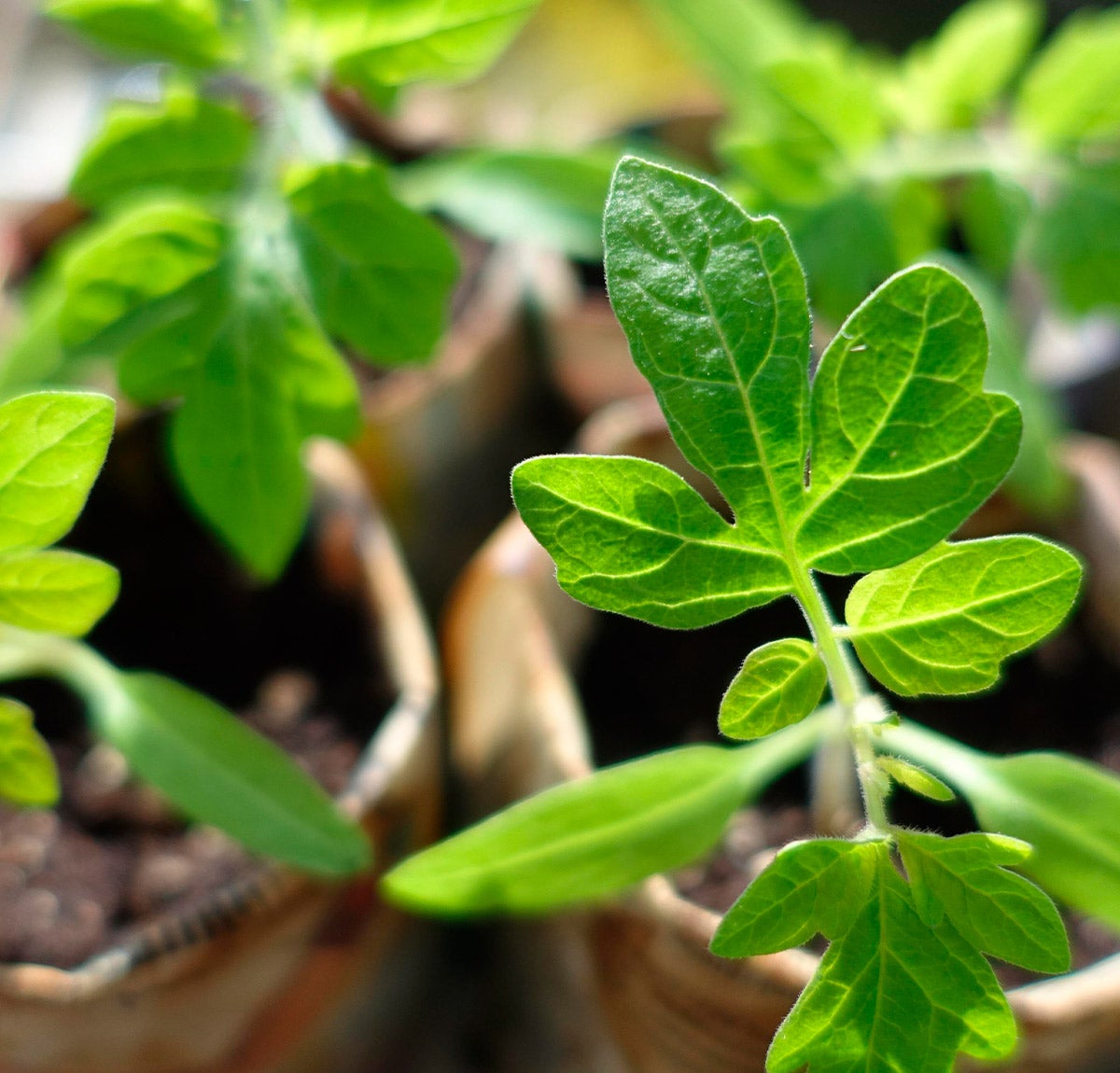 Transplanting – Skip the Seeds
and Jump Right In
What to look for when purchasing
your plants
The easiest way to begin growing tomatoes is to use plants that have already started to grow. These plants are readily available at your local nursery and most home improvement stores. You will want to look for short, stocky plants with a dark green color. It is easy to go for the tallest plant in the bunch but avoid doing this. You also want to avoid plants with leaves that are yellow in color or that have any spots, flowers or fruits already starting to form.
You have your plant; where should it go?
Your tomato plants should be in full sunlight with 8-10 hours of direct sunlight preferred. Using planters is a great way to grow tomatoes, because they allow you to ensure great soil quality and they can also be moved if needed to get the most sunlight.
Your location is perfect! Now what
do you do?
You will want to use a pot or planter that is at least 20" in diameter with drainage holes in the bottom. Use loose, well-draining soil or potting mix.
You will want to dig a hole about 1 foot deep. Place the root ball deep enough so the leaves are just above the surface (you can even bury some of the leaves). Place your tomato plants about 2-3 feet apart, or in separate pots. Water the plants well and do your best to water in the morning, keeping the soil moist through the day. Try to avoid watering in the evening.
Active Gardening
Tomatoes are easy to grow, but they still require a little more than sunlight and water. With vining tomatoes, you will want to pinch off new, tiny stems and leaves between the branches and the main stem. This helps your plant direct its energy toward producing more fruit, rather than producing more foliage.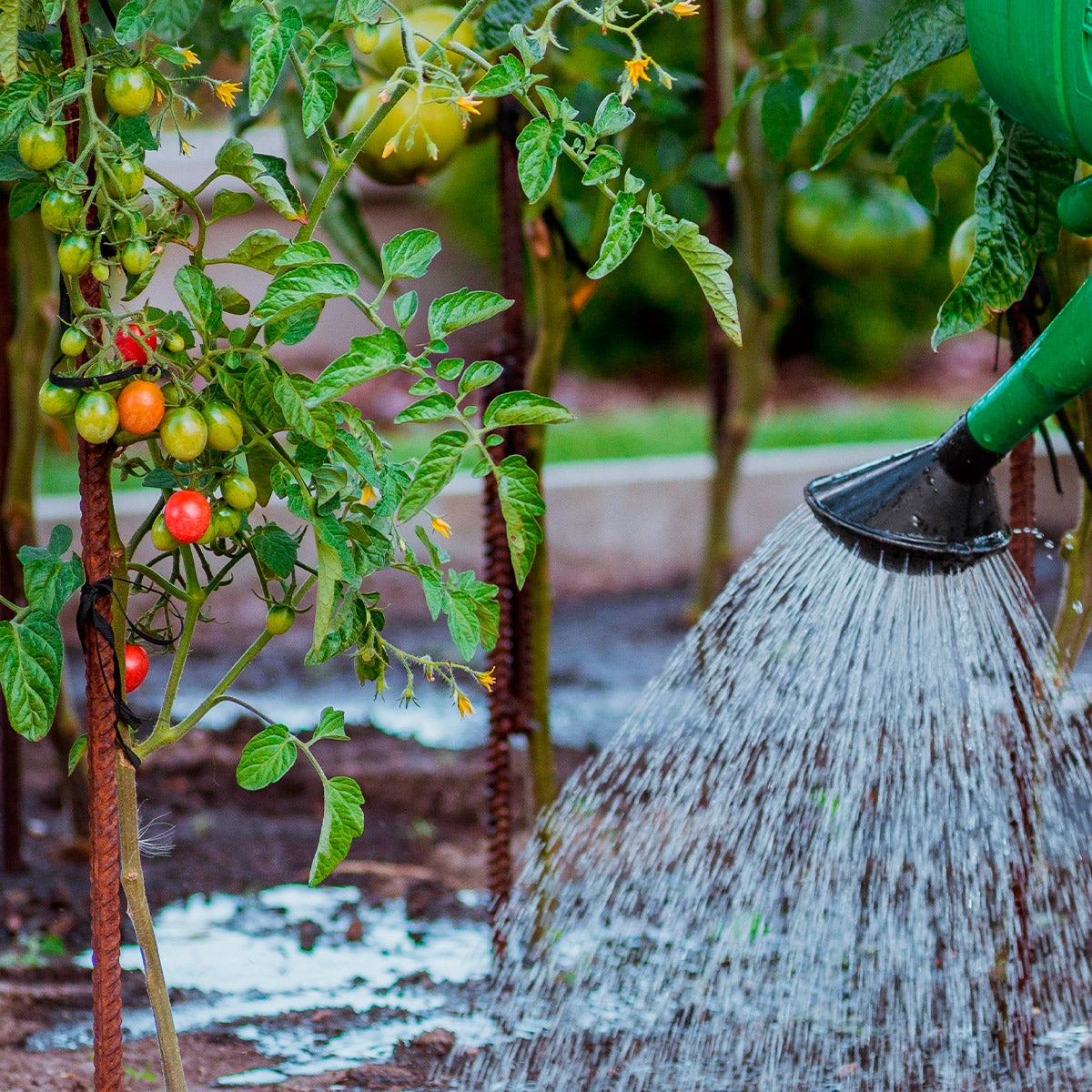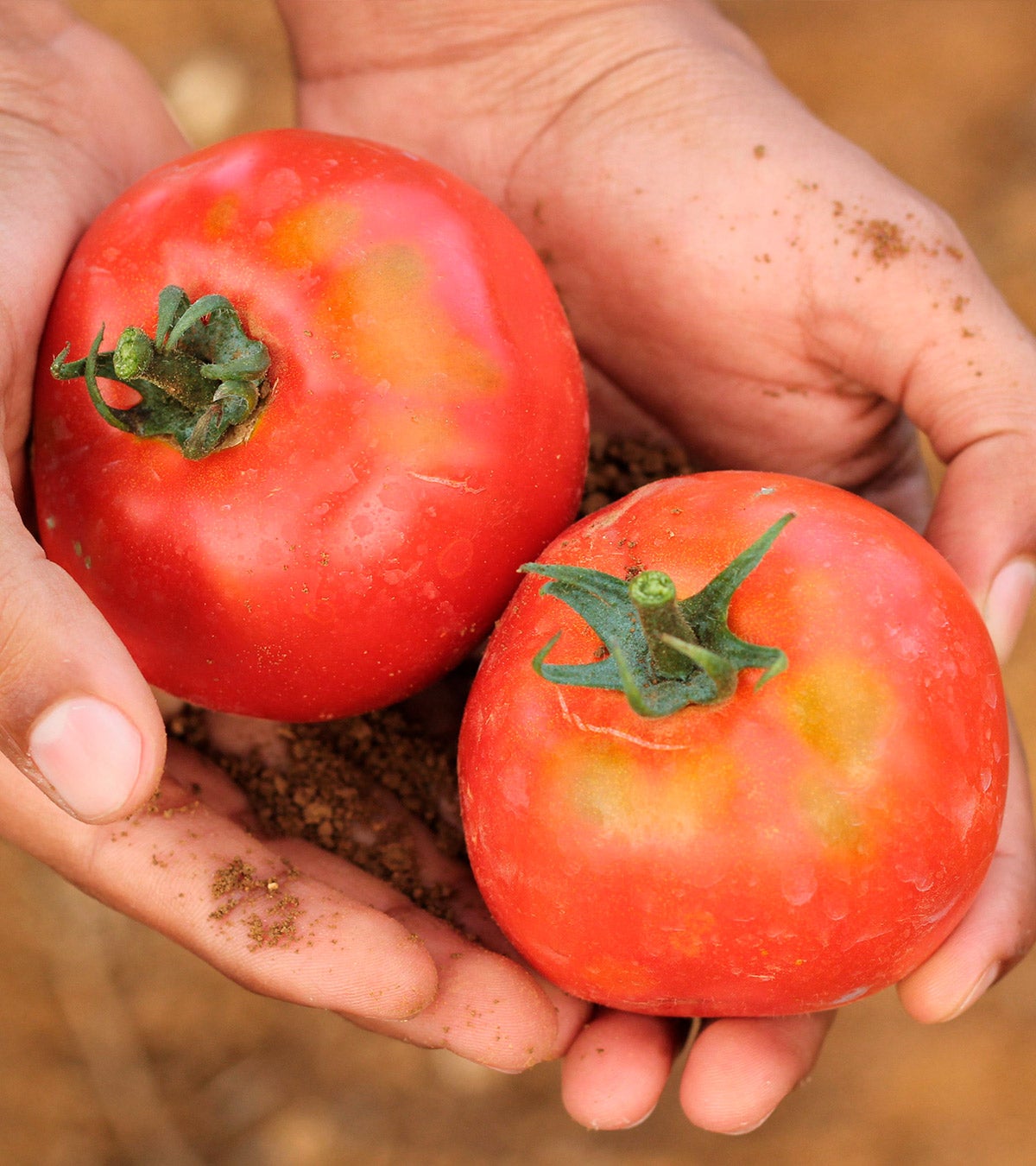 Harvesting: What we've all been waiting for!
The best time to pick your tomatoes will vary from one plant to another and may require some trial and error. Tomatoes left on the vine to ripen will be the sweetest and most flavorful, but this may come at a cost to the health of the plant. The longer a tomato sits on the vine, the heavier it becomes, weighing down the plant and leading to damage to the fruit. For heavier varieties, it is best to pick just as the first flush of red color becomes visible. You will want to pick the fruit just above the stem or calyx.
What do I do with all these tomatoes?
Now that you have planted, watered, pruned, cared for and harvested your tomatoes, it's time to enjoy the literal fruits of your labor! Below you will find some excellent recipes that really showcase the character and flavor of your homegrown tomatoes.
Try canning or dehydrating tomatoes for long term storage. You can also share your bounty because everyone loves homegrown tomatoes. Store freshly picked tomatoes by placing them in layers between newspapers in a basket, crate or cardboard box. This method helps control the ripening process that occurs even after the tomatoes are picked.
Now for the Main Event!
Making great food with homegrown tomatoes is really about growing the tomatoes in the first place. The best dishes will let the tangy, sweet, juicy goodness of the tomato shine. You have already put in the work growing your tomatoes, so these dishes are easy and delicious and will take care of your excess tomatoes in no time at all!
Caprese Salad
This classic recipe is a real crowd-pleaser and really showcases the flavor of the tomatoes you worked so hard to grow! First, slice some fresh mozzarella and tomatoes. Assemble the tomatoes, mozzarella in alternating layers, and then tuck in loads of fresh basil leaves. This is the traditional serving style, but you can combine them however you'd like (try cherry tomatoes and bite-size mozzarella on skewers). Finally, drizzle the salad with some good balsamic vinegar and high-quality, extra-virgin olive oil. A little salt and pepper, and you're done!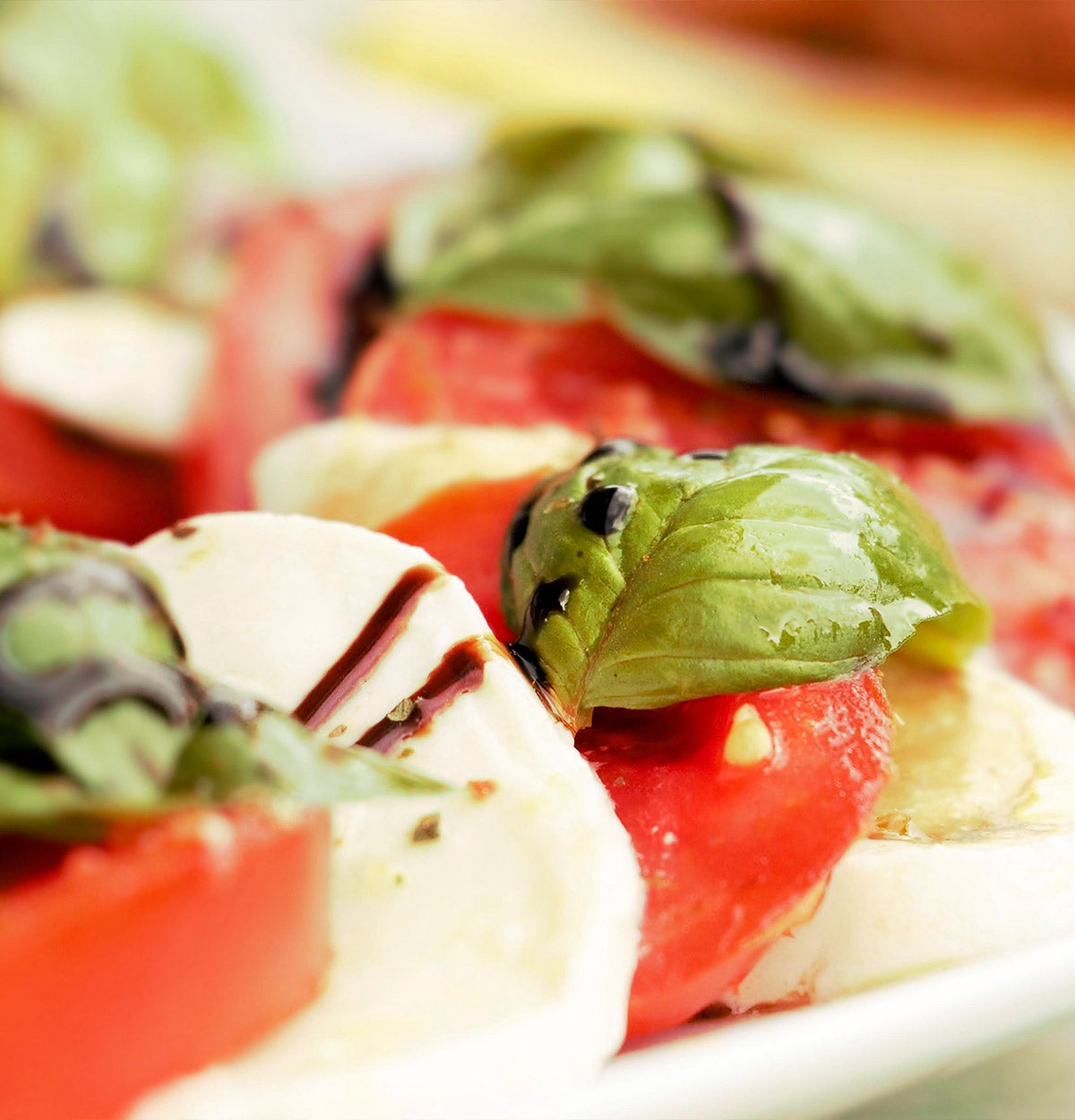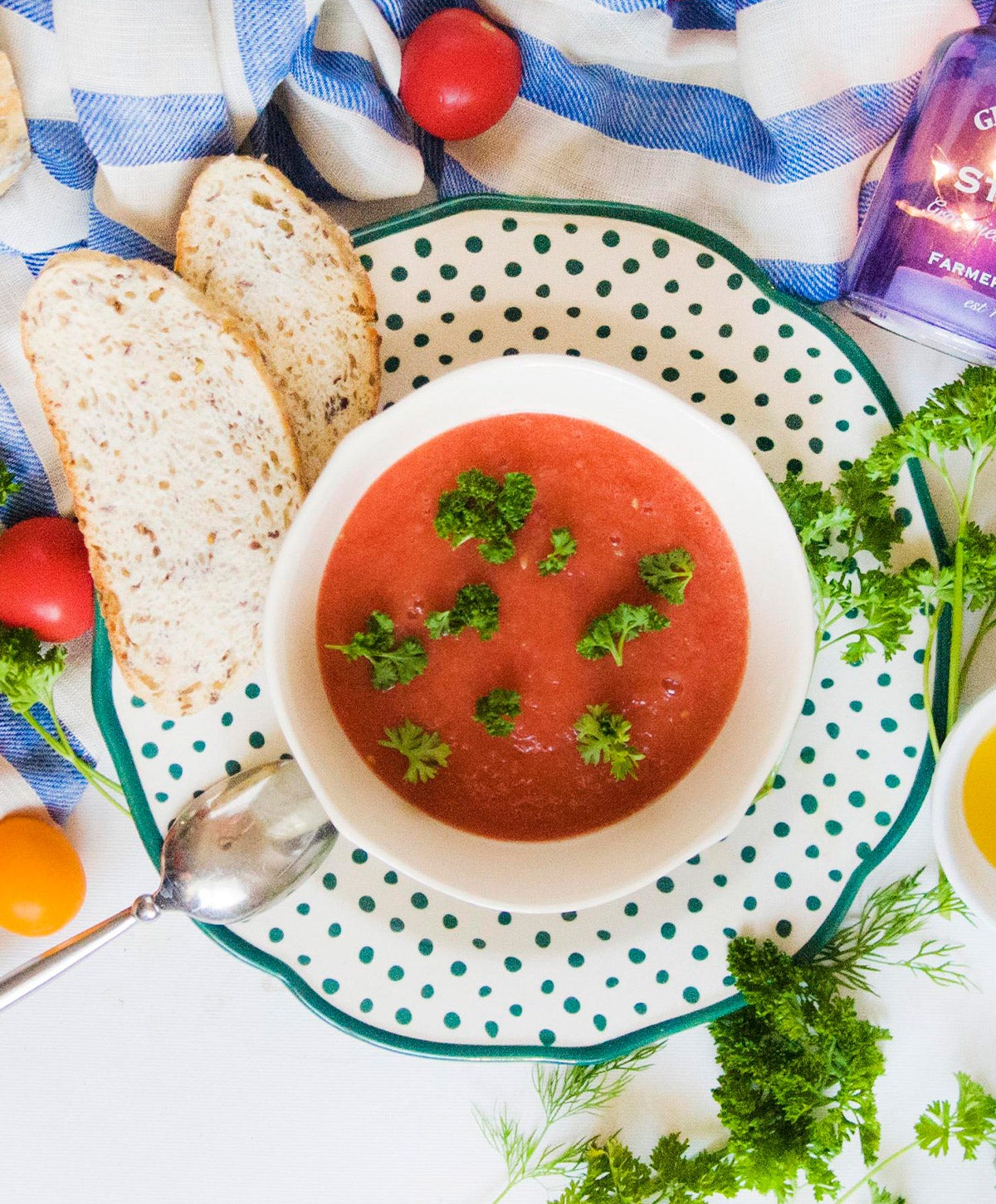 Anita's Gazpacho
Grandmother's gazpacho recipe is simple and delicious and much like the caprese salad, it really lets you showcase the homegrown taste of your harvest!
Ingredients:
1 cup chopped, peeled tomato
½ cup chopped green pepper
½ cup chopped celery
½ cup chopped cucumber
½ cup chopped onion
2 teaspoons parsley
1 teaspoon chives
1 clove of garlic minced
2-3 tablespoons vinegar
2 tablespoons olive oil
1 teaspoon salt
¼ teaspoon black pepper
½ teaspoon Worcestershire sauce
2 cups tomato juice
Directions:
Combine all ingredients and chill for several hours or overnight before serving. This soup is healthy, tangy and refreshing all at the same time. Make it your gardening goal to grow this entire soup yourself. Serve with grilled shrimp and crusty bread for an easy dinner that wows!
Tomato Sandwich
A good tomato sandwich is a classic dish that can be dressed up or down to match your taste, and with three core ingredients, enjoying your tomatoes does not get easier than this!
Start with the tomato. The best kind of tomato for a sandwich is a Beefsteak which is a large, red, heirloom tomato. Beefsteaks are wonderfully flavorful and importantly, they are quite hearty, allowing them to hold their own as the focal piece of a tomato sandwich.
Next choose your bread. A good crusty sourdough loaf makes a great choice, as it can absorb the juice of a tomato without turning into a soppy mess. Other breads that work well include rye and pumpernickel (try them toasted). Both have great flavor that complement the tomato without overpowering it. Classic white sandwich bread is simple summer perfection.
Lastly there is the spread. Keep it simple with butter or mayo. Kick it up a bit with some sweet onion jam or smashed up avocado. That covers the core components but feel free to add on whatever you'd like. Add some crispy bacon for a salty, smoky flavor, toss on some sprouts to add an earthy flavor with a healthy crunch, or top with a fried egg for a protein punch.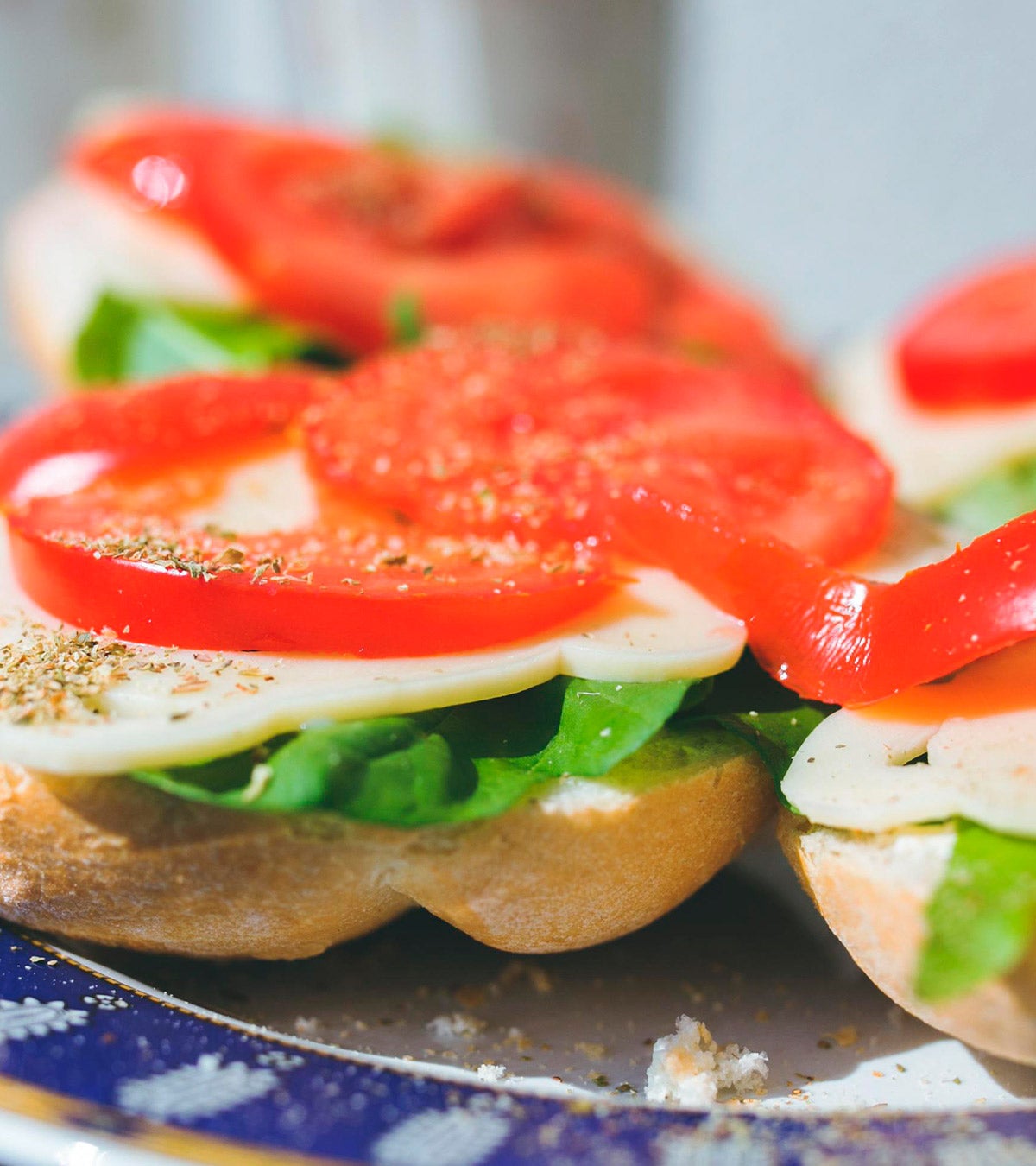 "Home grown tomatoes, home grown tomatoes, what would life be like without homegrown tomatoes? Only two things money can't buy. That's true love and homegrown tomatoes."
— John Denver
---
---
Get In The Know! More Gardening Info For You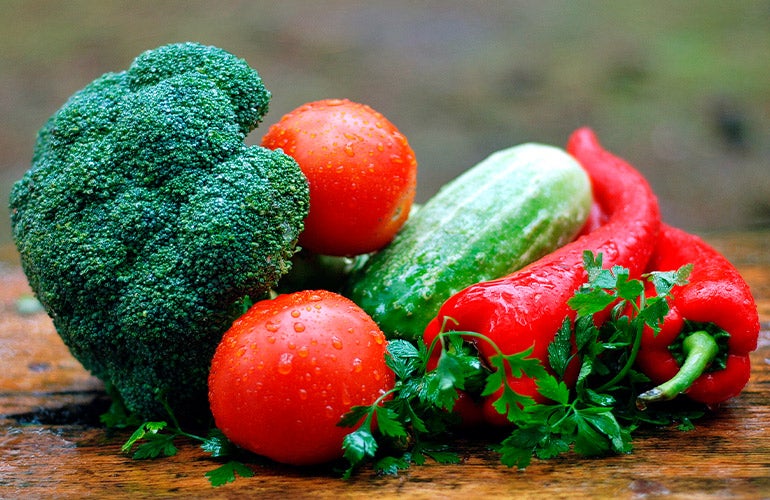 Easy Gardening Solutions:
Farm-fresh flavor from your own backyard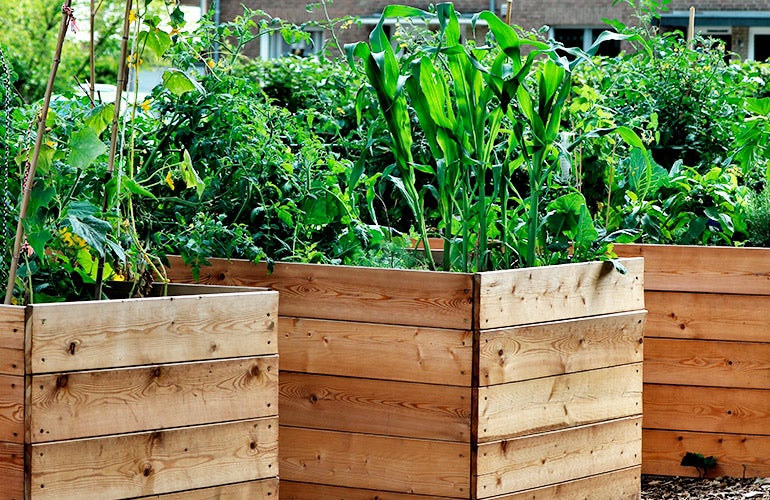 Get Gardening with Raised Beds:
Simple shortcuts to a bountiful harvest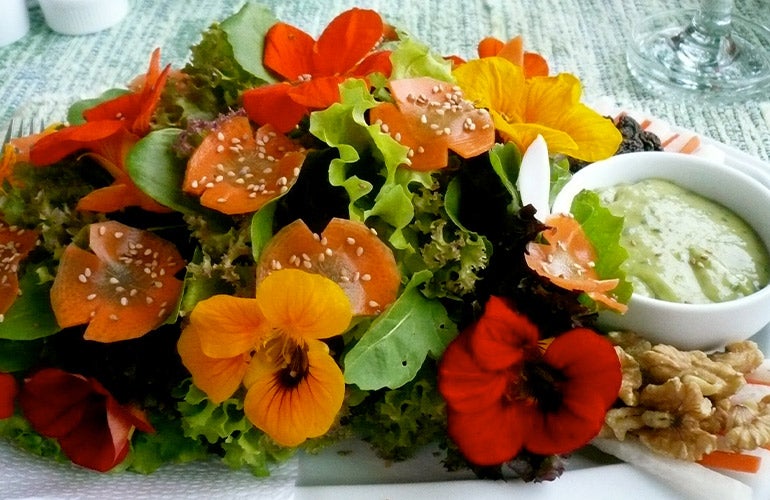 Incredible, Edible Flowers:
More than just sweet smells & pretty petals