Skip to content
Skip to navigation menu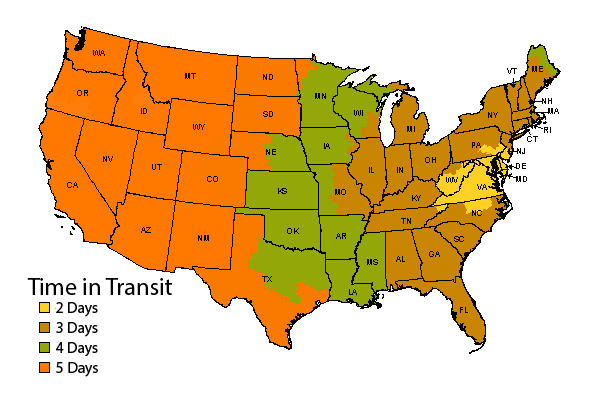 Delivery time estimates do not apply to personalized, large or heavy items (over 20lbs.) that require special shipping, items shipped directly from the manufacturer, or out-of-stock items.
Delivery estimates only apply to the contiguous United States. Saturday, Sunday and national holidays are not considered business days for these estimated transit days.
Virginia Peanuts:
What You Need to Know, In A Nutshell
Who doesn't love peanuts? Eaten out of the shell, roasted, or in the form of peanut butter, the humble peanut is a favorite snack food everywhere from ballparks to lunch boxes. Delicious on their own, peanuts also make a wonderful addition to recipes. Read on for more about this tasty treat and how to add them to your (soon to be) favorite recipes.

---
Fun Facts:
Peanuts are not tree nuts, but legumes, related more closely to soybeans.
Virginia Peanuts are not simply peanuts grown in Virginia. These are a peanut variety that stands out against all others due to their large size, superior taste and distinctive crunch. They're grown in Virginia, the Carolinas, and Texas.
Only about 15% of the peanuts grown in the US are Virginia Peanuts, making them the most sought after and hardest to find. Plow & Hearth Virginia Peanuts have been a customer favorite for years.
Peanuts are high in protein and low in carbs, making them a great snack, useful for an energy boost.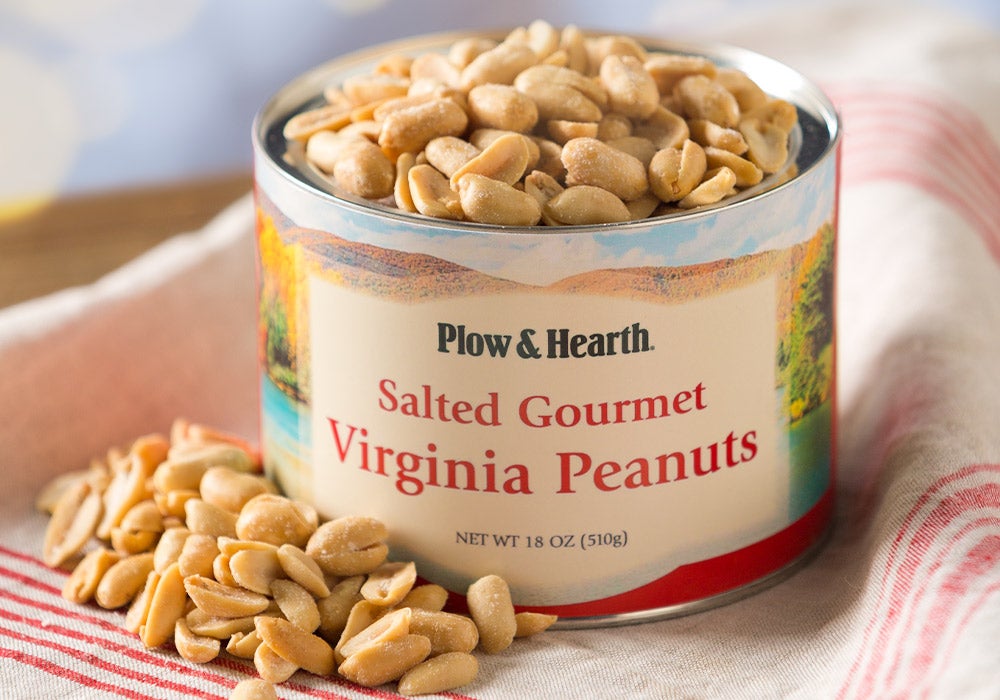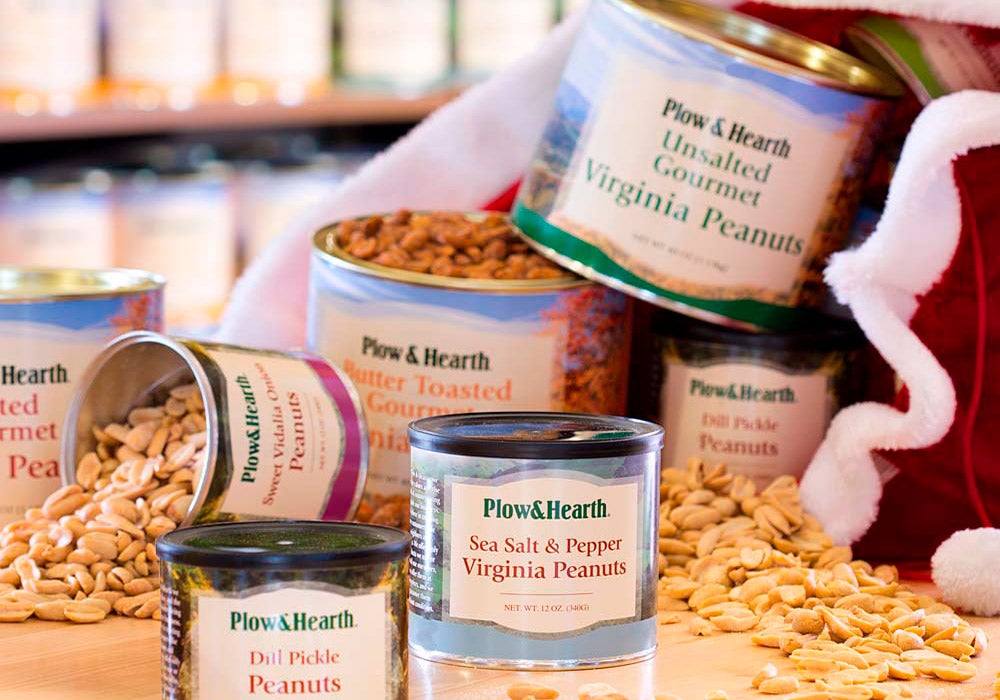 Peanuts: Great for Giving!
Our Virginia Peanuts make great gifts for any occasion. Everyone loves them, they're easy to give, and affordable too.
Peanuts make an ideal hostess gift. Your hostess can serve the peanuts at the party or save them for later. It's a wonderful alternative to a bottle of wine and something her whole family can enjoy.
Keep some cans of peanuts on hand for neighbors and friends who drop by. You can keep a few wrapped under the tree for on-the-spot giving. They'll also be appreciated by teachers, pet sitters and more.
Here are some ways to make your peanut gift even more special.
Wrap a can of peanuts and tie a Plow & Hearth Exclusive Pewter Ornament to the package.
Include a recipe and a sample of your own baked goods. For example, give a tin of Salted Peanuts, along with a container of homemade Peanut Drop Cookies (recipe below). Include the recipe on a pretty card tied with a ribbon.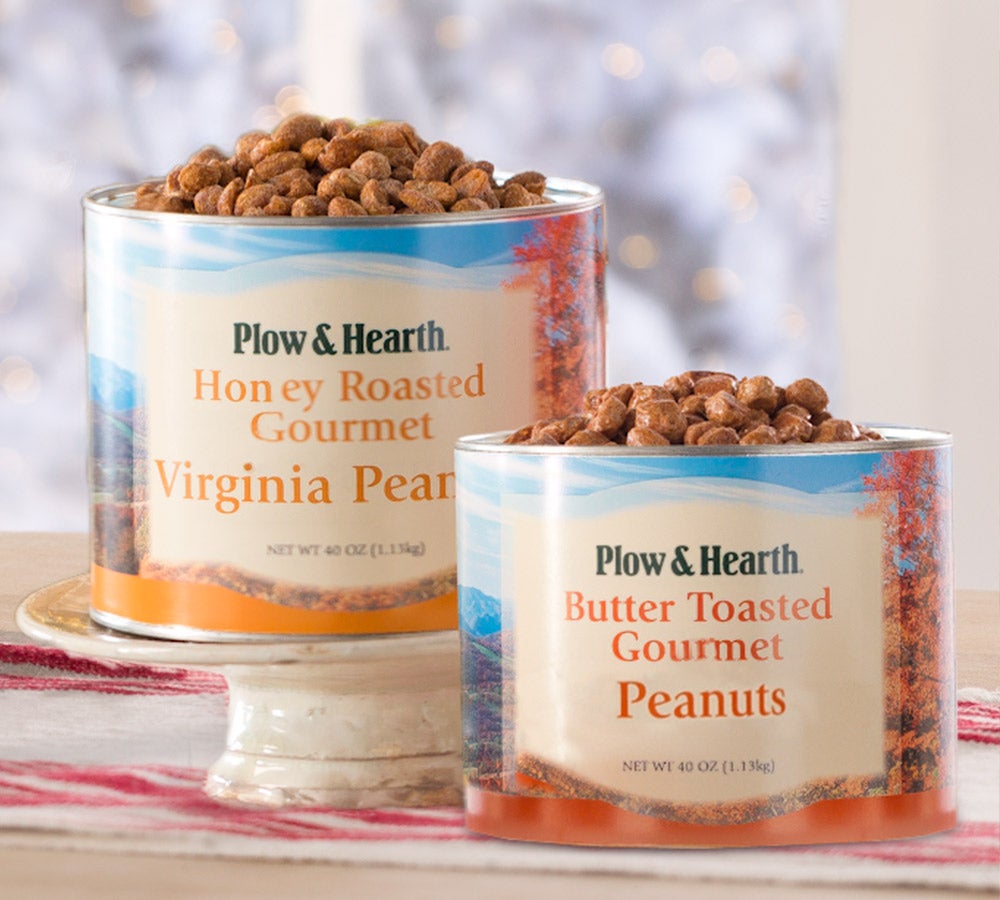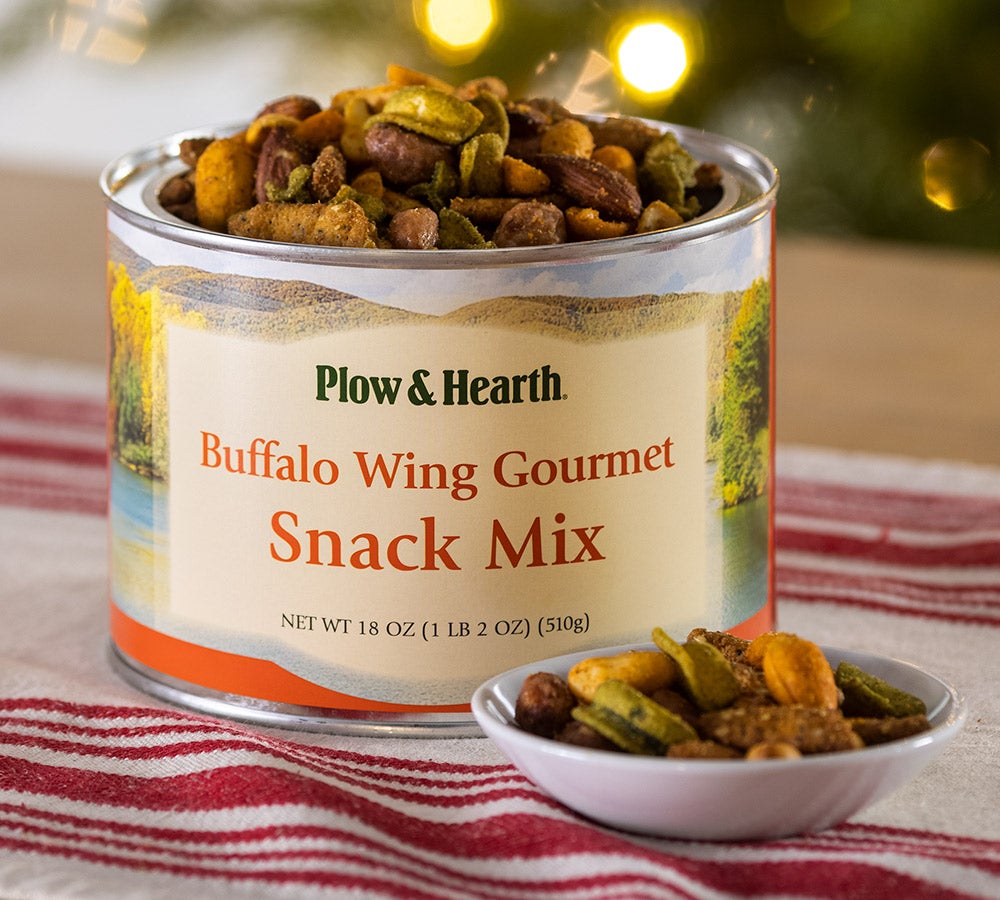 ---
Peanut Recipes You'll Go Nuts For
---
Peanut Drop Cookies
1 egg
¾ cup firmly packed brown sugar
1¼ cups all-purpose flour
½ teaspoon baking soda
¼ teaspoon salt
¼ cup vegetable oil
2 teaspoons vanilla extract
1 cup chopped P&H Virginia Peanuts (Salted or Unsalted)
Preheat oven to 375° F.
Line a large baking sheet with parchment paper or a silicone mat, or grease the pan.
In a mixing bowl with an electric mixer, beat the egg and blend in the brown sugar.
Combine flour, soda and salt in a separate bowl.
Add the flour mixture to the egg mixture a little at a time, alternating additions with the vegetable oil.
Stir in vanilla and peanuts.
Drop by teaspoons full onto the prepared baking sheet.
Bake for 6-8 minutes. Cool completely on a wire rack.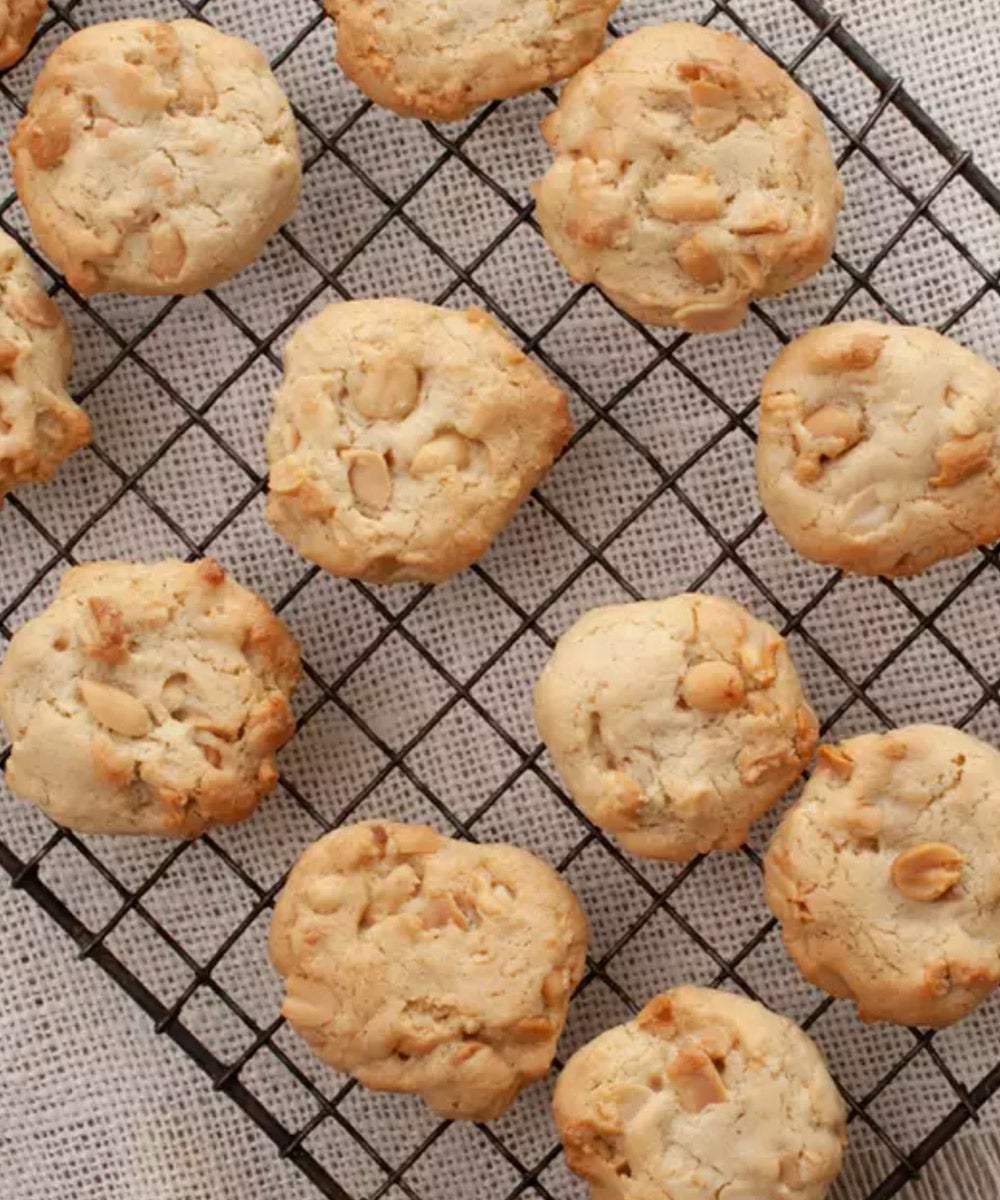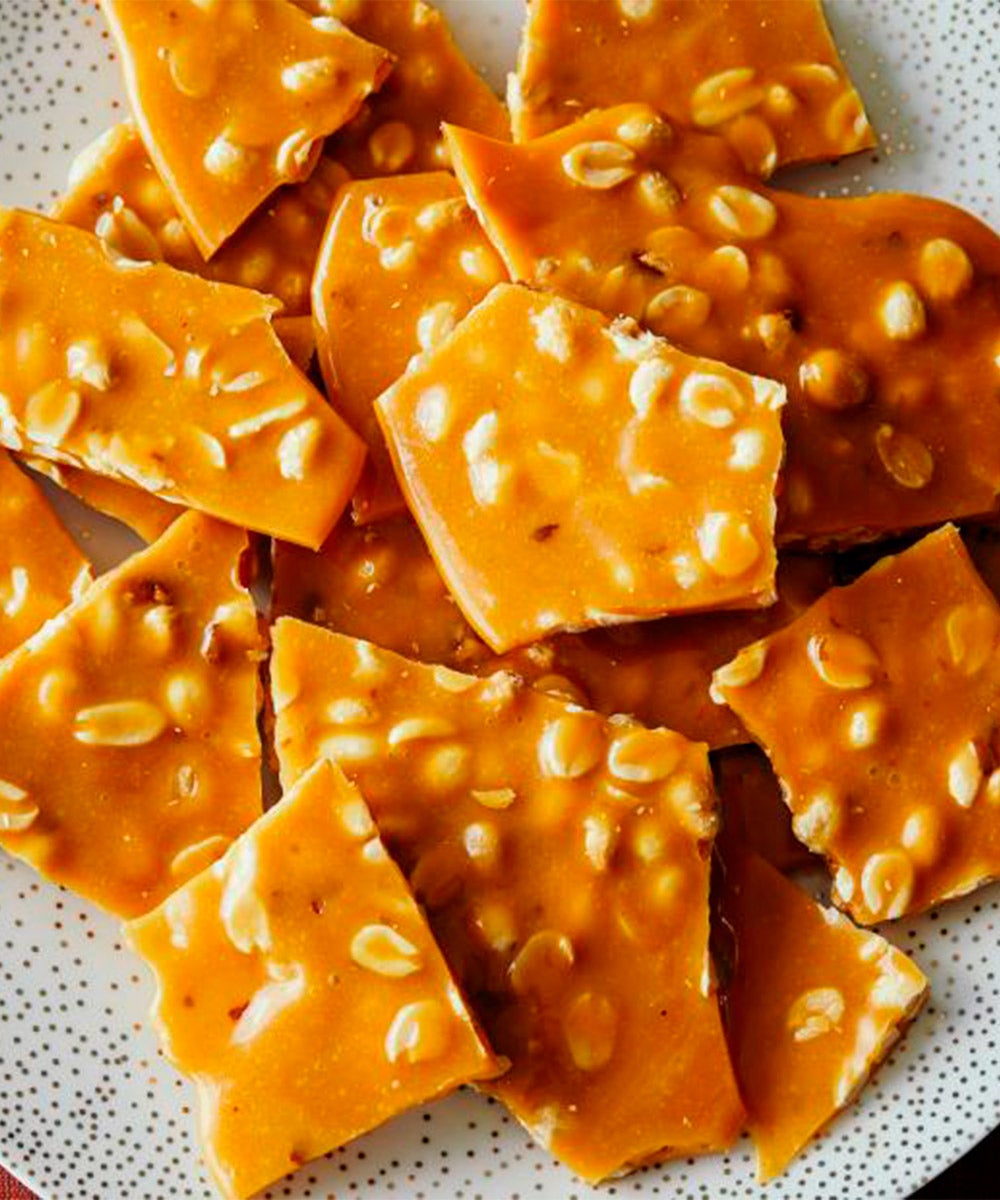 Classic Peanut Brittle
Nonstick cooking spray
2 cups white sugar
½ cup light corn syrup
6 tablespoons unsalted butter, cubed
½ teaspoon baking soda
1½ cups P&H Virginia Peanuts (Salted or Unsalted)
Line a rimmed baking sheet with foil and grease with nonstick cooking spray.
Stir together the sugar, corn syrup and ½ C water in a medium saucepan with a candy or deep fry thermometer. Bring the mixture to a boil over medium heat, then continue to boil until it's golden brown and reaches 340°F, about 15 minutes.
Working quickly, remove the pan from the heat and stir in the butter and baking soda until smooth (it will foam and bubble up). Stir in the peanuts until evenly distributed in the mixture.
Pour into the prepared baking sheet and quickly smooth with a rubber spatula into an even layer. Let harden uncovered at room temperature until cooled completely. Break into pieces and store in an airtight container.
Melt-In-Your-Mouth Gluten-Free Peanut Cookies
½ cup coconut sugar
Pinch sea salt
¾ cup coconut oil
1½ cups gluten-free flour
1½ cups P&H Virginia Peanuts (Salted or Unsalted), plus more for garnish
Preheat oven to 350°F.
Line a large baking sheet with parchment paper or a silicone mat.
Roast peanuts at for 10 minutes; cool completely.
Grind ½ cup peanuts until fine in a food processor.
Add all ingredients except oil and mix well.
Add oil to form the dough.
Form cookies, then top with a peanut on each.
Bake for 20 minutes until golden brown. Cool on a wire rack.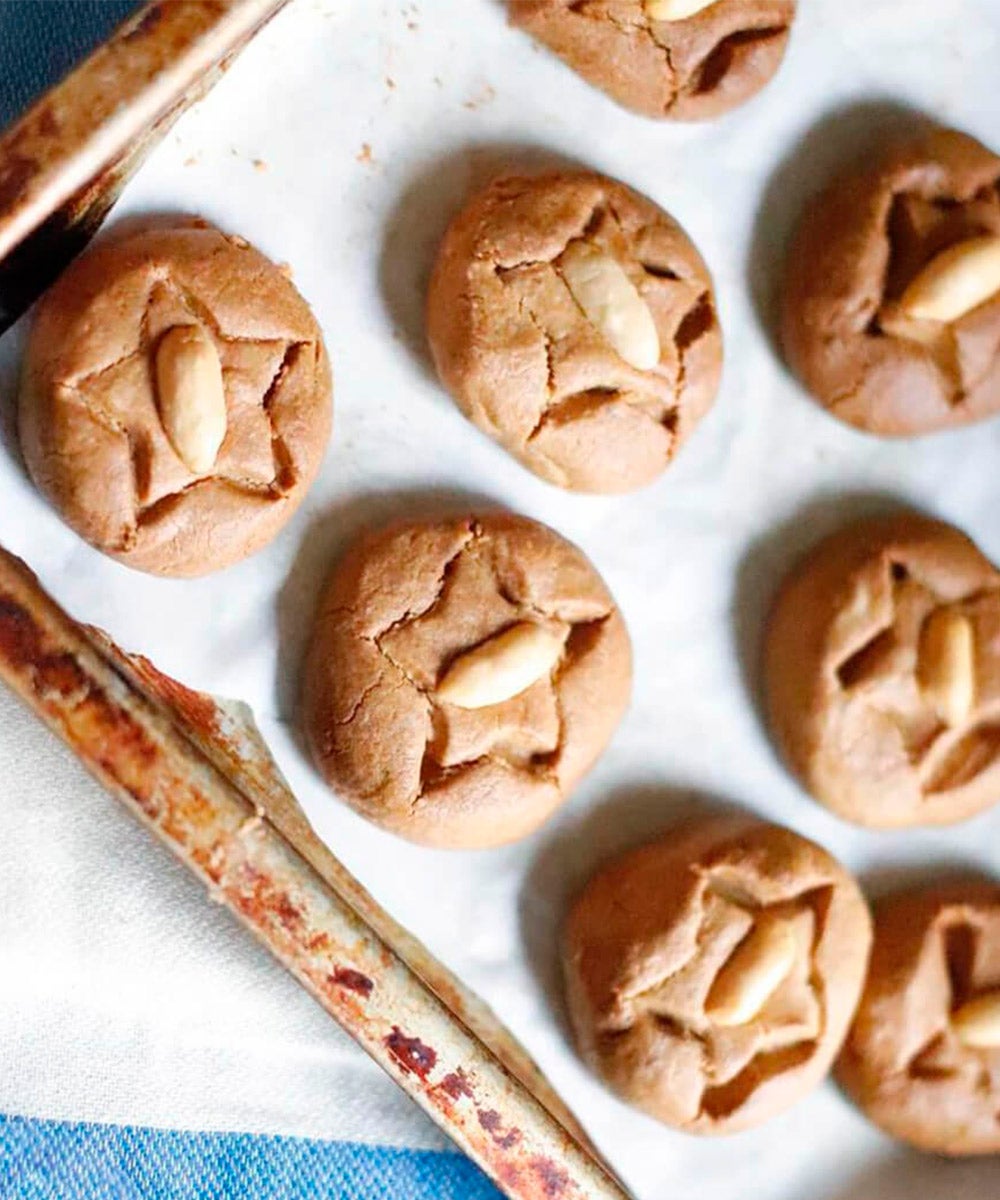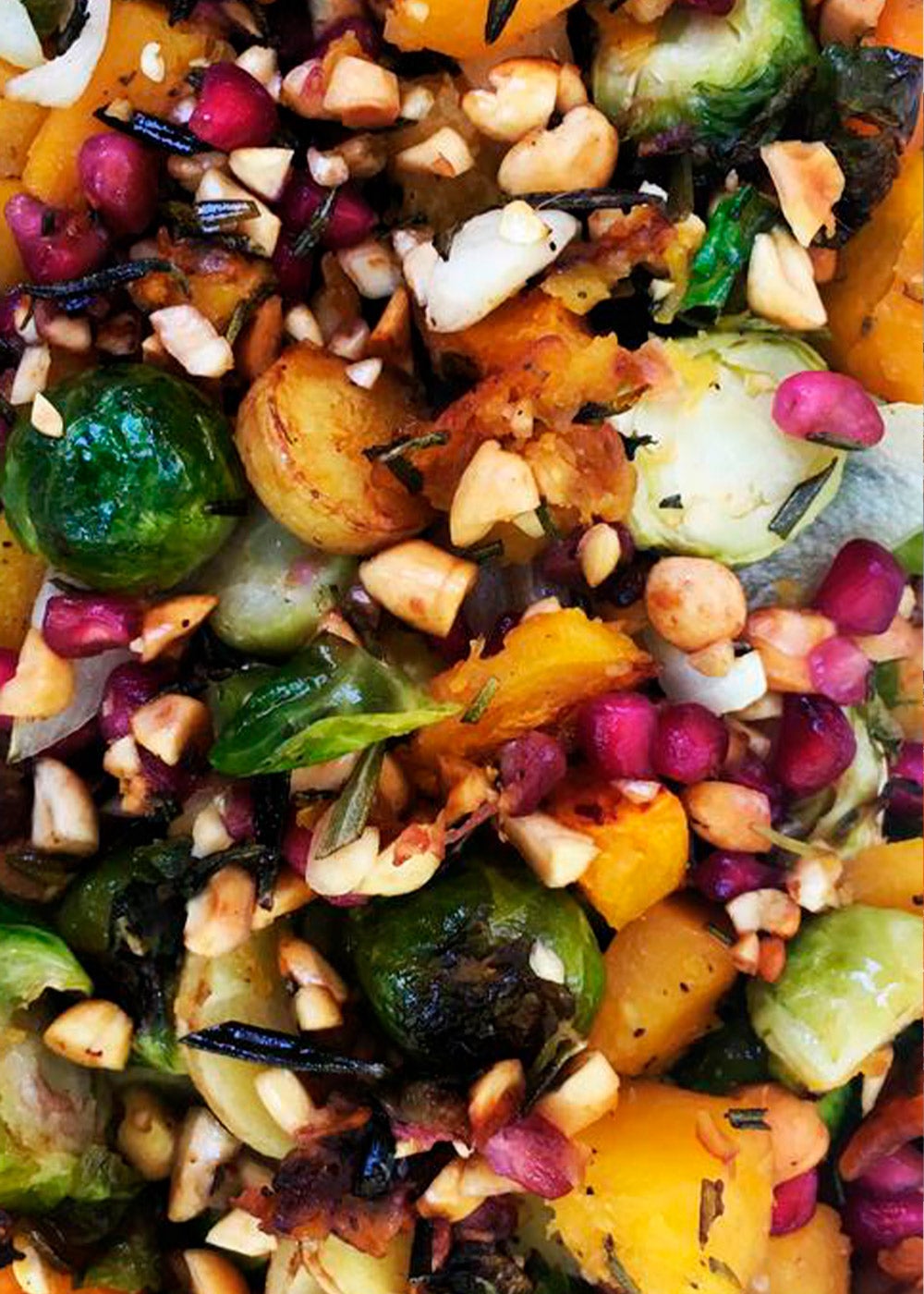 Rosemary Roasted Root Vegetables with Peanuts and Pomegranates
1 small yellow onion, roughly chopped
1 lb brussels sprouts, halved
2-3 parsnips, roughly chopped
4 garlic cloves, whole
2 tablespoons olive oil
1 teaspoon black pepper
1 teaspoon salt
4-5 rosemary sprigs, chopped
½ cup pomegranate seeds
½ cup P&H Virginia Peanuts (Salted or Unsalted) chopped
Heat oven to 400°F. Place vegetables and garlic on a foil-lined baking sheet. Drizzle with olive oil and season with salt, pepper and rosemary; toss to coat.
Place in oven for 10-15 minutes; stir ingredients with a large spoon. Roast another 10-15 minutes.
Add peanuts and pomegranate seeds and mix well. Roast an additional 5-10 minutes until vegetables brown. Serve immediately or keep warm.
Pretzel and Peanut Cheese Ball
1 cup miniature pretzel twists
1 cup P&H Virginia Peanuts (Salted or Unsalted)
8 oz. cream cheese, softened
8 oz. cheese (Sharp Cheddar, Pepper Jack, Gouda or blend), shredded
3 tablespoons fresh dill
1 teaspoon kosher salt
1 teaspoon black pepper
Place pretzels and peanuts in a resealable plastic bag. Place on a flat surface and lightly crush with a mallet. Set aside.
Combine cheeses, dill, mustard, salt and pepper in a bowl or stand mixer. Stir or beat on low speed until combined. Shape into a ball and chill 1 hour.
Place pretzel and peanut mixture in a shallow dish. Roll cheese ball in mixture, pressing lightly to adhere. Serve with crackers or veggie sticks.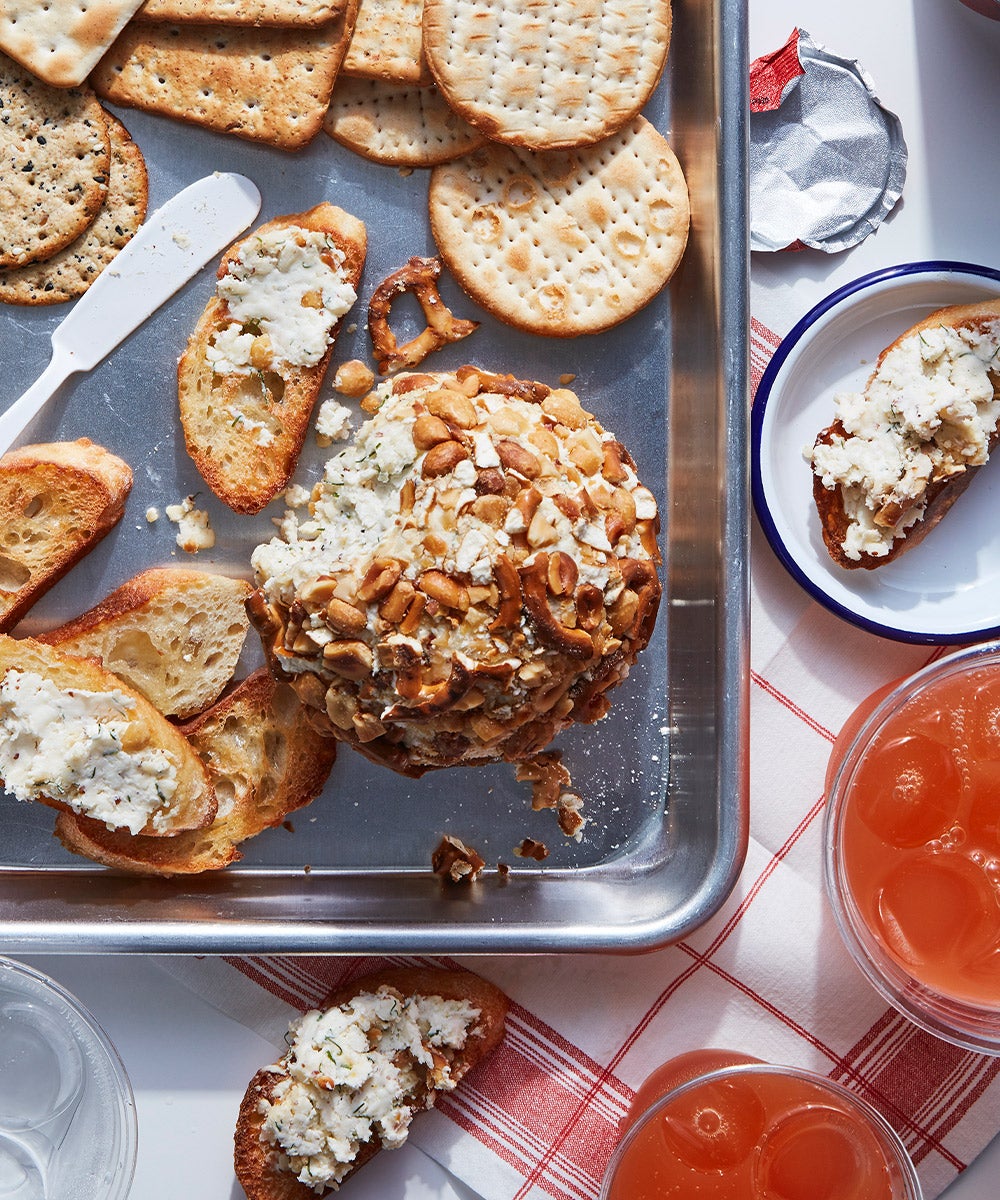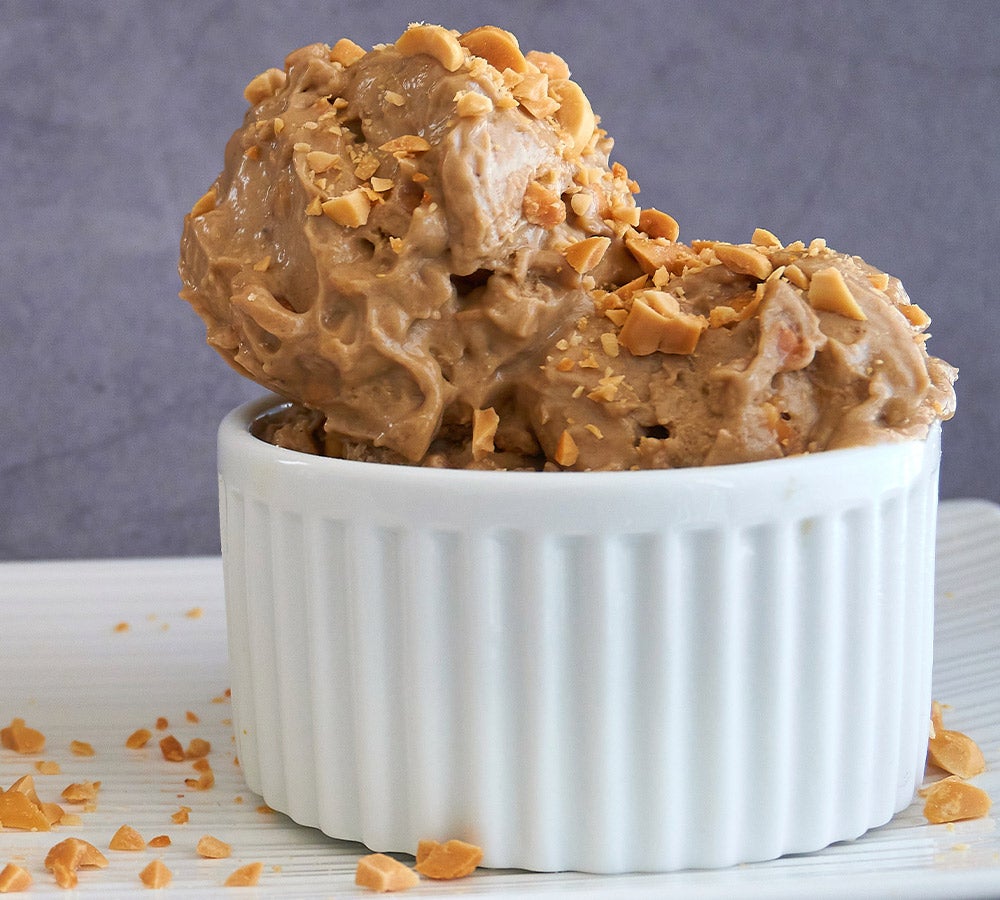 More Ways To Love Peanuts
Even if you're not a cook, there are so many ways to enjoy our huge, crunchy Virginia Peanuts. Just think outside of the box (or the can) and try these simple ways to brighten up your favorite dishes. It's an easy way to add protein and crunch to sweets and more!
Sprinkle Butter Toasted Peanuts or Honey Roasted Peanuts on vanilla ice cream.
Top Thai dishes with lightly crushed Lemon Rosemary peanuts
Whole or chopped peanuts add extra crunch and flavor to any side salad.
Top your favorite yogurt with chocolate covered peanuts to ramp up the flavor.
Mix chopped nuts into any batter from brownies to cookies, cakes, quick breads and more.
---
It's Time to Go Nuts!
Keep some Virginia Peanuts on hand for snacking, baking, cooking and giving. Try new flavors and new ways to add them to recipes. You'll fall in love with the humble, versatile peanut all over again.