Skip to content
Skip to navigation menu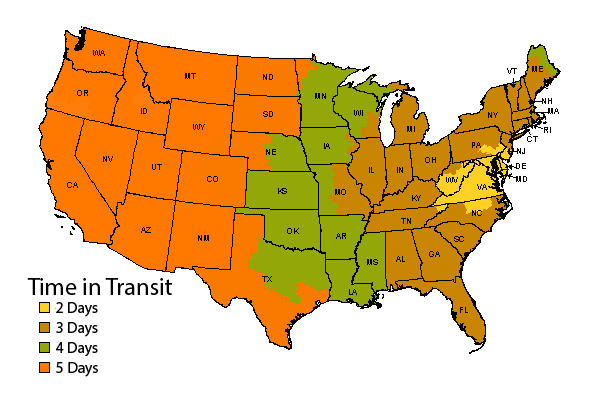 Delivery time estimates do not apply to personalized, large or heavy items (over 20lbs.) that require special shipping, items shipped directly from the manufacturer, or out-of-stock items.
Delivery estimates only apply to the contiguous United States. Saturday, Sunday and national holidays are not considered business days for these estimated transit days.
Thanksgiving With A Twist:
Fun Recipes To Kickstart New Traditions
Thanksgiving traditions can be near to our hearts, but what better way to celebrate gratitude and family by giving those signature dishes a twist. A fresh take on old favorite can easily become a tasty new tradition everyone loves.
If you're thinking about shaking up your Thanksgiving menu, or you're looking to wow with something special for Friendsgiving, these recipes will kick start your inspiration. Enjoy!

Spiced Apple Chaider
What better way to start things off than with a combination of two classics! This non-alcoholic drink is perfect for all ages. Apple Cider and Chai blend the warm, spiced scents of autumn into one cozy cup that'll have your guests coming back for seconds. Serves 2.
Ingredients:
4 whole allspice
4 whole cloves
3 cardamom pods
2 teaspoons cinnamon chips
½ teaspoon dried ginger root
½ vanilla bean pod (seeds removed)
½ small apple (such as Honeycrisp, Jonagold or McIntosh)
4 cups apple cider (fresh-pressed is preferable)
2 tablespoons assam loose leaf black tea
½ cup almond milk (optional)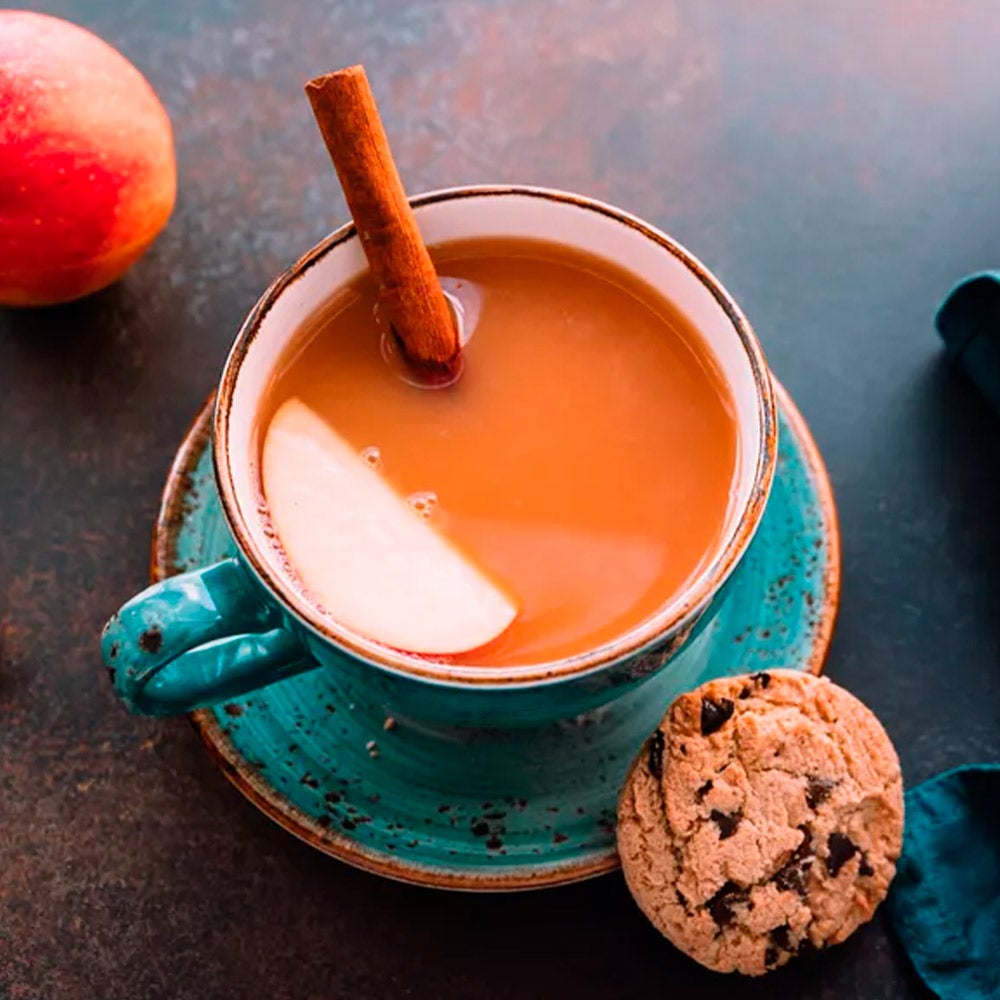 Directions:
Using a mortar and pestle, lightly crush the allspice, cloves, cardamom pods, cinnamon, and ginger.
In a small saucepan, add the apple cider, crushed spices, vanilla bean, and sliced apples.
Bring the mixture to a boil, then remove the pan from heat.
Cover and let steep for 10 minutes.
Return the spiced cider to a boil, then remove from heat.
Add the tea and almond milk. Cover and let steep for 4 minutes.
Stir well, then strain into a teapot.
Serve and enjoy!
Source: The Spruce Eats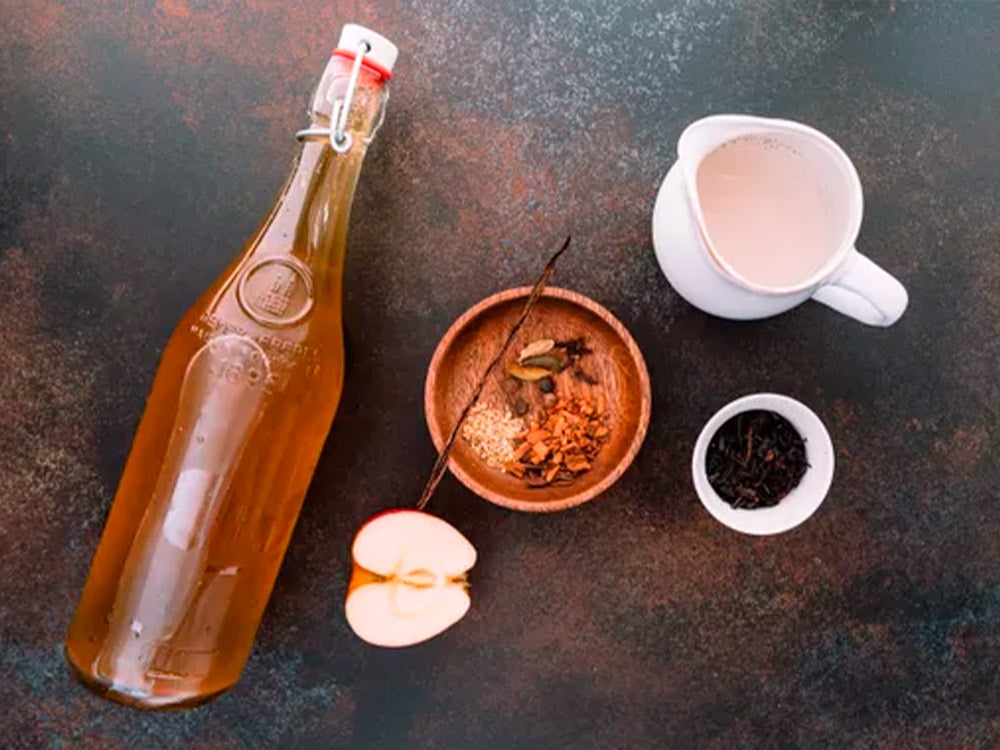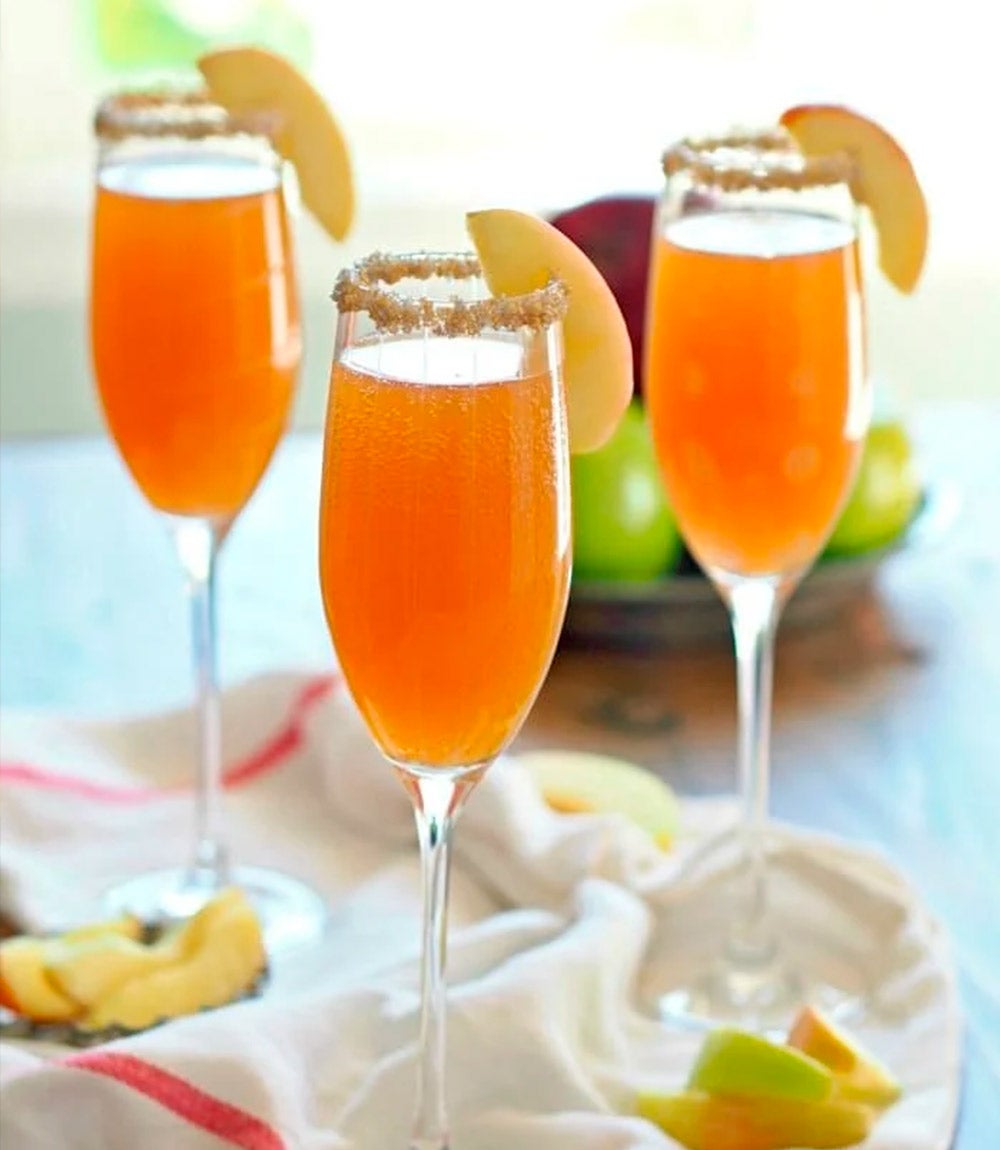 Apple Cider Mimosa
Looking for something with a little more zing? Apple cider mimosas are a fun seasonal take on a brunch favorite. This simple drink looks and tastes fabulous but takes absolutely no time to make.
Ingredients:
Gold and silver sugar sprinkles
Apple cider
Champagne
Apple slices for garnish
Directions:
Dip the rim of each champagne flute into water, then dip in sprinkles to coat.
Pour apple cider about halfway into each champagne glass.
Top with champagne.
Garnish with an apple slice.
Source: The Cookie Rookie
Cranberry Orange Relish
A Thanksgiving staple gets an easy, refreshing update in this recipe. Whether used on its own or to top turkey or roast chicken, this spin will brighten your tastebuds. Serves 15.
Ingredients:
1 bag (12 oz.) frozen or fresh cranberries
Zest and juice from 1 orange
1/3 cup sugar, more as needed
1 tsp. fresh grated ginger
Directions:
Combine the cranberries, orange juice, sugar and ginger in saucepan over medium heat.
Simmer for 20 to 25 minutes, until cranberries break down to form a thick sauce.
Taste and adjust the sweetness with more sugar if necessary.
Add the orange zest just before serving.
Source: Eat This, Not That!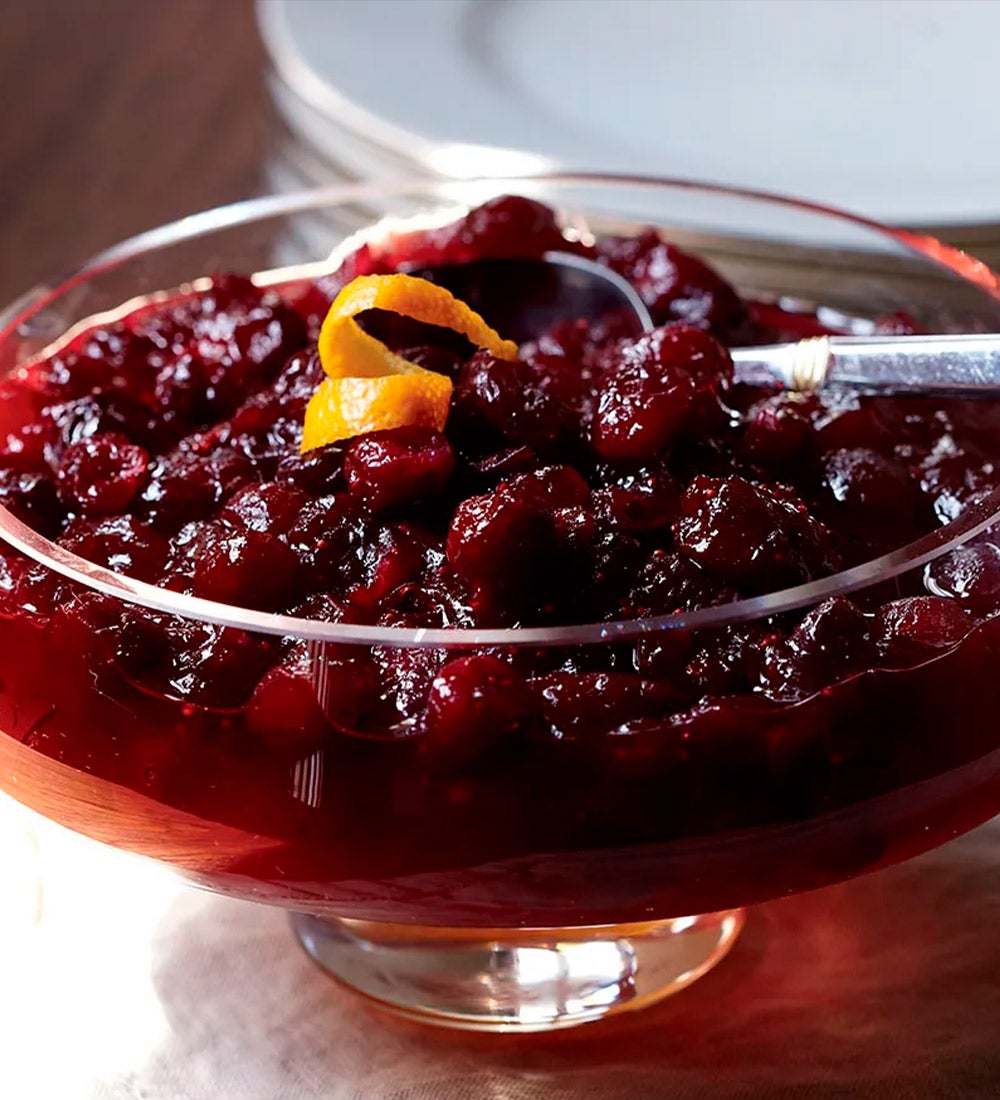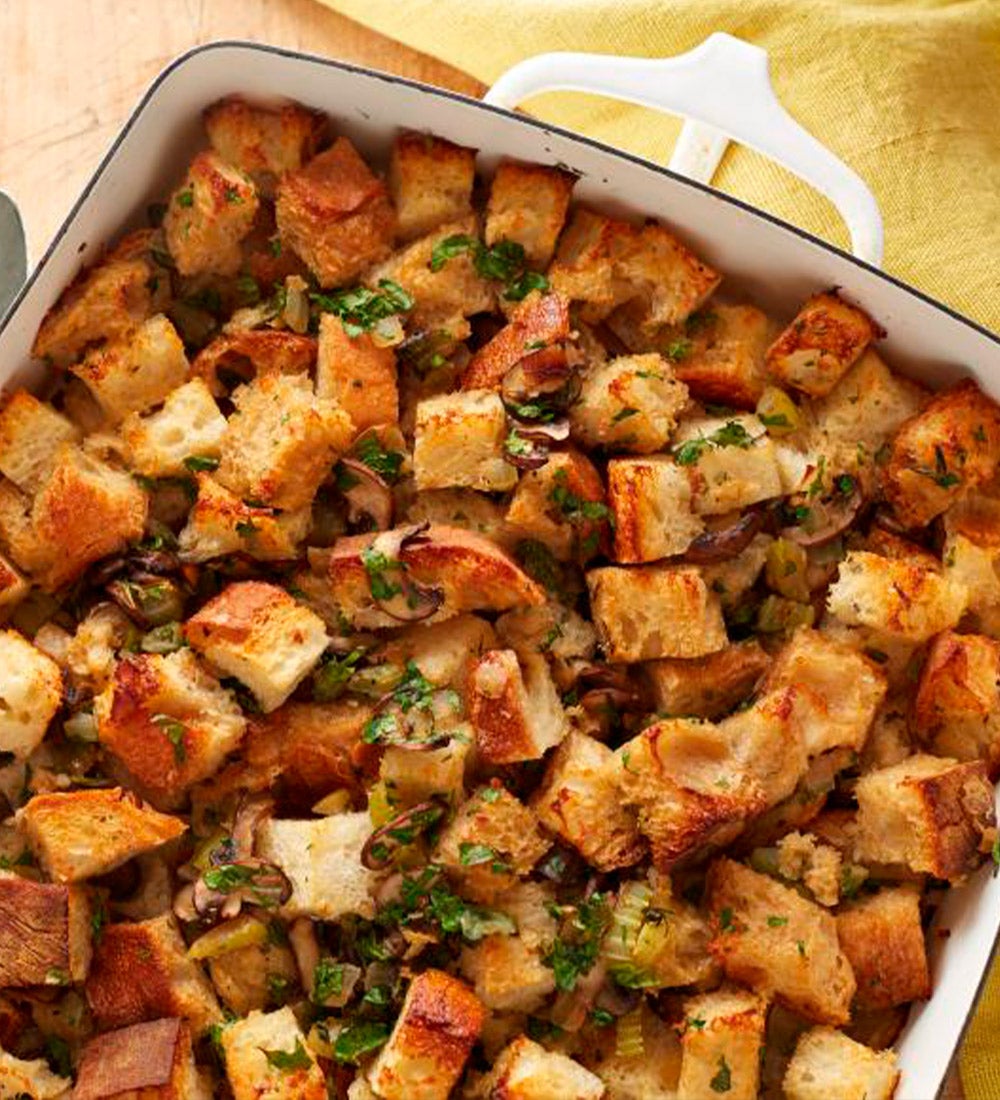 Vegan Stuffing
No Thanksgiving feast is complete without stuffing (or dressing), and this option will have all your guests coming back for seconds. Green tea substitutes for the chicken stock, which not only makes it lower in sodium than vegetable stock, but also really lets the flavors shine and adds health benefits. Serves 8.
Ingredients:
4 tbsp. olive oil; more for greasing baking dish
2 bags green tea
1 large onion, chopped
2 stalks celery, chopped
8 oz. sliced mushrooms
1 tbsp. fresh sage, finely chopped
1 tbsp. fresh thyme, finely chopped
Kosher salt & freshly ground black pepper
16 cups stale, 1 in. cubed white bread (about 1 lb.)
¼ cup fresh parsley, chopped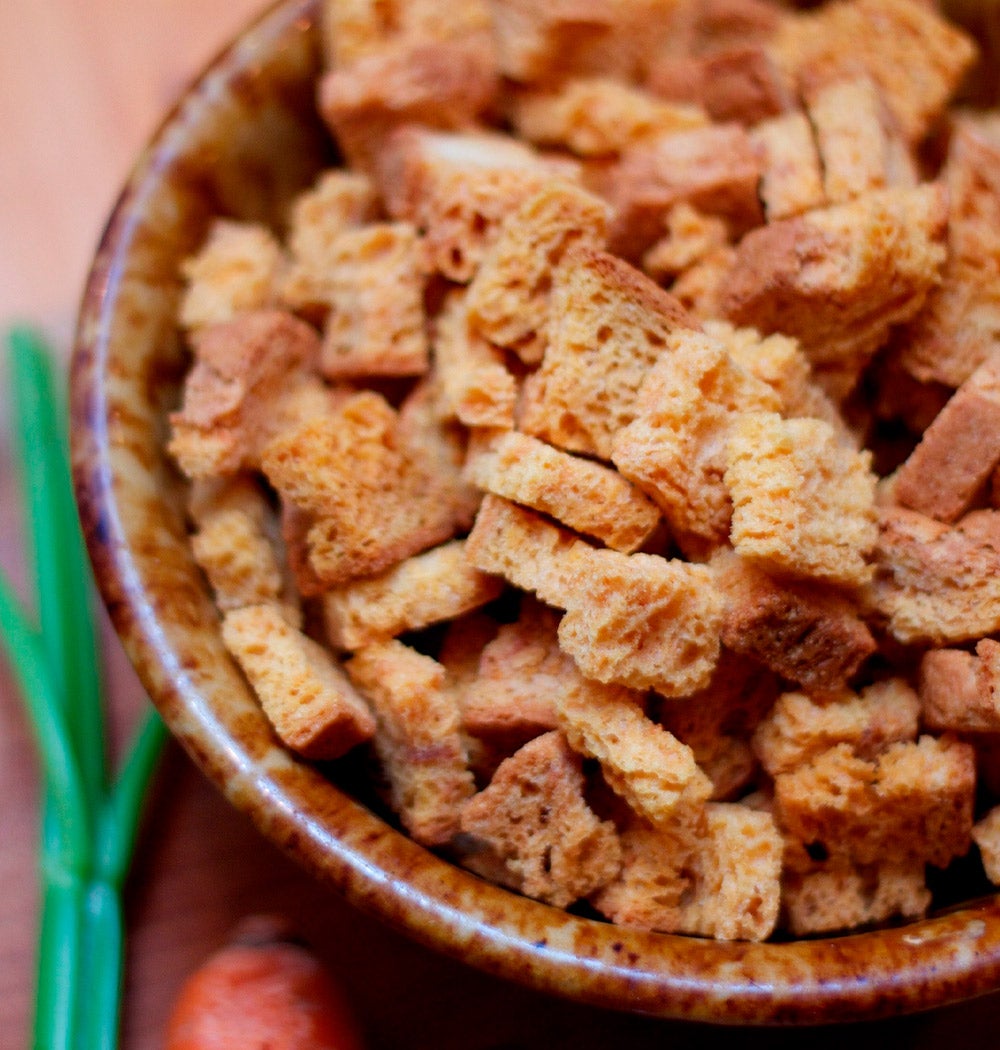 Directions:
Preheat the oven to 375°F. Grease a 9-by-13-inch baking dish with olive oil.
Brew the tea bags in 2 cups of hot water for 5 minutes. Discard the tea bags (don't squeeze them out).
Heat 3 tablespoons olive oil in a large skillet over medium heat. Add the onions and celery and cook, stirring frequently, until just soft, about 6 minutes. Add the mushrooms, sage, thyme, 1½ teaspoon salt and a few grinds of pepper and cook, stirring. Add the brewed green tea, then bring to a simmer and remove from heat.
Put the bread in a large bowl and pour in the green tea-vegetable mixture. Add the parsley and toss until the bread is completely coated. Let rest for 10 minutes so the bread can soak up the liquid. Gently toss again and transfer to the prepared baking dish. Drizzle with the remaining 1 tablespoon oil.
Cover with foil and bake for 30 minutes. Uncover and continue to bake until golden brown, about 15 minutes more. Serve hot.
Source: Food Network
Citrus Turkey Brine
Turkey is a Thanksgiving staple, and if you're looking for something that will take your poultry to the next level, look no further than this zesty brine that will leave your turkey moist and mouth-watering. Serves 15.
Ingredients:
1 cup salt
1 lemon, cut into wedges
1 orange, cut into wedges
1 medium onion, cut into wedges
3 cloves garlic
4 bay leaves
1 tablespoon dried thyme
1 tablespoon ground black pepper
1 ½ gallons cold water
Directions:
Rub salt onto your turkey, and place remaining salt, lemons, oranges, onion, garlic, bay leaves, thyme, and pepper into a large pot. Place turkey in the pot and fill with water. Refrigerate overnight. Discard brine after removing turkey.
Source: All Recipes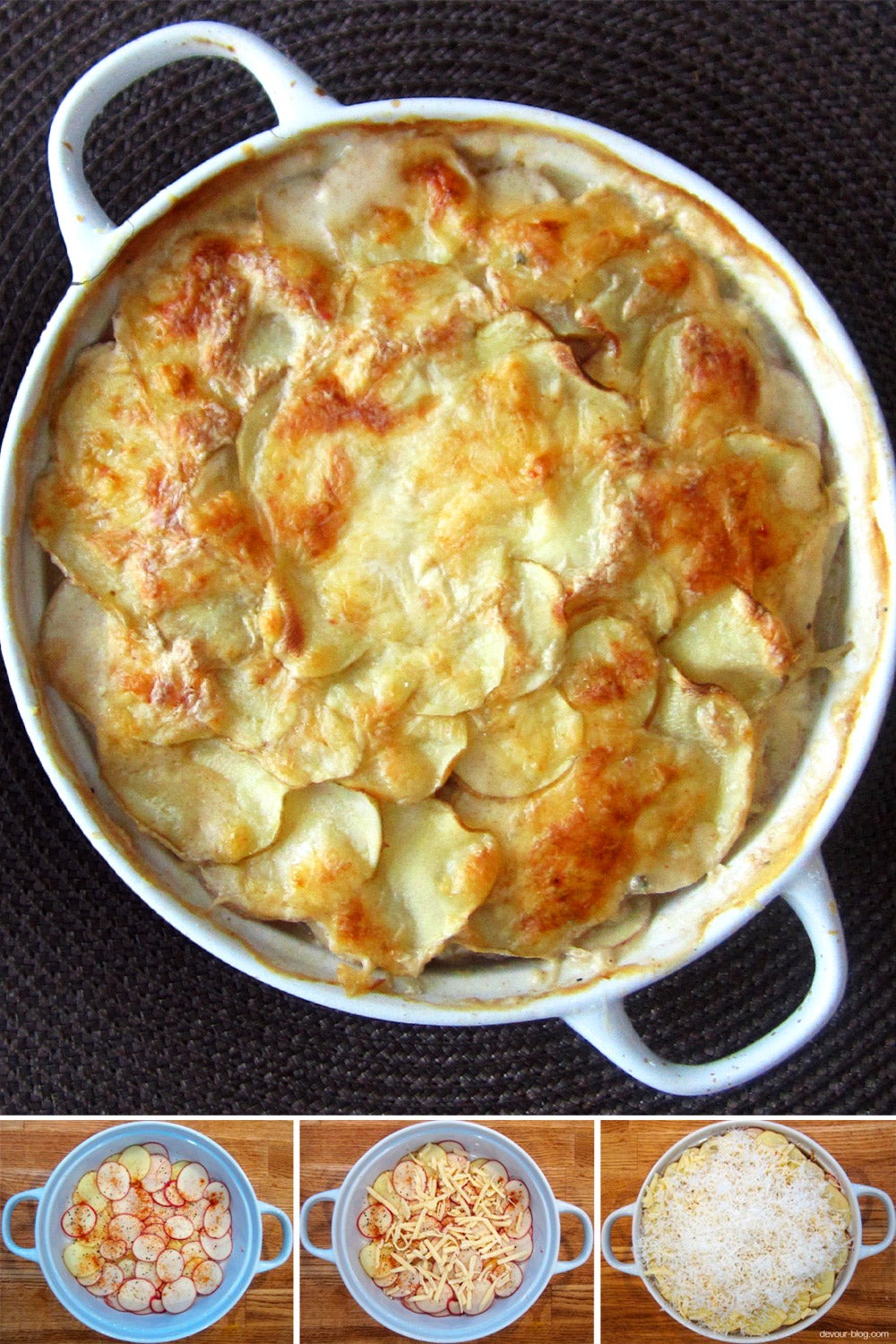 Chipotle Potato Gratin With Jalapeño Gouda
If you and your family love dishes with a little more kick, look no further than this gooey blend of cheese, potatoes and spices to spice things up. Serves 4.
Ingredients:
2½ cups whole milk or cream
1 lb. potatoes, sliced into ⅛" slices
½ cup grated jalapeño gouda
¼ cup fresh grated parmesan
1 tsp. chipotle chili powder
Salt and pepper to taste
Directions:
Preheat oven to 375°F. Pour the cream or milk into a pot and heat until it's hot, but not boiling.
Meanwhile, layer the potatoes and cheese in an ovenproof dish: start with a layer of potatoes, and sprinkle with salt, pepper, and ⅓ of the chipotle chili powder, then top with ⅓ of the jalapeno gouda. Repeat twice more. Top the final gouda layer with the parmesan.
Pour the hot cream/milk over the potatoes, filling the dish to about ¾ full (amount may vary based upon the dish you use).
Bake until potatoes are tender and cheese is bubbly and brown, about 45 minutes. The potatoes should be easy to pierce with a sharp knife. Serve immediately.
Source: Devour
Apple Pie Cupcakes With Cinnamon Roll Crust
These cupcakes combine two beloved classics for a flavor-packed treat: apple pie and cinnamon rolls. Cupcakes makes this dessert shareable and totable, and will have both kids and adults coming back for more. Serves 8.
Ingredients:
Apple Cupcakes
2 tbsp. unsalted butter
2 large baking apples, peeled, cored, and diced into ¼ in. cubes
2 tbsp. brown sugar
½ tsp. ground cinnamon
⅛ tsp. salt
Juice from half a lemon
1 can (8-count) refrigerated cinnamon roll dough
Whipped cream, ice cream, or caramel sauce for topping
Crumble Topping
2 tbsp. unsalted butter
¼ cup all-purpose flour
¼ cup brown sugar
¼ cup chopped nuts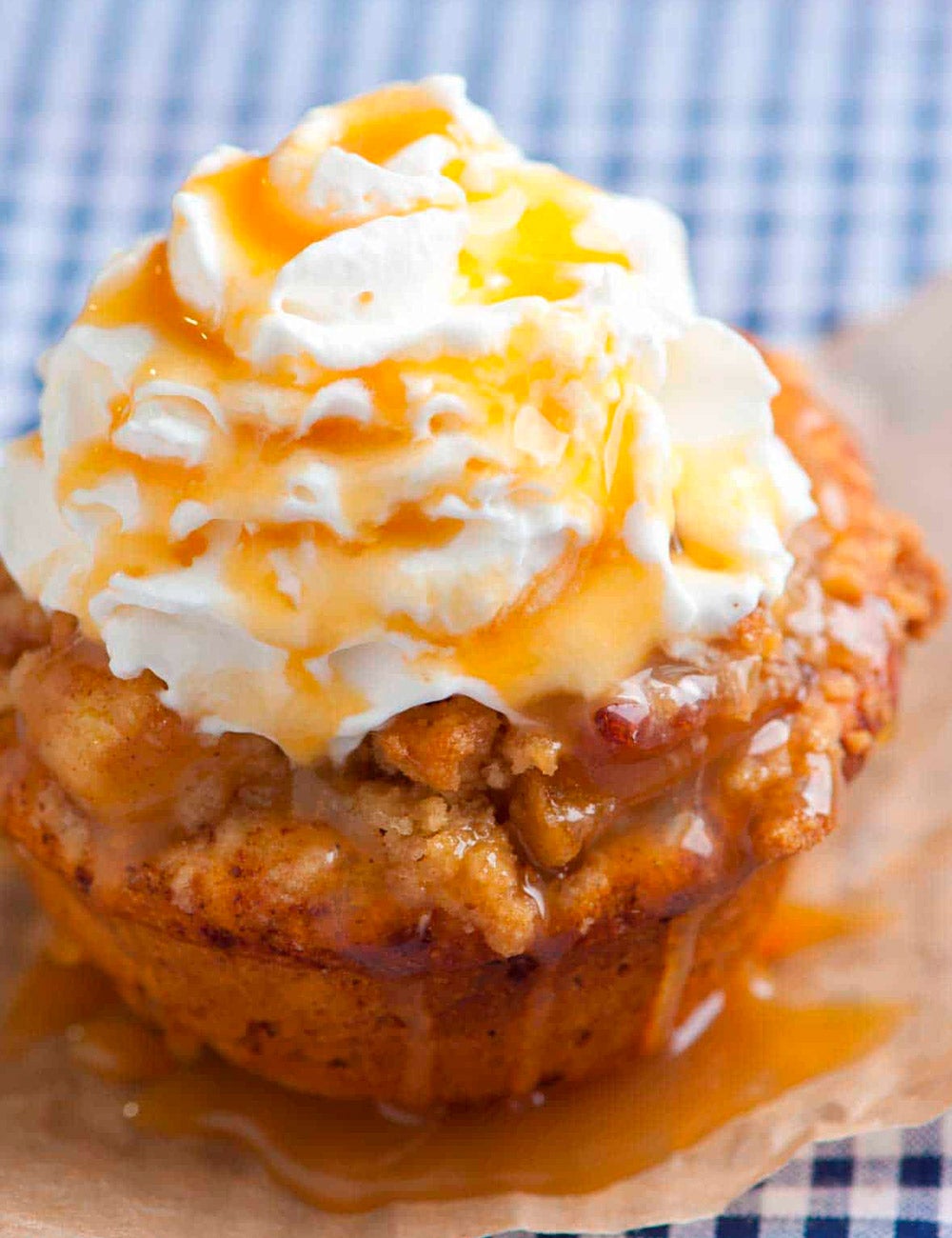 Directions:
Heat oven to 400 degrees F. Lightly spray 8 regular-size muffin cups with cooking spray.
Melt 2 tablespoons of butter in a wide skillet over medium-high heat. Add the diced apples and cook, tossing occasionally, until they start to soften; about 5 minutes. Stir in 2 tablespoons of brown sugar, cinnamon, and the salt. Cook 5 more minutes, or until tender. Stir in lemon juice.
Add the flour brown sugar, and walnuts to a medium bowl. Cut the butter into small cubes and then add them to the bowl. Using your fingers or a fork work the butter into the flour and sugar until crumbly.
Separate cinnamon roll dough into 8 rolls. Flatten each into 4-inch rounds then place into each muffin cup. Divide the apple filling evenly onto rolls in muffin cups then top with the crumble topping.
Bake cupcakes 10 to 15 minutes or until bubbly and tops are light brown. Cool in the pan 5 minutes then transfer to a cooking rack. Serve the cupcakes topped with whipped cream, ice cream, or topped with a drizzle of caramel sauce.
Source: Inspired Taste