Skip to content
Skip to navigation menu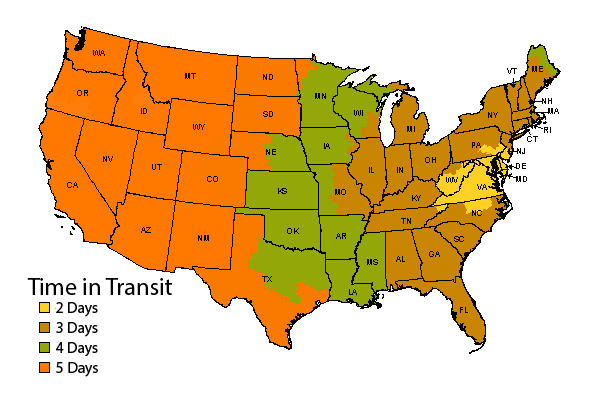 Delivery time estimates do not apply to personalized, large or heavy items (over 20lbs.) that require special shipping, items shipped directly from the manufacturer, or out-of-stock items.
Delivery estimates only apply to the contiguous United States. Saturday, Sunday and national holidays are not considered business days for these estimated transit days.
Creating A Magical Night Garden
"Beauty is a light in the heart."
— Kahil Gibran
Being surrounded by beauty soothes the soul. Your home should be your oasis, both indoors and out, day and night. Even if your yard and garden is filled with verdant plants and colorful flowers by day, you can make your landscape equally enchanting after sundown, too.
Lights create magic. Envision string lights adorning a tree, deck or arbor – or solar path lights creating an elegant walkway. You can create a night garden that pleases the eye and soothes the senses even after dusk.
Add plants that are more visible at night, such as those with white flowers or bright leaves. "Layer" a variety of these ideas to create maximum impact.
Learn how to create a magical evening landscape with these easy additions anyone can do in a weekend or two.

Perfectly Practical Solar Lighting
Start your night garden planning with lighting that makes paths and stairways safer after dusk.
You can light a walkway for a safer stroll from driveway to door or home to garden with easy lighting solutions. Our best-selling, super-bright Path Lights work from dusk to nearly dawn on a full charge. They're great for a longer path. Use them anywhere to highlight your landscape.
Or, try our 3-in-1 Solar Lanterns. This set of two can be set at a pathway entrance, providing enough light for a shorter walkway. This versatile set can hang on a hook or be placed on the ground or tabletop. Just pick them up off the stand and put them on
the table!
Before you even venture out into the yard, make your deck or porch safer with Step Lights or Post Cap Lights. They're easy to install and add instant light just where you need it!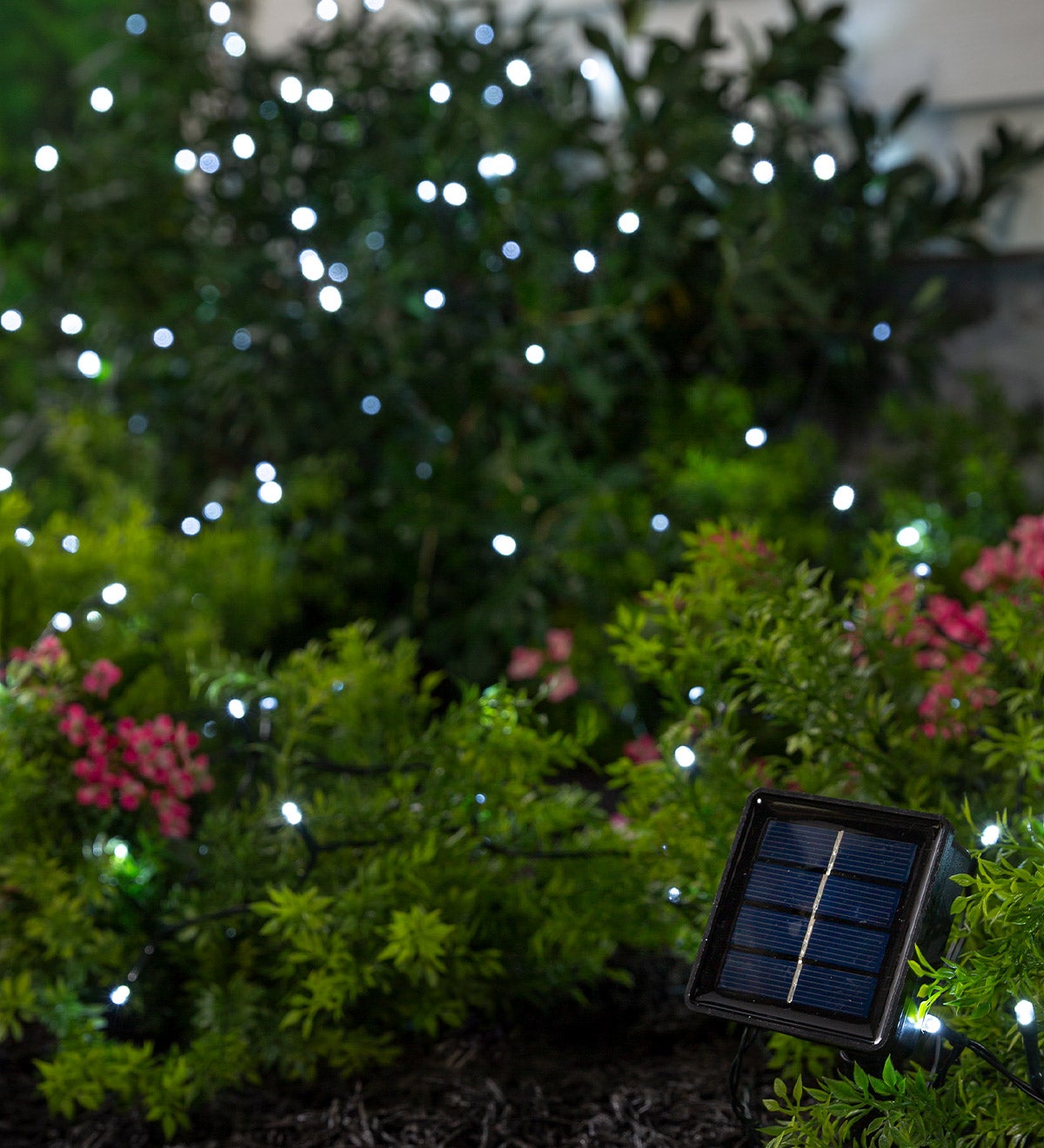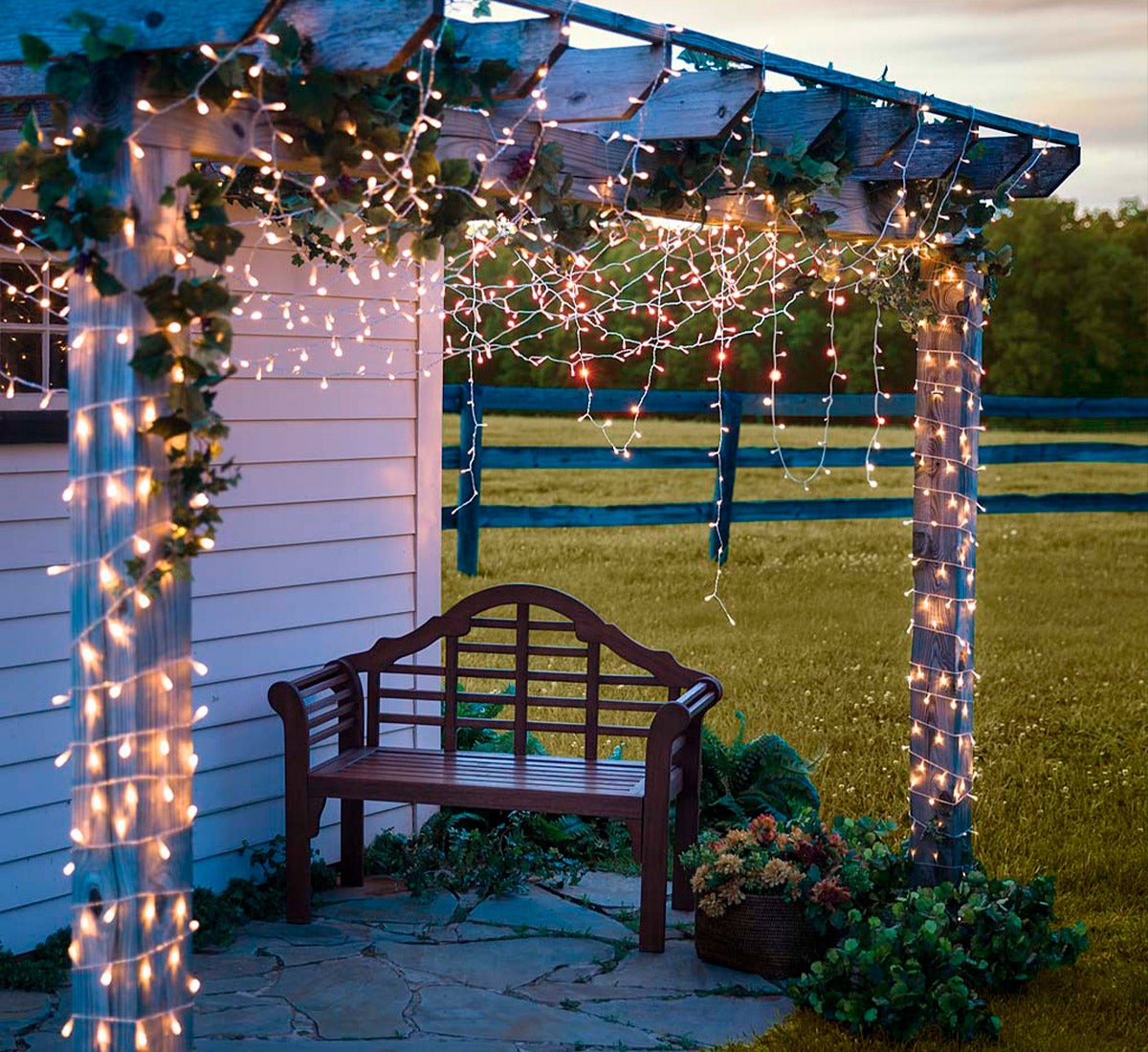 Let There Be Height!
Elevate your landscape with lighting that's a cut above. String Lights can be used in many different ways to create mood and magic with the feel of a starlit canopy.
This idea is definitely on trend, employed by entertainment and wedding venues, micro-breweries, wineries, restaurants and parks. It works because it adds sparkle to any space, creating ambiance for your own backyard gatherings.
Add height by stringing lights on an arbor, pergola or trellis.
This ensures that your garden's focal point is clearly visible after dusk too.
Lights are also beautiful wrapped around a tree trunk or strung across two or more trees to create a canopy over a dining or gathering area. This creates an outdoor "room," studded with starry lights for the ceiling.
Define deck or porch railings and columns with lights using a draping or wrapping technique.
Lights can enhance just about any décor. Add them to potted plants, use them in tablescapes, place them in large jars or vases to create sparkling pops of light in unexpected places.
Some lights have multiple functions to get different looks, from steady on to flashing, waves, slow fade and more.
If you want to add illumination and height without stringing lights, just plug in one of these gorgeous, weather-resistant Lighted Trees for an eye-catching look that requires little-to-no effort. They're instantly gorgeous and look so realistic – a great option for evening parties and celebrations, and perfect on your patio or porch anytime.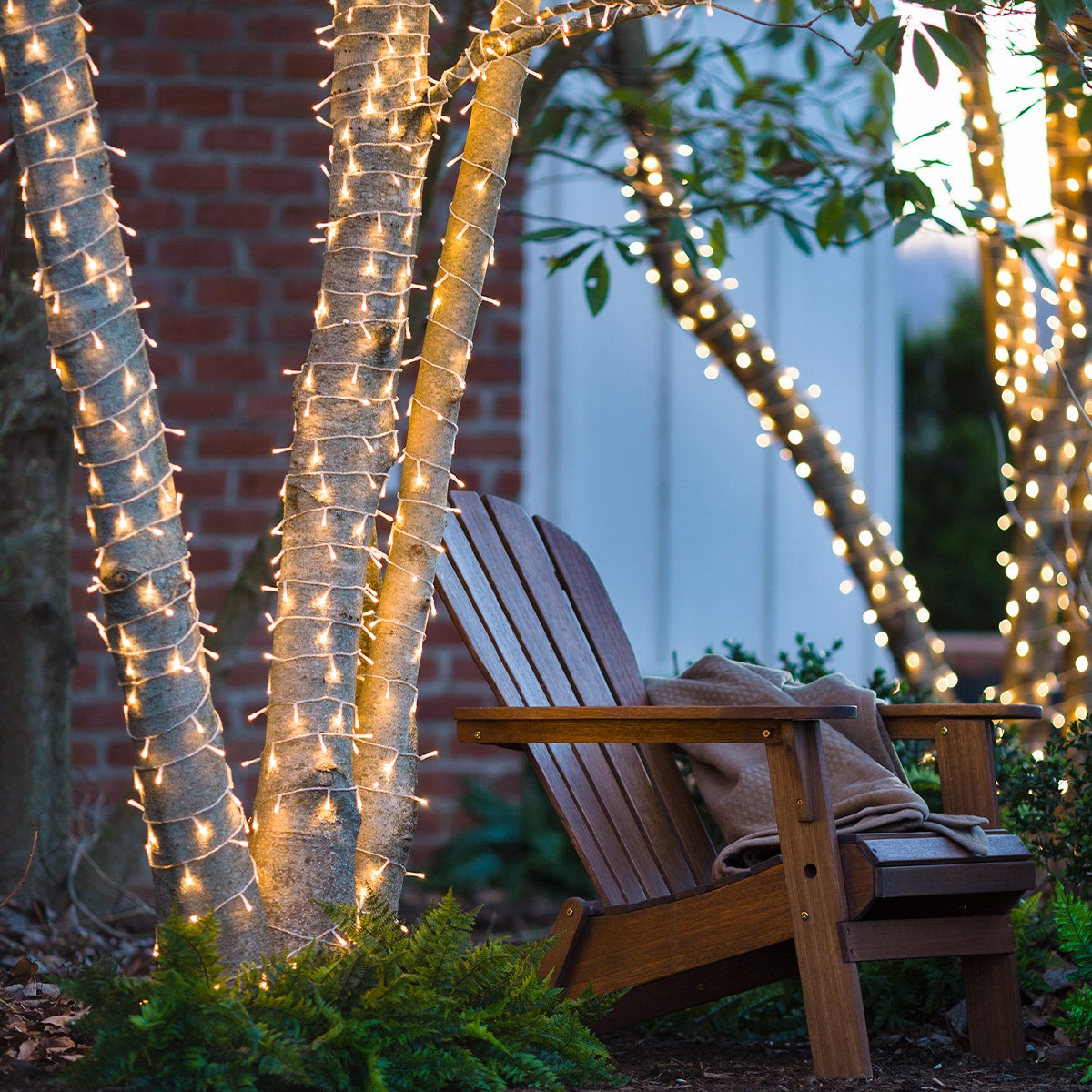 Uplighting is another technique to create evening ambiance. Simply place exterior lighting fixtures at the base of a tree or bush, and shine them upward into the branches and leaf canopy (especially beautiful with weeping trees or willows). You can also use multiple lower-wattage up-lights to brighten foundation or perimeter shrubs.
For another option to draw the eye upward, try our popular Solar Star Lanterns. These can be hung from trees, porches, eaves and more to add festive style to your outdoor gatherings. They add panache to any party or celebration!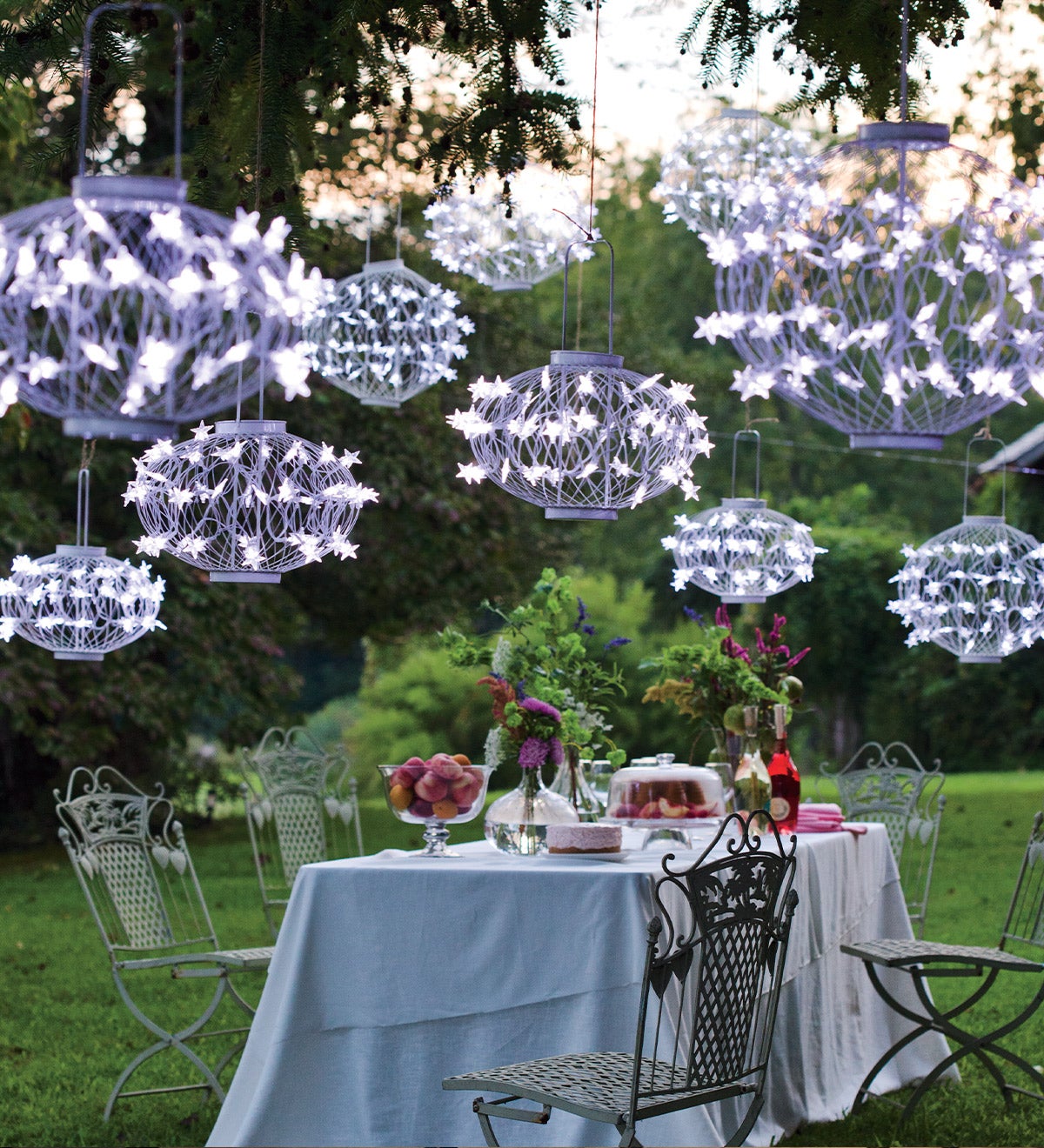 Our Solar Spinners are another great way to add height and light after dusk. Standing 6'H or more, these pieces of kinetic art add color by day, light by night and movement almost always. Setting up is a breeze.
Whimsical Wonders
Solar accents offer a unique opportunity to add fun to your garden without any work (no cords or electricity needed!). Choose accents that suit your personality and get ready to enjoy them day and night. From stakes to statues and more, you'll find the perfect fit to brighten any outdoor space.
Our Solar Mobiles have been popular for years. Hang from a porch, garden hook or tree, or give them as gifts. The Color-Changing Solar Mobile with Hummingbirds is only one of
many choices.
Lanterns do double duty as décor and illumination for outdoor gatherings. Place one or more of these on a table, stair, low walls or hang them. They add wonderful ambiance and color, day
and night.
Exclusive, Original Designs
That Shine
Plow & Hearth is a great source for things you never knew you needed…until you saw them and fell in love. That's because our designers work tirelessly to bring one-of-a-kind items to market.
These Puppies with Solar Butterflies are a good example. Lifelike and so incredibly cute, they're even more irresistible with lighted butterflies. Imagine one on your patio, or tucked into a flowerbed – a surprise day and night!
Our Solar Garden Flowers add color and light any time of year. They're ideal for filling in bare spots or adding contrast beside low hedges. You'll love their soft nighttime glow, lending interest and soft color to your garden after dark.
Over The Moon For Nighttime Gardening
Moon Gardens are those designed to look great at night. A garden like this might consist of plants with white flowers, shiny or variegated leaves, or blooms that open after dusk.
White Flowers
When planting flowers for a moon garden, it's important to group them for more impact. A single flower or small handful of white won't give you enough effect after dark. Some white flower varieties that work well include:
Snowdrop
White Daffodils or Tulips (popular bulbs that are great for cutting)
Sweet Alyssum (a low growing border perennial)
Shasta Daisy
Hydrangea
Gardenia (smells delightful at night)
Wisteria (intoxicating aroma)
Bright Foliage
Greens with a silvery tone or variegated leaves stand out better after dusk than typical darker green shades. You might try some of these:
Silver Mound Artemisia
Variegated Hosta
Lamb's Ear
Dusty Miller
Blooms That Open At Night
Some flowers open after dusk and remain closed during the sunniest parts of the day. In fact, Evening Primrose and Moonflower put on a show, with blooms opening quickly right before your eyes!
Try these:
Evening Primrose
Moonflower
Night Gladiolus
Night Phlox
Four O'Clocks
Queen of the Night
Rain Lily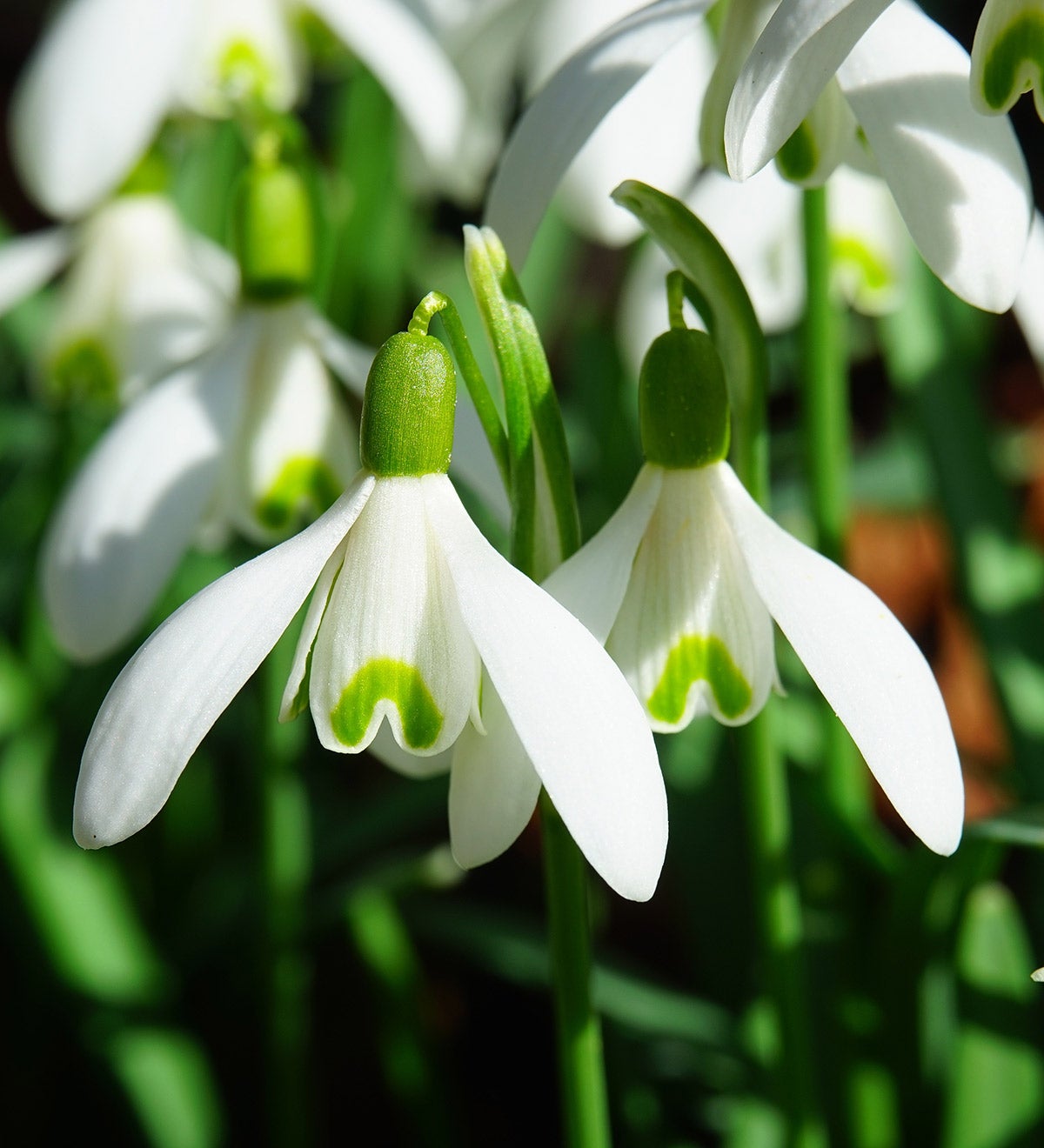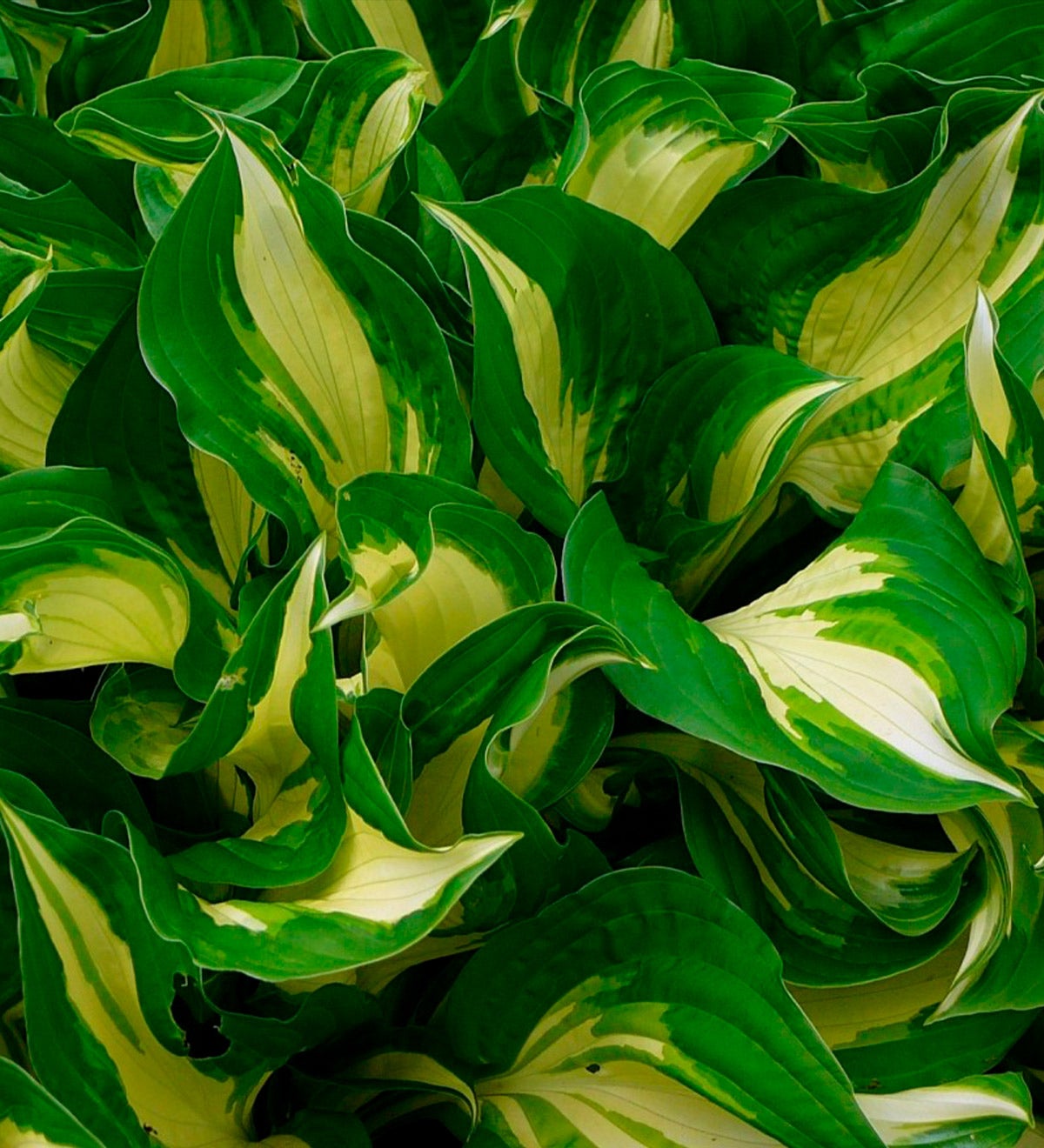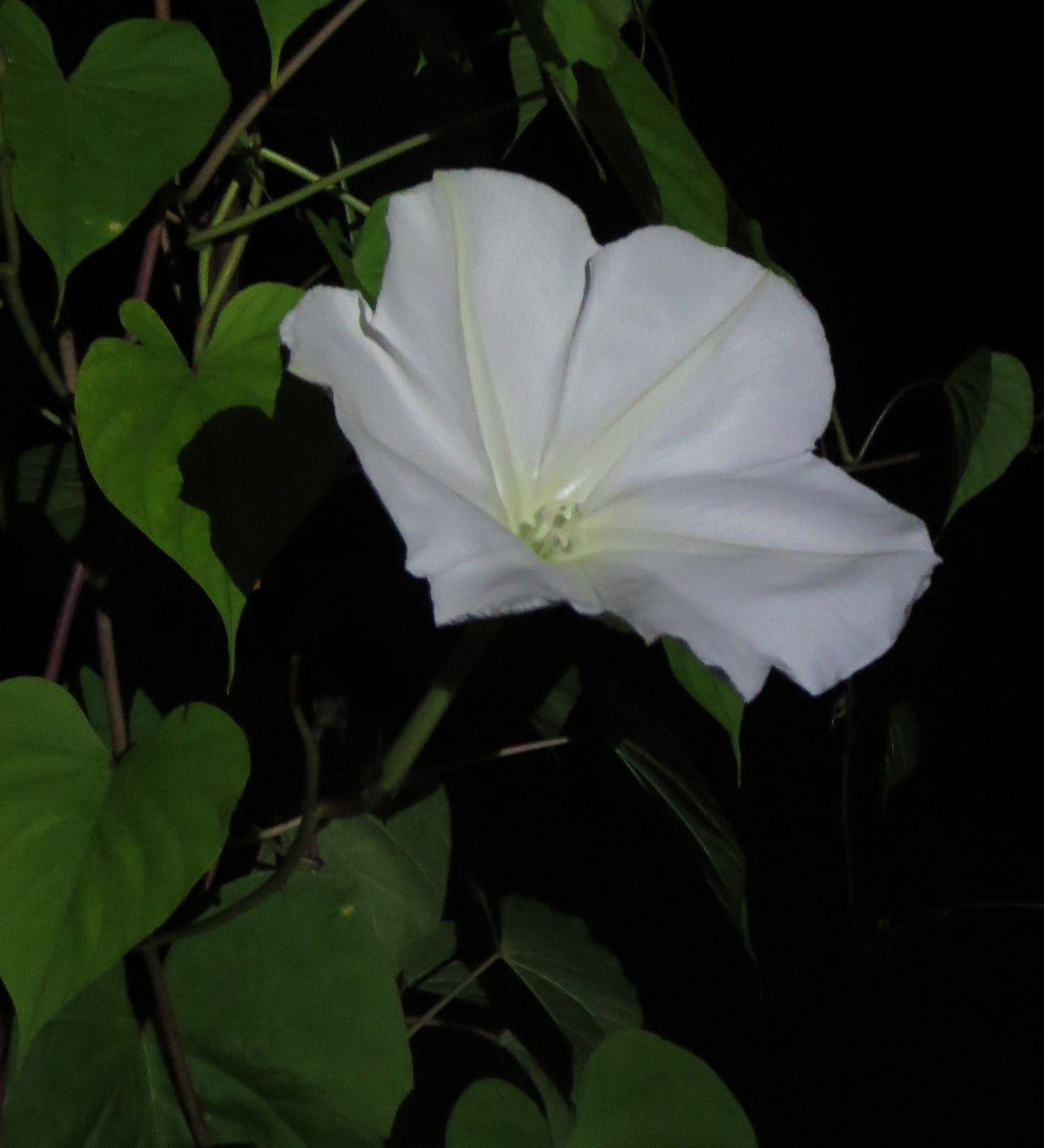 Delightfully Elegant
Solar accents create all kinds of magic, from whimsical to elegant. Add breathtaking designs to your garden with some of our most beautiful ideas.
If you have a green thumb and want to show it off even after dark, place your prettiest plant in a unique Solar Planter. With lights around the top and bottom of the rim, this planter illuminates the plant inside and the surface below, casting interesting shadows.
The Solar Art Glass Bell Chime combines graceful watercolors with a wooden clapper and a jute rope, creating soothing sight and sound.
Use our Glass Mosaic Solar Garden Stakes along a pathway for subtle light, in the garden for interest after dark or near the porch stairs. They look beautiful both night and day.
---
Bottom line: it's your time to shine…at night! Use any of our easy ideas to create a garden that delights the senses and comes to life after dark. From simple string lights to solar solutions and special plants that look great in low light, you'll soon have an enchanting, illuminated nighttime landscape you'll love!