Skip to content
Skip to navigation menu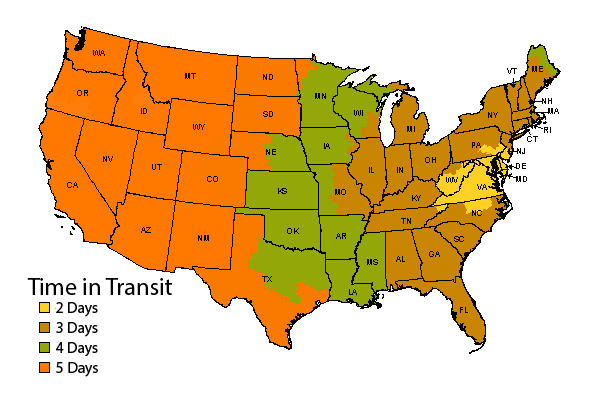 Delivery time estimates do not apply to personalized, large or heavy items (over 20lbs.) that require special shipping, items shipped directly from the manufacturer, or out-of-stock items.
Delivery estimates only apply to the contiguous United States. Saturday, Sunday and national holidays are not considered business days for these estimated transit days.
Houseplant and Indoor Gardening Guide
Indoor gardening is a rising trend for many great reasons. It's therapeutic to grow and care for plants; there are numerous health benefits of greenery in your home or office (better air quality, increased humidity, improved concentration/productivity and reduced stress); plus, their organic beauty and lush color are undeniable.
Whether you are new to houseplant care or have a deep-green thumb, you'll find our favorite plants and accessories helpful in elevating your indoor gardening game!

---
Lowest Maintenance Plant:
Snake Plant/Mother-in-Law's Tongue/Sansaveria
A plant that thrives in low light, very little water and propagates with little intervention? Yes, that dream plant exists and it offers a range of striking shades and architectural shapes to fit your style.
Commonly known as the Snake Plant or Mother-in-Law's Tongue, Sansevieria is the perfect pair for busy people, brown thumbs as well as gardeners' who enjoy unique plants. Simply place in a room that is not completely dark, water when soil is dry and repot when you feel like it – this plant will thrive and multiply!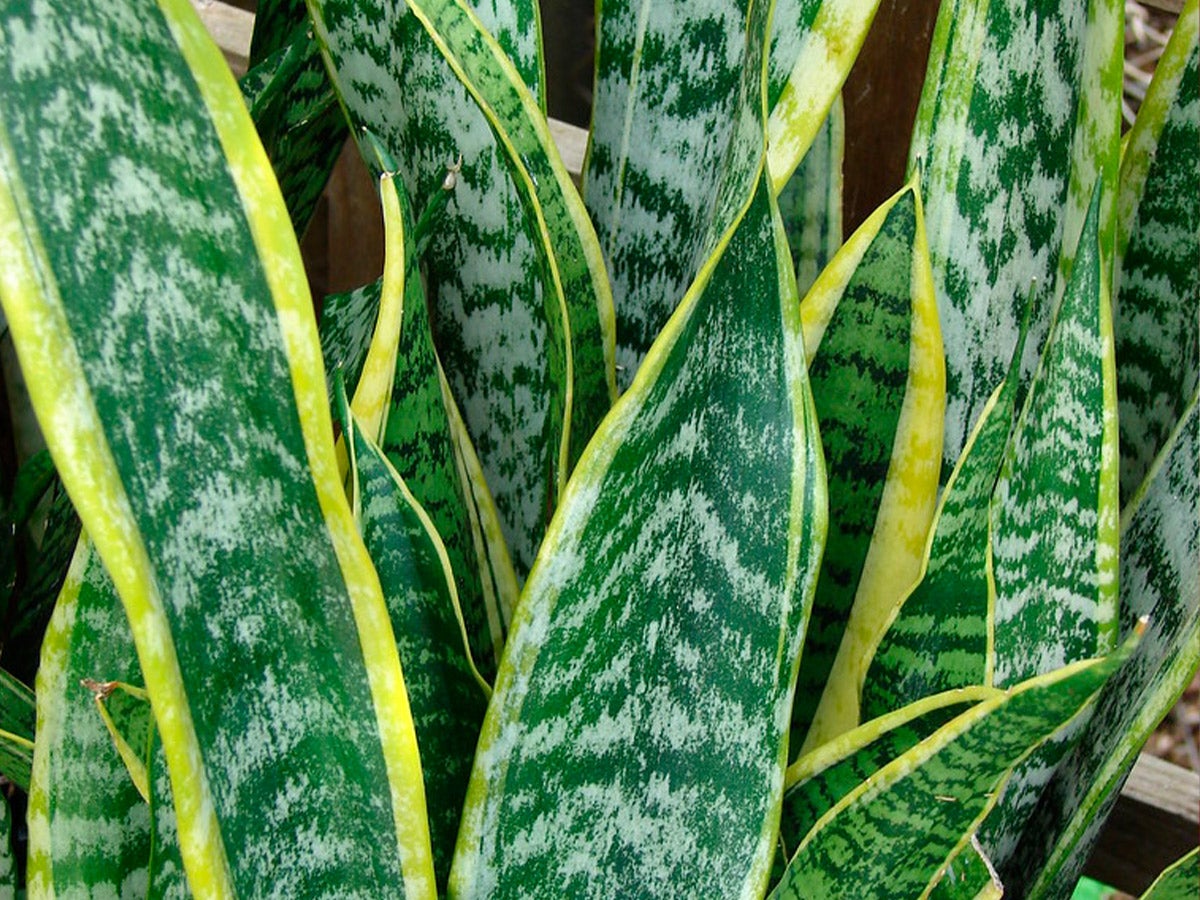 Showiest Flowers: Amaryllis
Looking for bursts of bold, trumpeting blossoms? The Amaryllis has exactly what you are looking for. It comes in a wide range of colors, double- and single-petals and patterns to meet your personal taste. Plus, with a little effort, it will bloom several times in a year for you to enjoy.
The amaryllis is a bulb and can be potted in dirt or forced using water. Soil is the easiest way to keep it healthy and eschew mold and other unpleasantness that can come from inattentive water planting.
Amaryllis bulbs, though large, don't require frequent repotting or particularly spacious pots. Simply choose a pot that has good drainage and allows approx. an 1" or more around the sides of the bulb. Place bulb in the center and cover approx. ⅔ of the bulb with potting soil for optimal growth and health.
Next, place in a sunny windowsill and water regularly – when the top of the soil feels dry to the touch. Just don't let them sit in water. Your bulb will put out green growth first and bloom in approx. 10 weeks.
After blooms fade, store dormant bulbs in a dark, dry, cool place (between 45-50°F for greatest viability and results).
After 2 months or longer, bring the potted bulb back into the sunlight and resume watering. You can hasten growth by using a warming pad. Lightly fertilize once green growth begins. Stop fertilizing once blooming begins.
With proper care, you'll enjoy this gorgeous flowering bulb for years to come.
Most Worthwhile Challenge:
Australian Finger Lime Tree
Looking for a little bit of a challenge? The Australian Finger Lime is worthy of your time and efforts with its verdant, citrus-scented foliage and its tangy fruits with which you'll be rewarded for your extra patience and attention.
Since it grows best outdoors in USDA Zones 8-11, most of us will enjoy caring for this unusual fruit by potting it and keeping indoors for the cooler months of the year. Lucky for us, it's happy to grow in a container, well-pruned to keep it at a manageable and fruitful 4' to 6' tall.
Choose a container that is at least 5 gal. and has excellent drainage. Feel free to go larger based upon the amount and type of space available in your home, sunroom or greenhouse. If you intend to put it outside during the warmer months, make sure to choose a size you can comfortably move.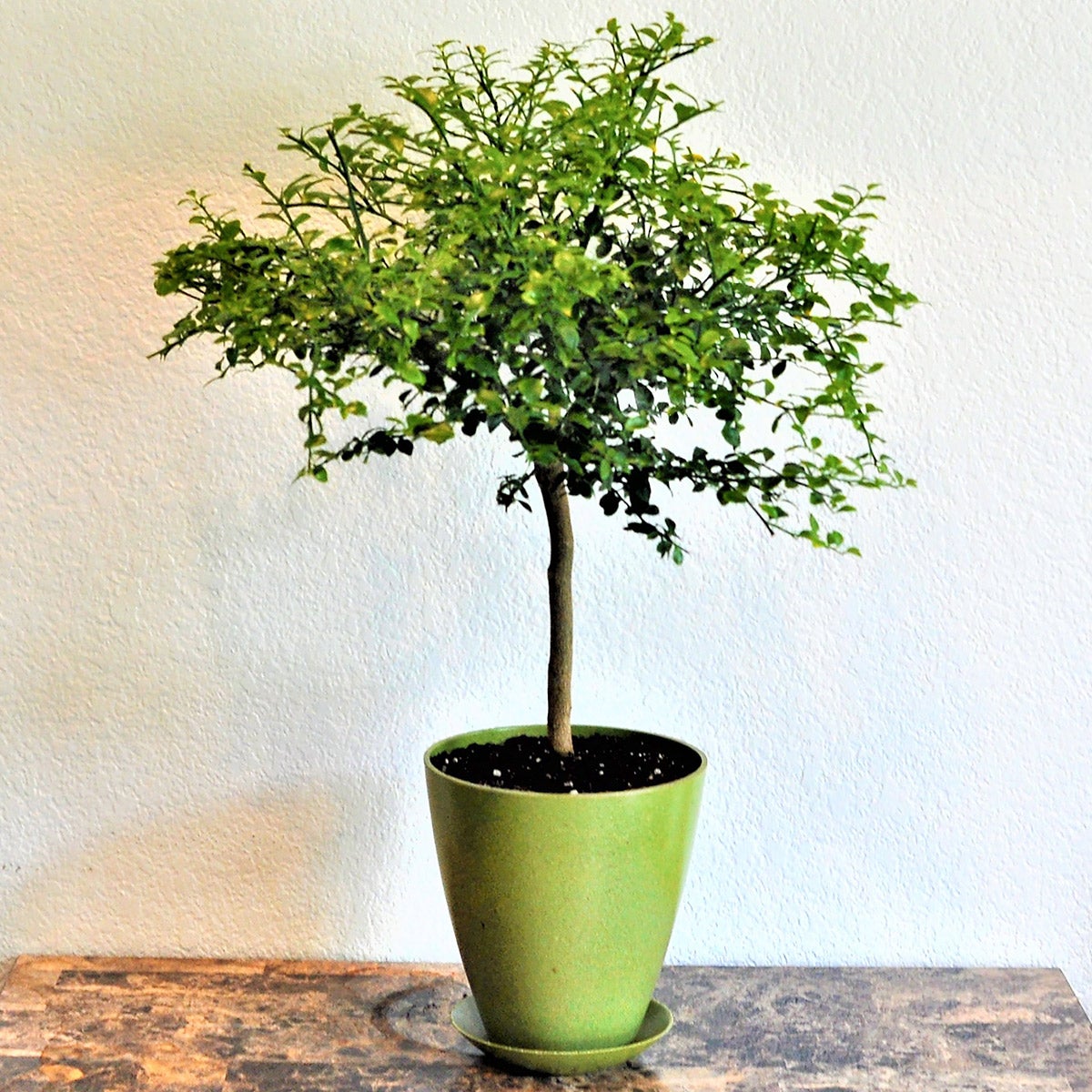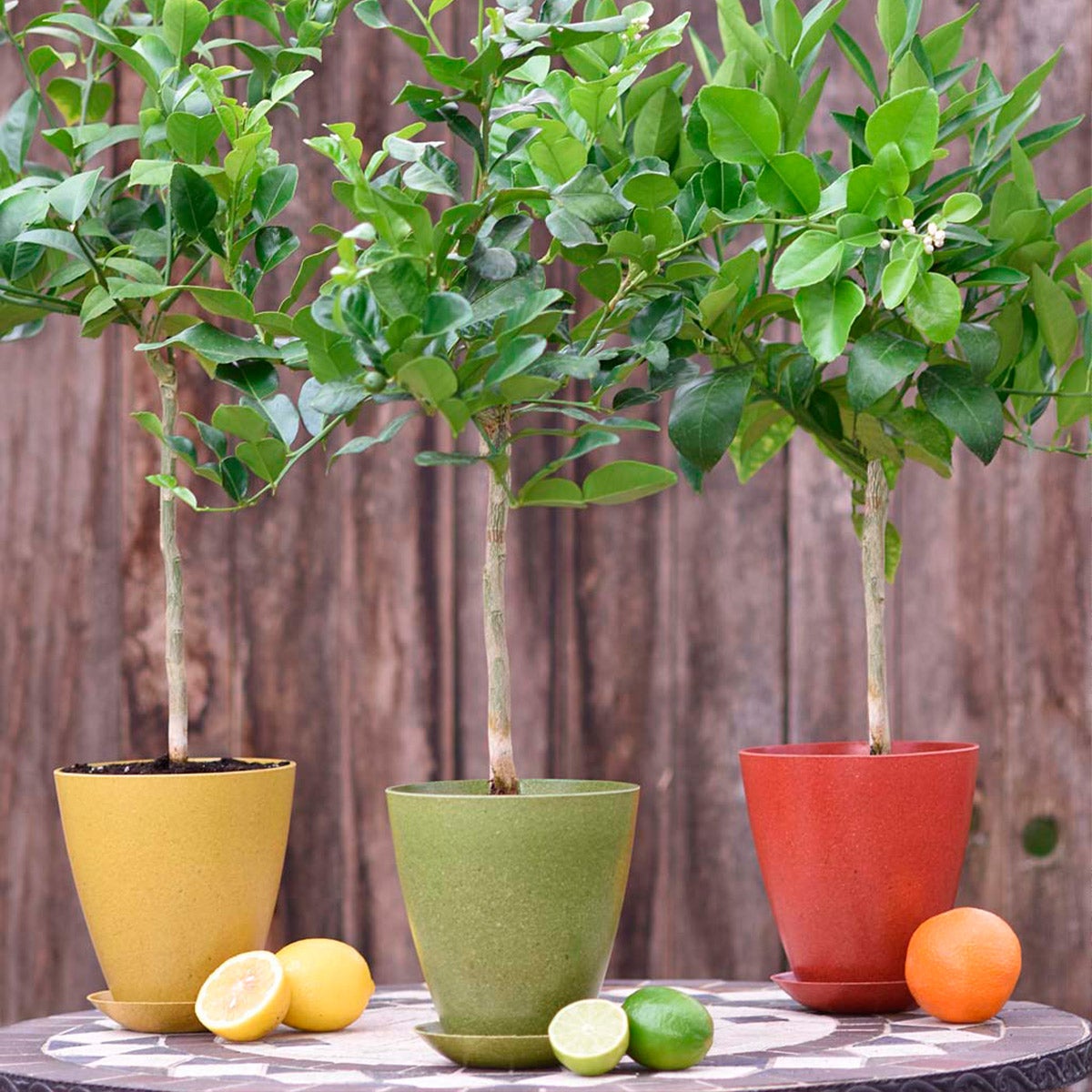 Soil is not a big consideration so you can keep it simple. The Australian Finger Lime is happy in any standard potting soil.
Regular fertilization provides the macro- and micro-nutrients needed for proper leaf and reproductive growth. Using a standard citrus fertilizer mix makes it easy to get the perfect proportions of nutrients to apply upon initial planting and every February, May and August.
Now for the tricky bits – watering and sun. They are sensitive to overwatering, so until you get to know each other better, keep an eye on what its leaves are telling you. Water when they look a little listless and mildly wilted. Don't water arbitrarily!
Citrus trees love the sun. Place your tree in full-sun. If full-sun is unavailable, you'll want to incorporate additional plant lighting to give them the boost they need.
Australian Finger Limes are slow growers, but with time, care and a little luck, you'll be harvesting plenty of tasty, tangy treats.
---
Must-Have Plant Care Accessories
The Time-Saver: Self-Watering Planters
We can't get enough of gardening tools and accessories that increase our efficiency so we can spend more time digging into the tasks we love and do less of those we don't.
Keep it simple and save time with self-watering planters. Built-in, sub-irrigation reservoirs hold and slowly release water into the soil for healthy, happy roots – happy roots mean a happy plant.
On Trend: Hanging Planters
It's no secret that houseplants are a booming home décor trend that isn't going anywhere anytime soon. Embrace the timeless and hottest trends by creating a green oasis nearly anywhere with graceful hanging planters or wall-mounted planters. They're a great way optimize "free space" and bring greenery to small rooms, apartments and more.
Most Versatile Piece: Plant Stands
A stylish Plant Stand works magic in an indoor or outdoor space. Use them to group and elevate your favorite plants off the floor. Try a classic style metal display, go high and make an architectural statement, or try a set that staggers plants at different heights.
---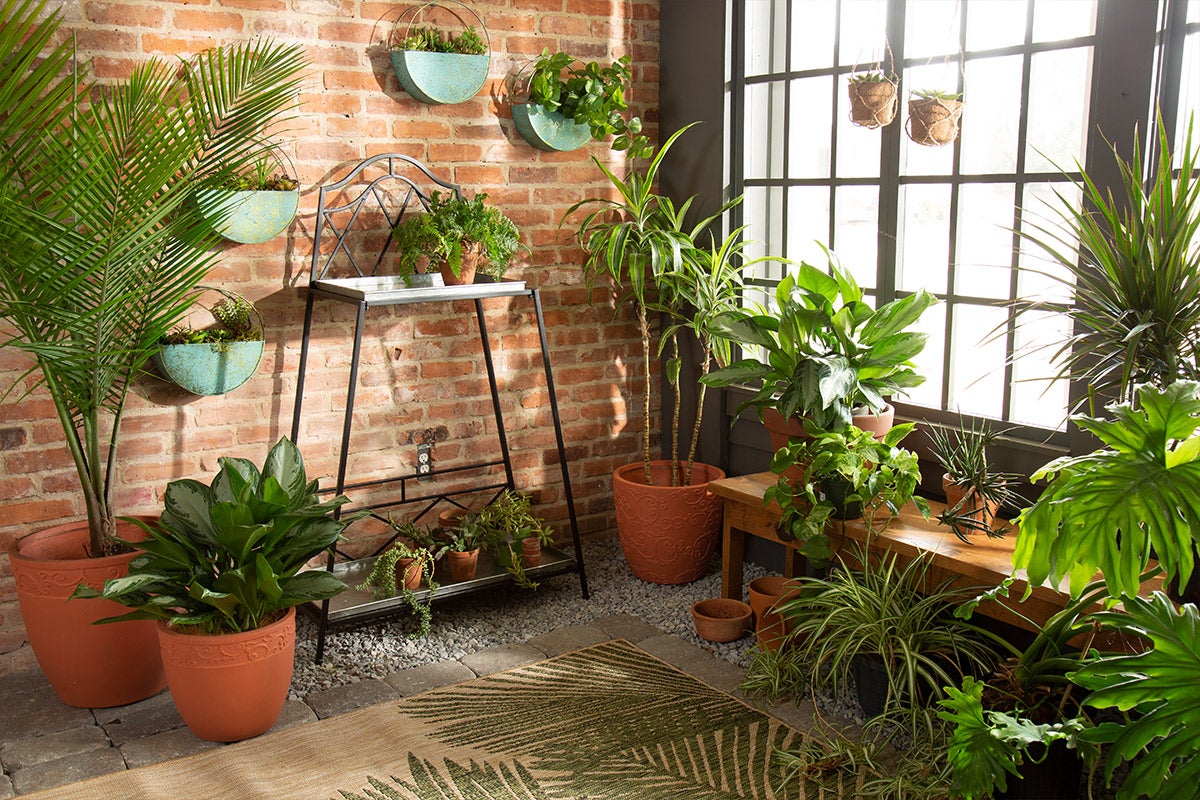 See our full collection of Garden Tools & Supplies to find new, stylish and efficient ways to keep your houseplants happy, healthy and beautiful. SHOP >
Discover our Greenhouse Living collection of botanical accents and inspired designs that bring the natural world into your home. SHOP >