Skip to content
Skip to navigation menu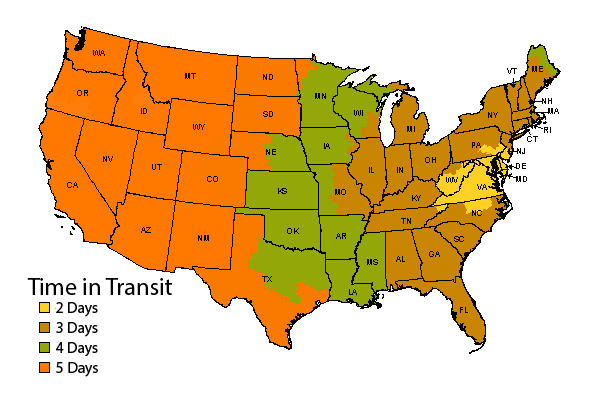 Delivery time estimates do not apply to personalized, large or heavy items (over 20lbs.) that require special shipping, items shipped directly from the manufacturer, or out-of-stock items.
Delivery estimates only apply to the contiguous United States. Saturday, Sunday and national holidays are not considered business days for these estimated transit days.
Holiday Cheer(s)
Toast Your Family's Health & Happiness with Something Special
The time for celebrating the holiday spirit and sharing a cup with loved ones is here. But before you run out and pick up the ingredients for your family's old standbys, take a peek at our favorite twists on holiday classics. After all, taking a tradition and making it your own is half the fun (the other half is enjoying these beverages!).
Each recipe is enough to share—feel free to adjust them to meet your guest count and personal taste!

---
Pumpkin Spice Latte,
But Make It Christmas
Also known as "how to get adults to eat their veggies," this holiday spin on classic eggnog is creamy, spicy and indulgent. Rim the glasses with turbinado sugar or pumpkin pie spice if desired.
Drink:
1 quart of your favorite eggnog
4 oz. pumpkin puree
½ cup coffee liqueur
1 cup your favorite dark rum or bourbon; adjust according to your liking
Pumpkin pie spice
In a blender place the eggnog, pumpkin puree, coffee liqueur and rum or bourbon and blend until well mixed and smooth.
Pour into glasses and sprinkle with pumpkin pie spice.
Enjoy warmed up or chilled over ice!
Make it a mocktail by swapping out the liqueur and rum for a cup of espresso and a dash of vanilla extract.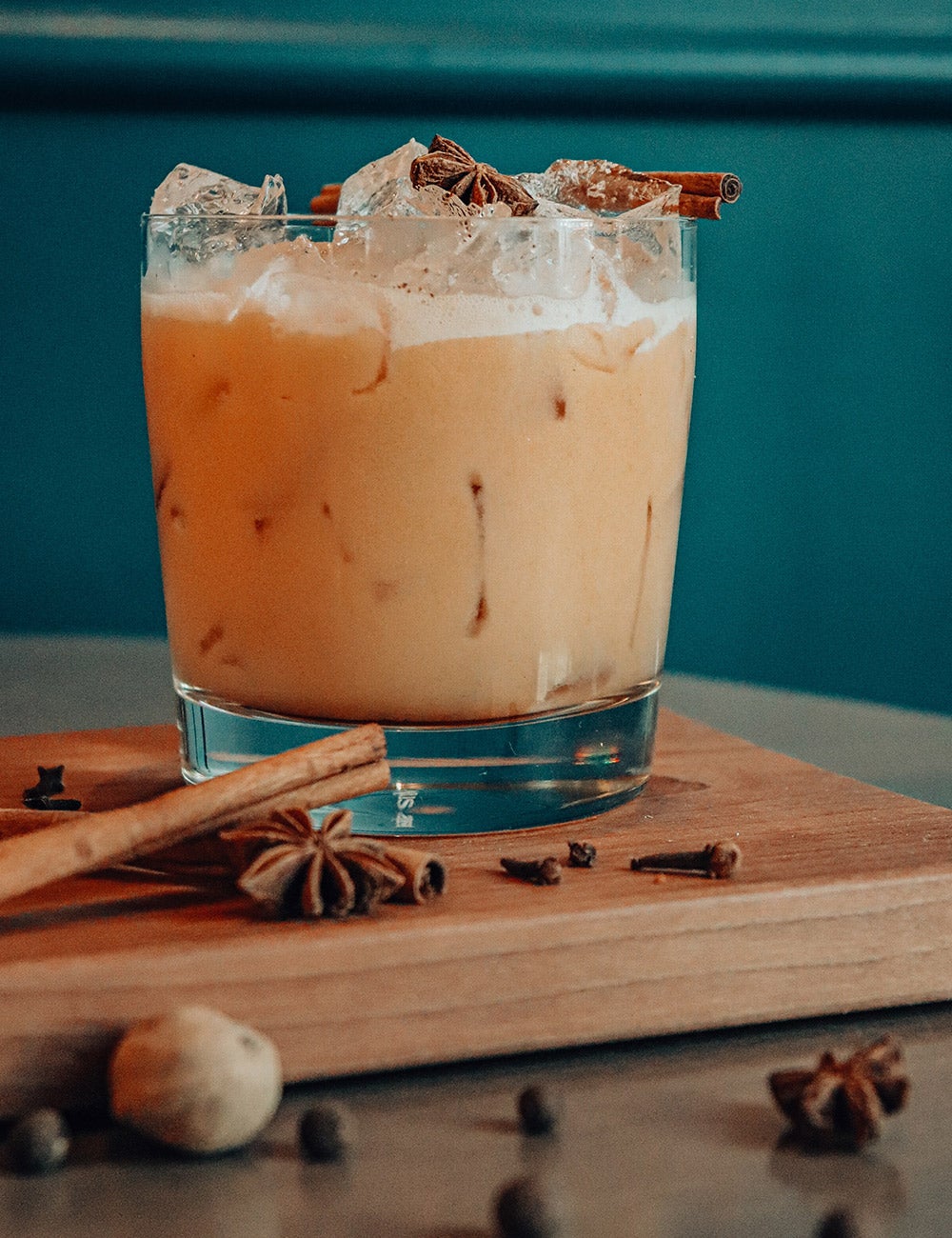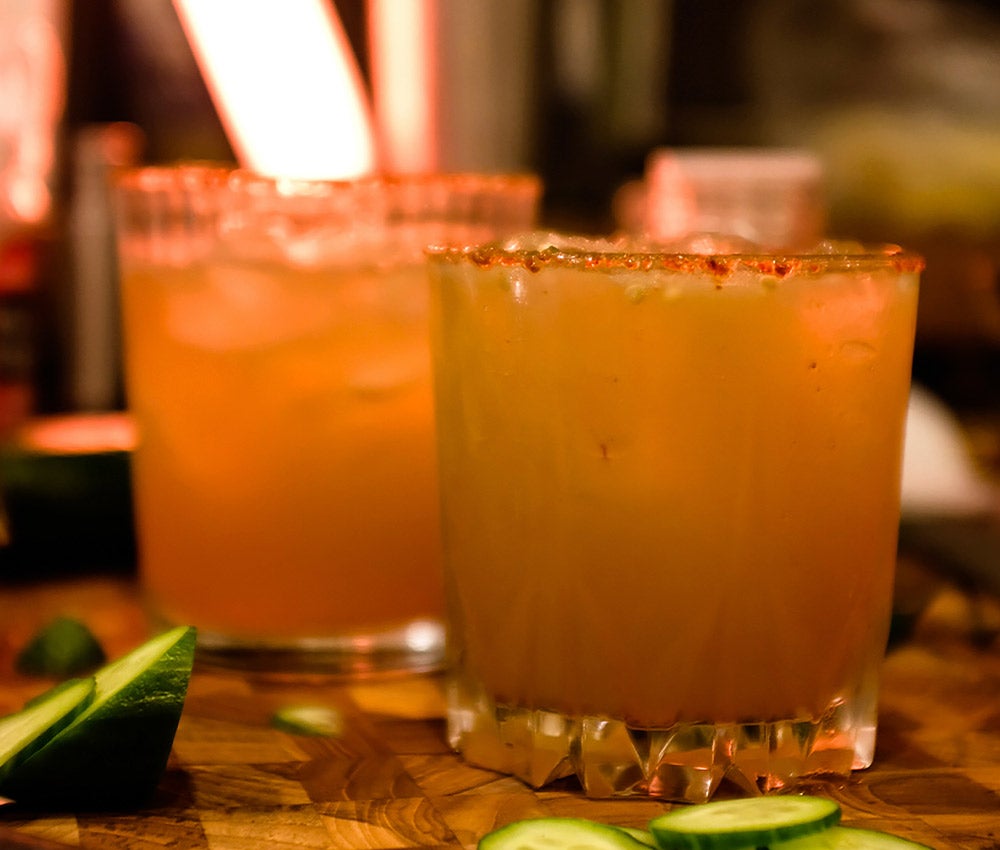 Holiday Margarita
A festive take on a summertime staple, this margarita swaps its traditional salt rim for something spicy!
Garnish:
¼ cup candied ginger
½ cup Turbinado sugar (or whatever sugar you have handy)
1-2 limes sliced into wedges
Pulse candied ginger in a food processor (easiest) or thoroughly mince it by hand.
Combine with sugar and pour onto a small plate (at least as wide as the top of the glass you're serving this tasty treat in).
Run a lime around the edge of the glass and gently roll the edge of your glass in the ginger and sugar mix.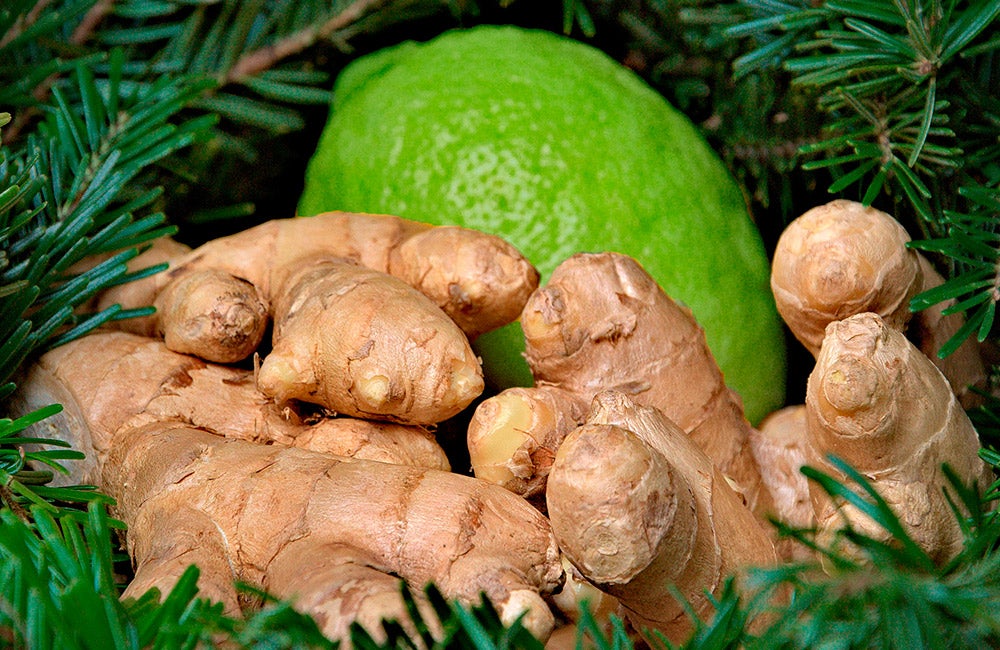 Drink:
1 cup orange juice
1 cup lime juice
1 cup your favorite tequila
½ cup amaretto
Mix all ingredients into a pitcher.
Rim your glass in your garnish, add ice and fill with cocktail.
Warm up with a cool drink!
Make it a mocktail by substituting the alcohol for ginger beer. Spicy and refreshing!
Not Your Grandmother's High Ball
A classic highball is a two-ingredient drink, but since holidays are about taking it up a notch, we added one more ingredient and upgraded this old-fashioned bar standard.
Drink:
½ cup 100% cranberry juice
4 oz. gin or bourbon
2 cups ginger ale
Garnish:
Candied ginger or citrus peel
Add the cranberry and gin or bourbon in a pitcher, mix well and chill.
Slowly add the ginger ale right before serving to preserve its bubbles.
Fill glasses with ice, add garnish and drink and sip on this refreshing classic!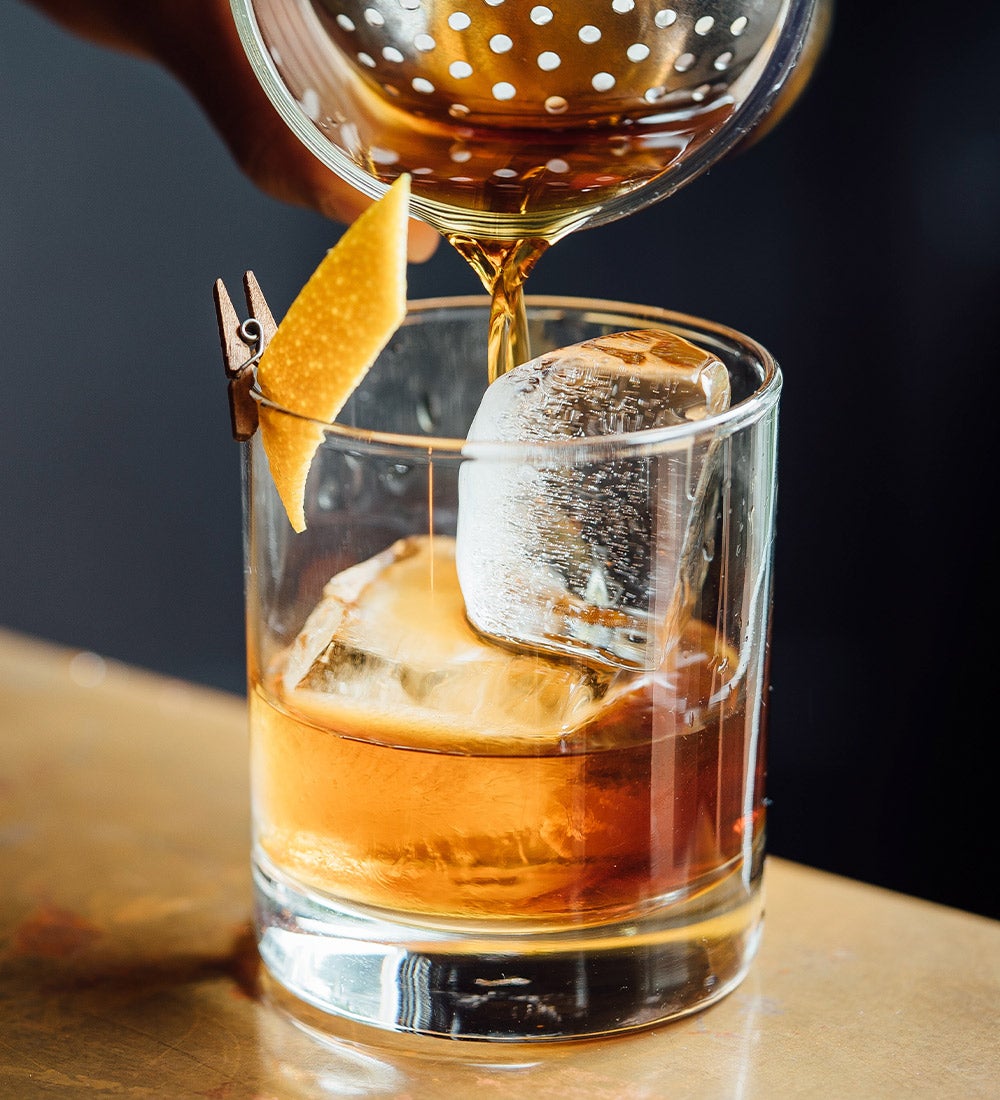 Make it a mocktail by withholding the alcohol and adding flavored simple syrup:
Simple Syrup:
1 cup water
2 cups sugar
A generous portion of herbs, berries or another favorite flavor
Boil water and slowly mix in the sugar until fully dissolved.
Add your flavoring ingredients and simmer for a few minutes.
Turn off the heat and allow the mix to cool completely before straining.
Most simple syrups will stay fresh in the fridge for 1-2 weeks. Some of our favorites include ginger, citrus peel, blueberry, mint, cinnamon and rosemary.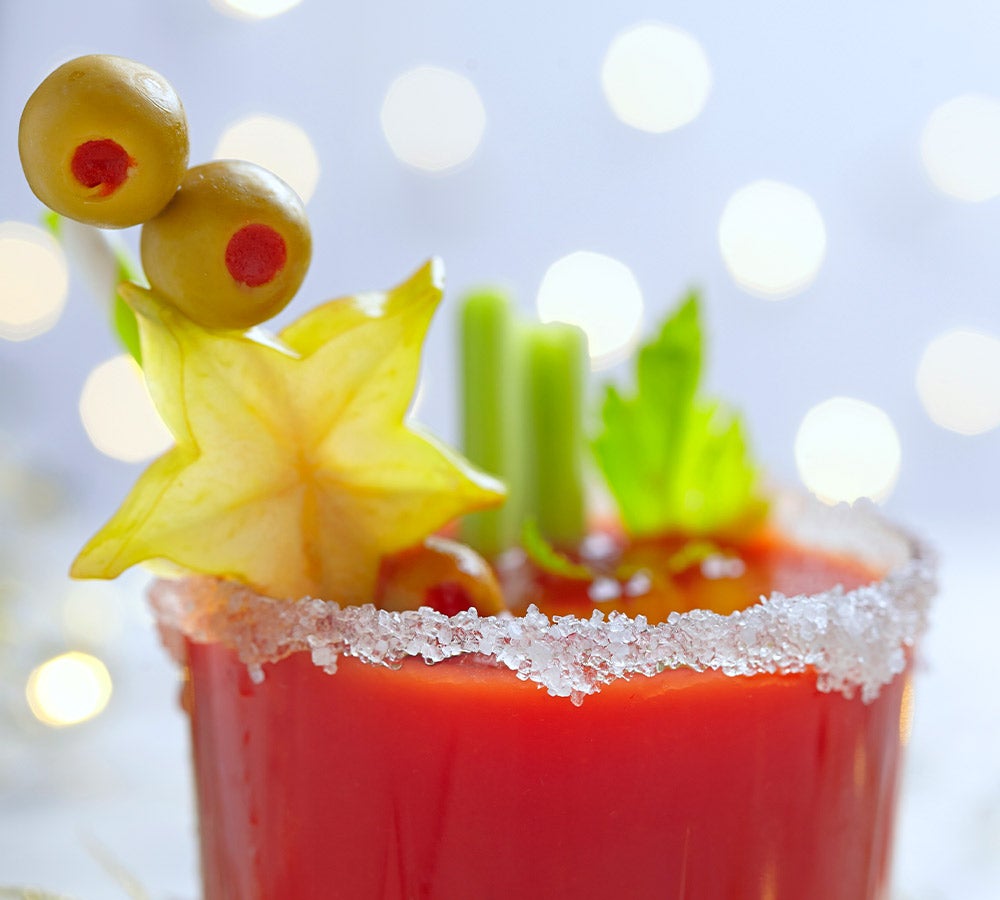 Cheery Mary
Every Bloody Mary lover has a special take on the recipe to make it the "best" beverage it can be. Feel free to use your "favorite" recipe and upgrade its garnish to create a delightfully different presentation.
Garnish:
½ cup flavored peanuts
1 teaspoon spice blend
1 tablespoon bacon bits
1 lemon cut into wedges
1 lime cut into wedges
Celery stalks
Olives
Use food processor or blender to combine and finely chop peanuts, spice blend and bacon bits.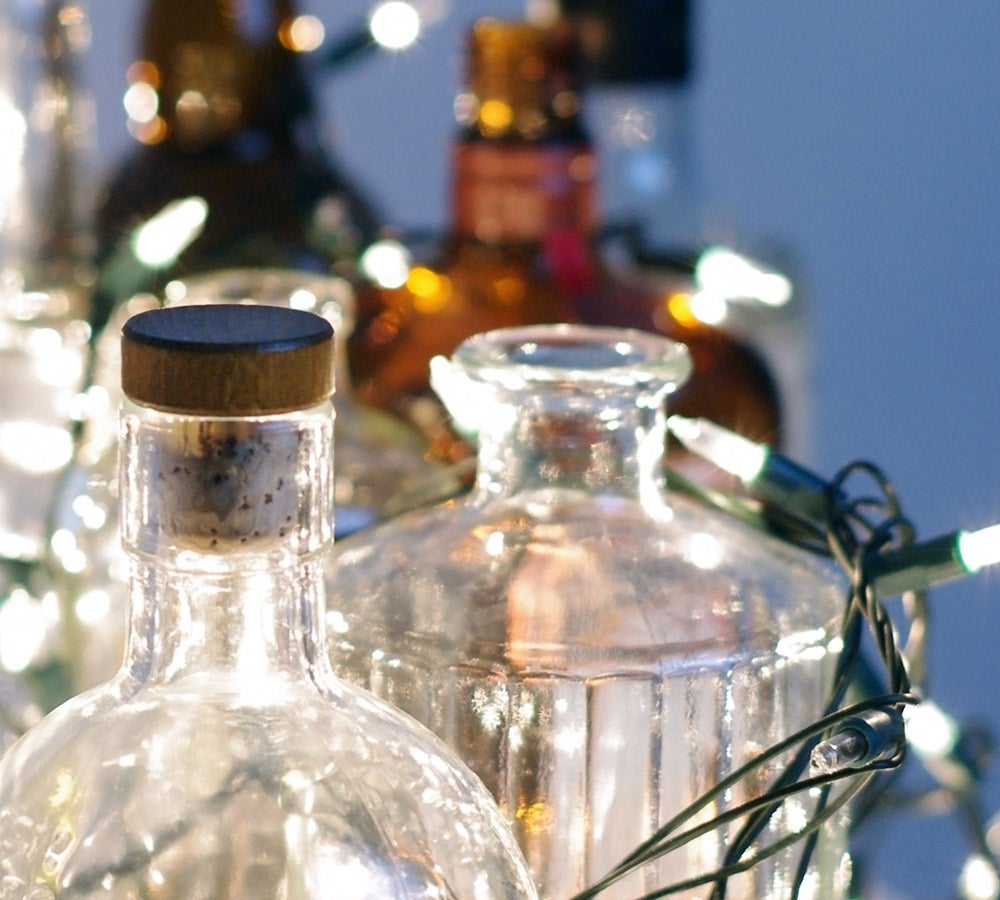 Drink:
Good-quality Bloody Mary base or 4 cups tomato juice
2 tablespoons Worcestershire sauce
Black pepper to taste
4 tablespoons hot sauce
½ cup prepared horseradish
1½ cups tequila, gin or vodka
Mix all drink ingredients together in a carafe. Rim glass with lime or lemon wedge then dip rim into peanut mix.
Pour Bloody Mary into rimmed glass and garnish with olives, celery and lemon or lime wedge. Sip on the spicy delight!
Make it a mocktail by omitting the alcohol. It's a zesty way to get your daily dose of vitamin C and antioxidants. Go the extra mile and use a juicer to make fresh tomato juice (and add a carrot, celery, garlic and herbs for a potent punch of flavor).
A Sparkling Twist on a Champagne Toast
The fizz of a sparkling wine is as festive as it is elegant. Turn up the glam with a few simple steps (and your best stemware) to transform your celebration into an old Hollywood-worthy soiree.
Drink:
Your favorite sparkling wine or cider
½ cup marmalade
¼ cup water
Garnish:
Sprig of mint or a raspberry
Dissolve marmalade in boiling water and allow to cool. This should create a tasty, syrupy version of the classic toast topping.
Drizzle a little marmalade syrup along the inside of the champagne flute, pour in your sparkling beverage.
Garnish and toast to a happy holiday season and a glorious new year!
Make it a mocktail by substituting the sparkling wine or cider with a non-alcoholic sparkling cider, grape juice or ginger ale – perfectly PG beverage for the whole family!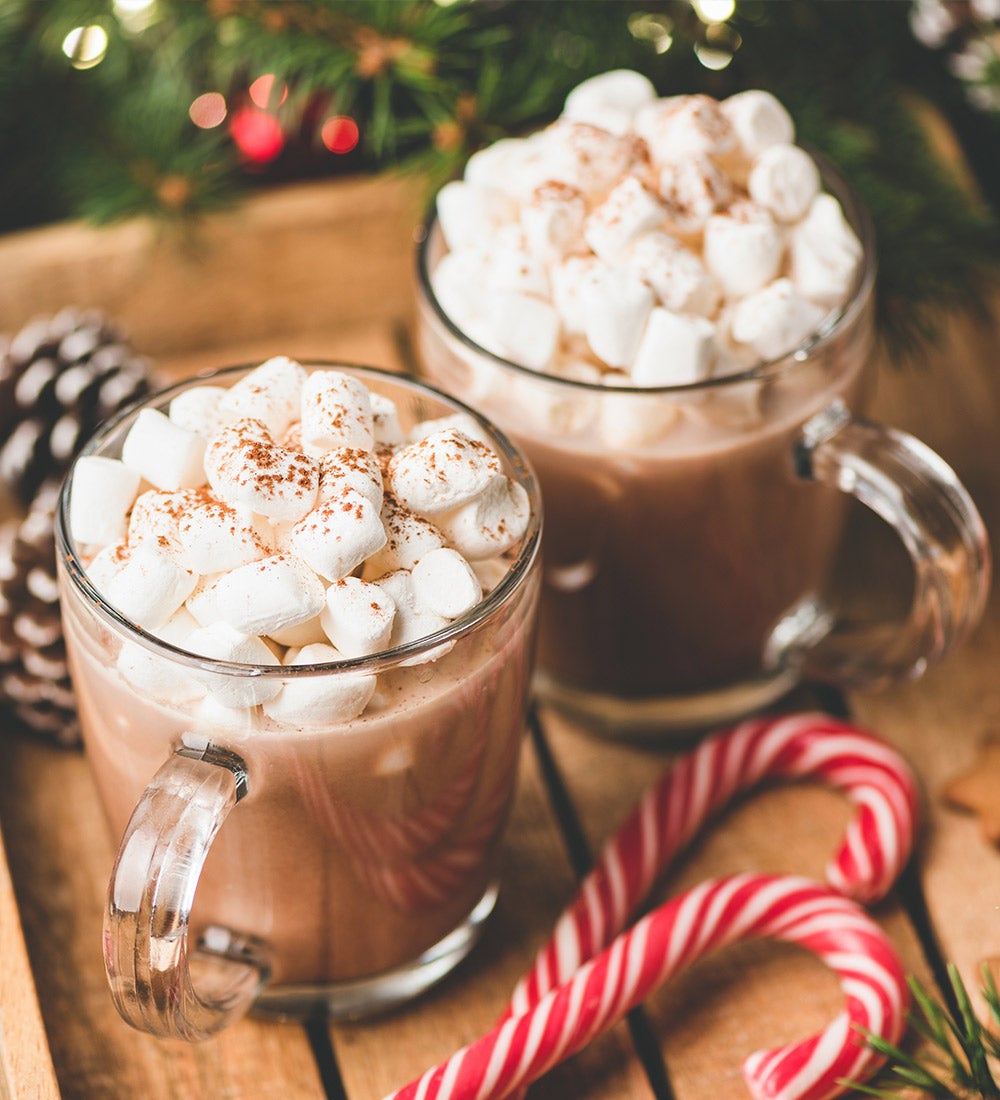 Hot Chocolate with
The Works
Upgrade every chocolate lovers favorite holiday hot drink with a dash of spirit and glammed up garnishes! You'll have everyone oohing and aahing over your handy work with these no-sweat tricks.
Drink:
Hot chocolate mix
Spirit of choice (optional)
Make your favorite hot chocolate mix; follow the directions or prepare the way you love it best.
For adults, add the spirit of choice. Some of our favorite combinations include: amaretto and coffee liqueur, Bailey's Irish Cream and Irish whiskey, Chambord and vanilla vodka.
Garnish with any combination of your favorite treats for a fun and festive drink the whole family can enjoy: fancified marshmallows, flavored whipped cream, crushed peppermint bits, cookie crumbs and more!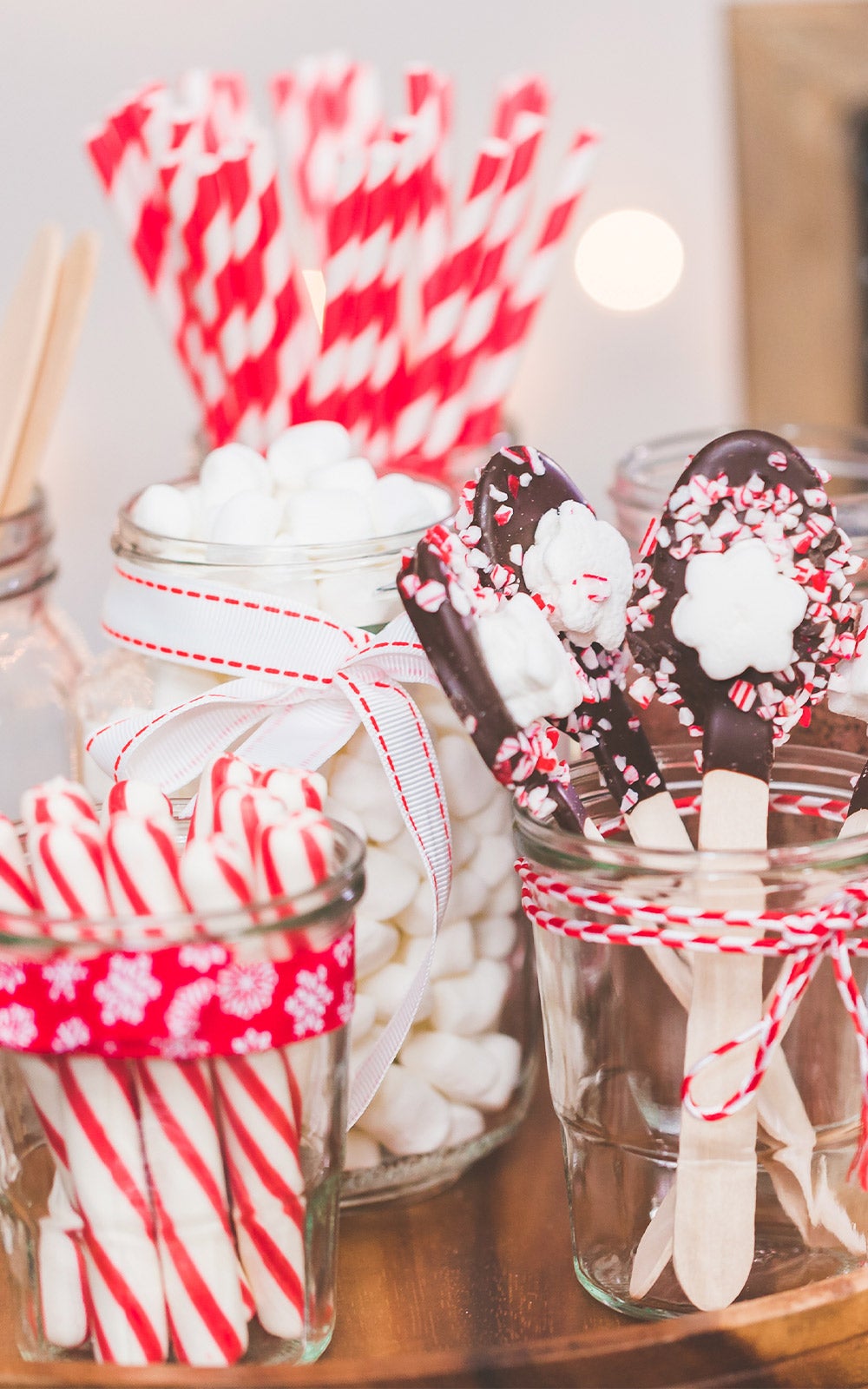 Garnishes, Toppers & Mix-Ins:
Crushed sandwich cookies, gingersnaps or mint chocolate wafers
Sprinkles, crushed candy bars, peppermint bits
Spices (cinnamon-sugar, cinnamon-cayenne, nutmeg, etc.)
Caramel, strawberry or chocolate sauce
Chocolate curls or shavings
Marshmallow fluff
Fancy marshmallows (store bought, or make your own, see below)
Heavy cream for whipping (see below)
Flavored stirrers (chocolate, peppermint sticks, chocolate spoons)
Rim:
Moisten the lip of your mug with milk/hot chocolate/spirit and gently roll it in the crushed cookies, candies or spices.
Add hot chocolate. Top with additional garnishes or mix-ins.
Fancy Marshmallows:
Lightly moisten marshmallows and roll them in the crumble.
Voilà! Add to hot chocolate.
Whipped Cream:
Using an electric beater, stand mixer or a strong forearm armed with a whisk, beat heavy cream flavored to taste until it holds a soft peak.
Generously top hot chocolate with a whipped cream.
Use one or more garnishes to create photo-worthy (and insanely tasty) hot chocolate!
---
Serve these fresh takes on family favorites at your holiday gatherings this year and be prepared for several rounds of "For She's a Jolly Good Fellow" from happy friends and family.
Wishing you a happy, safe and delicious holiday season!