Skip to content
Skip to navigation menu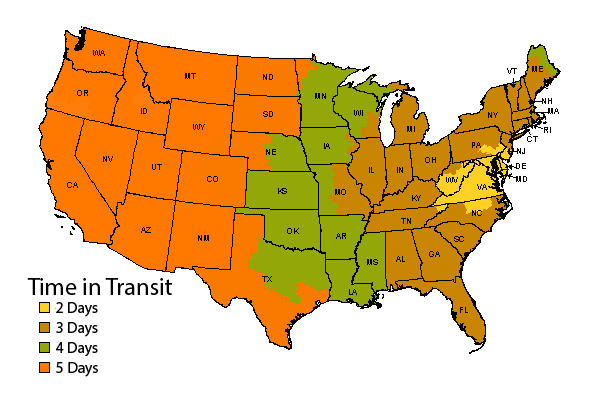 Delivery time estimates do not apply to personalized, large or heavy items (over 20lbs.) that require special shipping, items shipped directly from the manufacturer, or out-of-stock items.
Delivery estimates only apply to the contiguous United States. Saturday, Sunday and national holidays are not considered business days for these estimated transit days.
A Beginners Guide To Butterfly Gardening
Looking for a summer project? A butterfly garden is a great way to beautify your outdoors while also giving back to the environment.
Butterflies, among other pollinators, have been in decline due to habitat loss and pesticide use. Pollination plays a vital role in our environment and what better way to give back than to build a butterfly garden?
This project can be as complex or easy as you want it to be! It's good for first-time gardeners or green-thumb pros, and you can start from scratch or repurpose a section of your existing garden. Whether the project is for you, your community or to educate children, building a butterfly garden can be good hands-on fun for all involved.

---
Location Is Everything
Ensure the spot you choose receives enough sunlight. Not only is sunlight necessary for the plants, but butterflies are coldblooded and will sun themselves to warm up; they're unable to fly if they're not warm enough. Between 6–12 hours of direct sunlight are recommended, but even as few as 4 hours will work for some plants. This area can be in your front or backyard, or even on your porch/patio, but just make sure you have ample space to work with. Keep in mind the types of plants you will use and how many.
Selecting Your Flowers
Once you've picked the area, now you can choose the types of flowers to plant in your garden. The perfect butterfly garden will provide food, water and shelter for the butterflies passing through (or if you're lucky, sticking around). Strategically pick your flowers by filling your garden with two types of plants: nectar plants and host plants. Butterflies are pollinators that drink nectar with their proboscis, while host plants will provide shelter for butterfly eggs.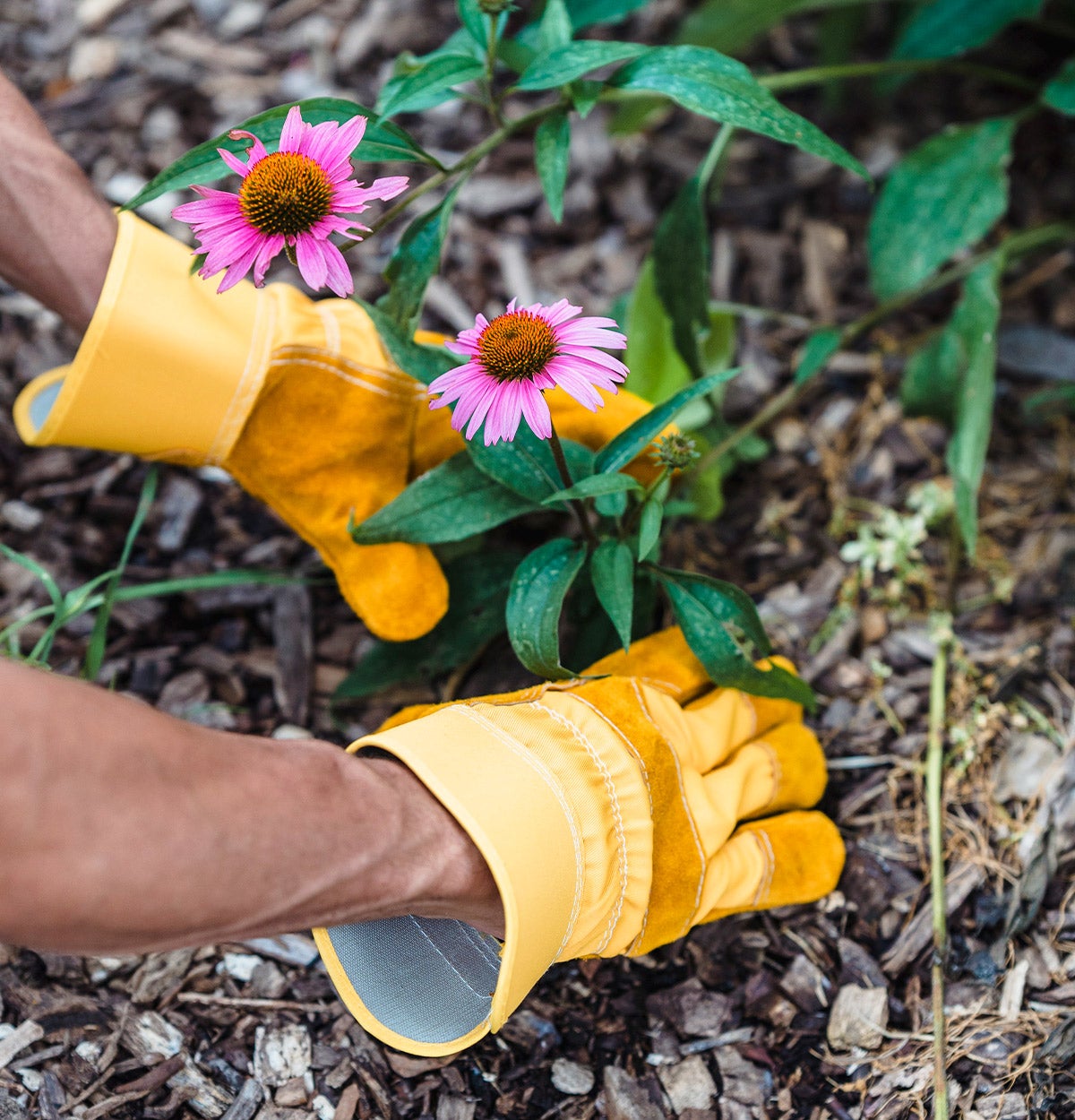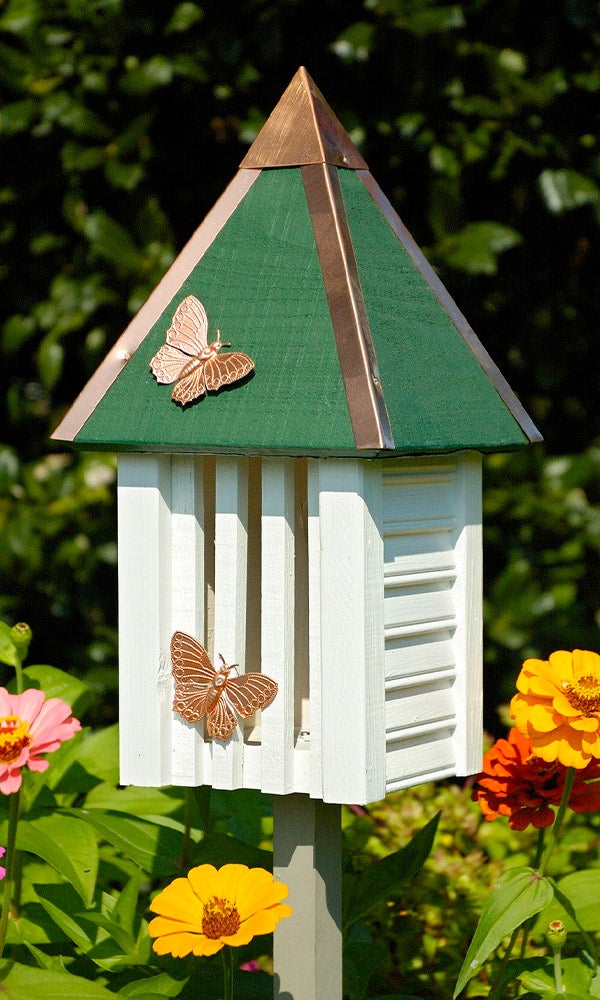 Butterfly Motel: Invite Them
To Stay
To draw butterflies into your garden, consider which types you would like to invite by providing host plants. Monarchs will only lay their eggs on plants from the milkweed family, while Cabbage White butterflies will lay their eggs on plants from the cabbage/mustard family. If you have the space for it, flowering trees like the tulip tree are good hosts and favored by the Tiger Swallowtail.
Butterfly houses can also draw in adult butterflies to shelter them from the elements and can be good options when combined with other amenities like food and puddling stations. Keep all this in mind as you start to plan out your garden and which butterflies are common in your area.
Butterfly Food
Butterflies are active in spring, summer and fall, with their activity being low in the spring and steadily peaking in the fall months. When choosing your flowers, it's best to select nectar plants that will bloom in accordance with the butterfly activity. Here are some options for the seasons:
In spring, Viburnum and Golden Privet
In summer, Coreopsis, Zinnia, and Shasta Daisy
In fall, Rough Blazing Star and New England Aster
If your flowers aren't in bloom, or you'd like to offer an alternative food source for your butterflies, you can put in a shallow dish overripe fruit, store-bought nectar, fruit juice, sugar water, or clear sports drinks.
As with all things, experiment and see what suits your garden best. Butterflies prefer a variety of options rather than a single choice.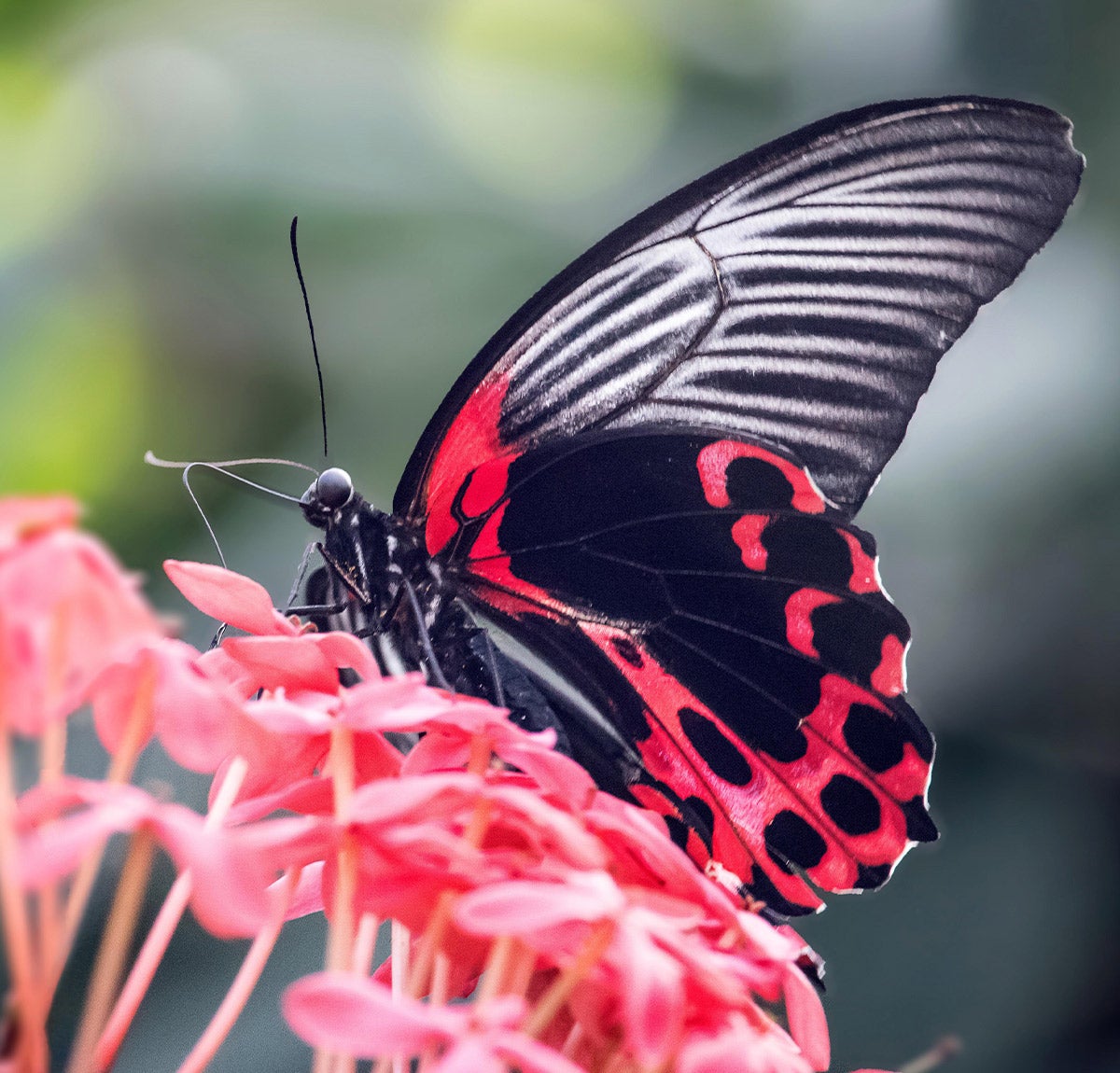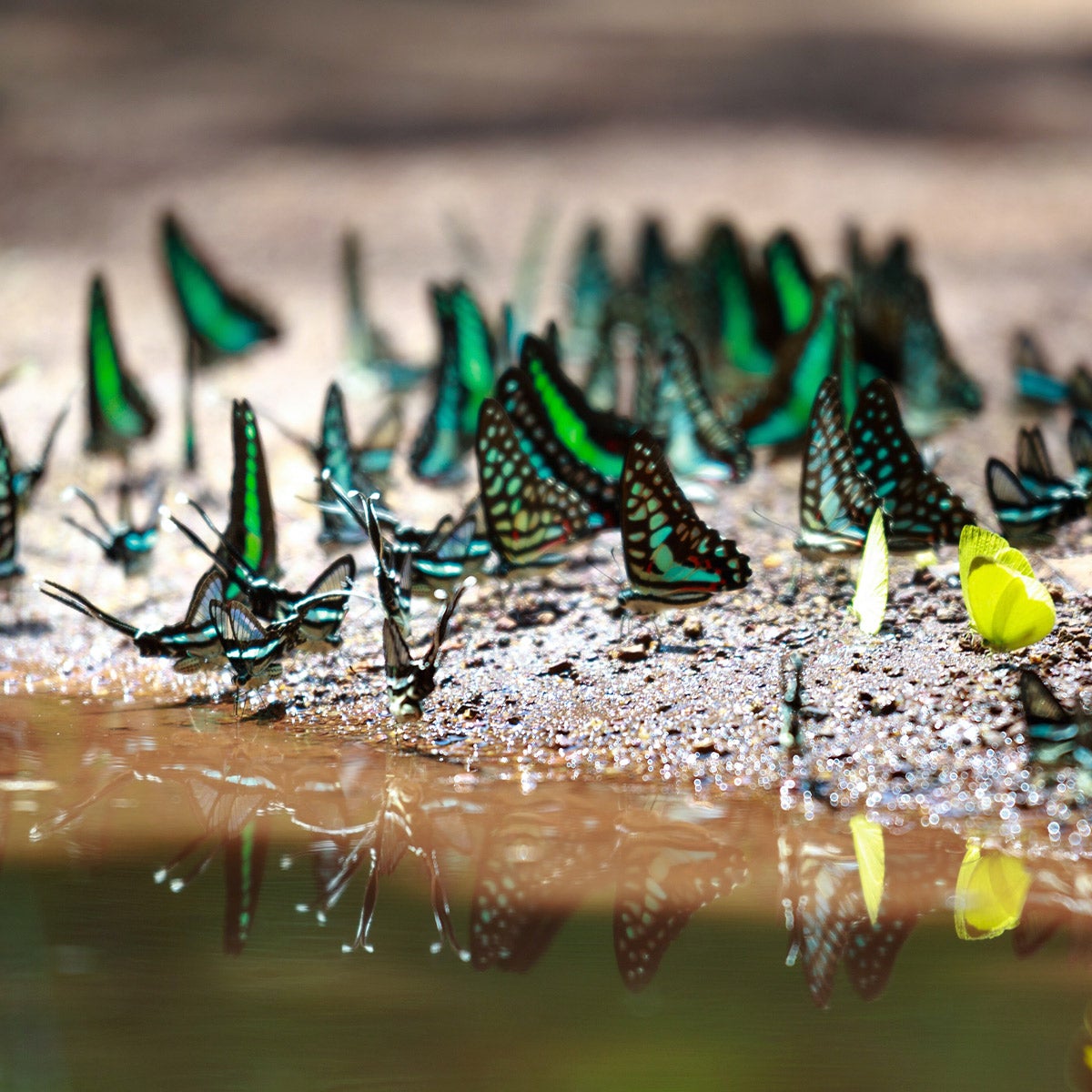 Puddling Stations
Butterflies appreciate small puddles of mud or sand to "puddle" in. Male butterflies will dip themselves into the puddles to soak up salts and other nutrients in order to get energy to mate with female butterflies. Puddling stations can be made by offering a shallow dish with sand or mud and just enough water to get everything damp.
Pesticides: Just Say No
When creating a butterfly garden, you may be tempted to get rid of any pests that might also decide to chew on your butterfly's plants. The unfortunate truth is that pesticides, even ones that are marked as "safe," can kill your butterflies. Helpful insects such as praying mantises and ladybugs will start to hunt your butterflies if they don't have other insects to eat, and they may kill off the whole reason for your garden. Let nature do the work instead and as they say, just let it be.
The Winter Blues
When fall ends and your garden starts to wilt and shrivel, don't cut down your plants and throw them out as you may be throwing out chrysalises. Monarch Butterflies head south for the winter, but many other butterflies don't migrate.
If your garden has been a success, even if it's not visually appealing anymore, you may have chrysalises in what you think is just brush. Some chrysalises are designed to blend into their surroundings and can look like branches, so it's best to wait until late spring to do any cleanup to give the butterflies time to wake up from their winter slumber.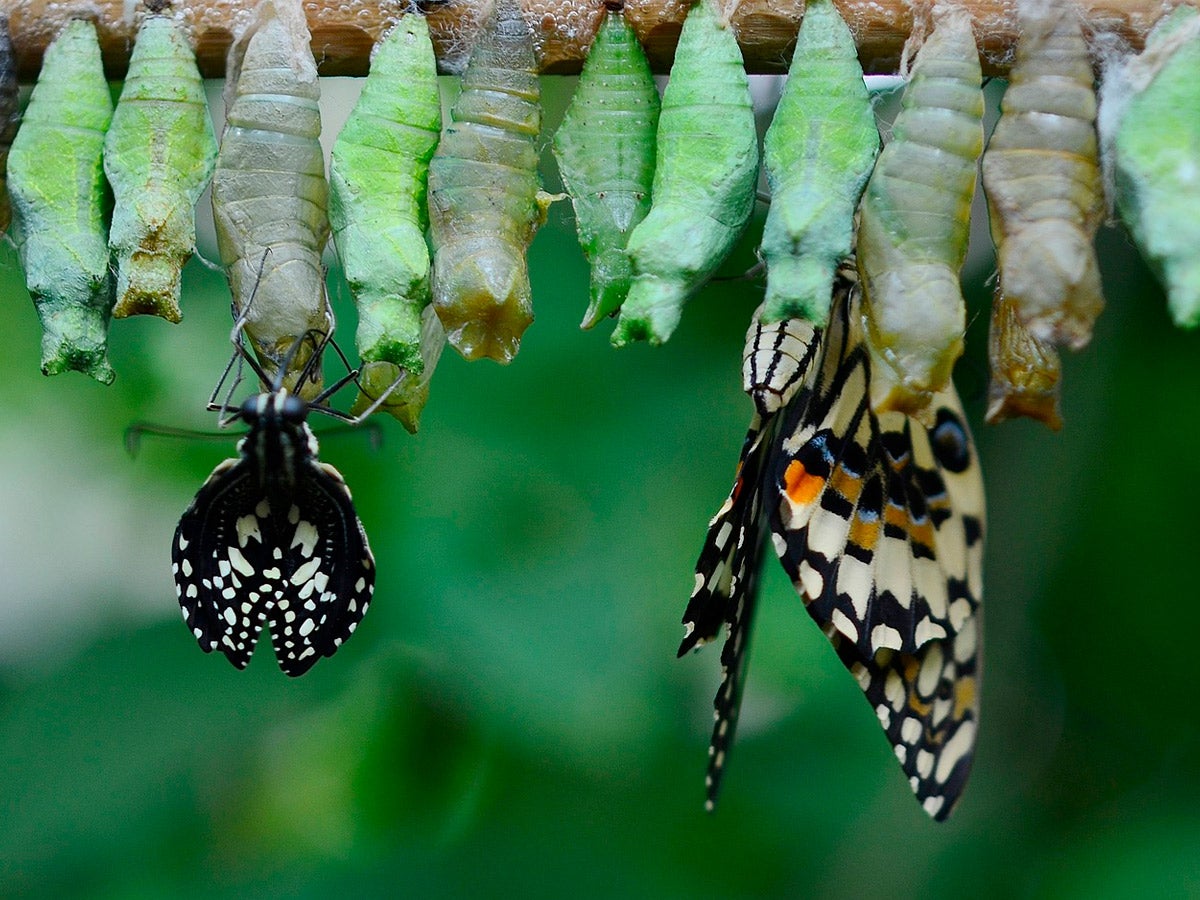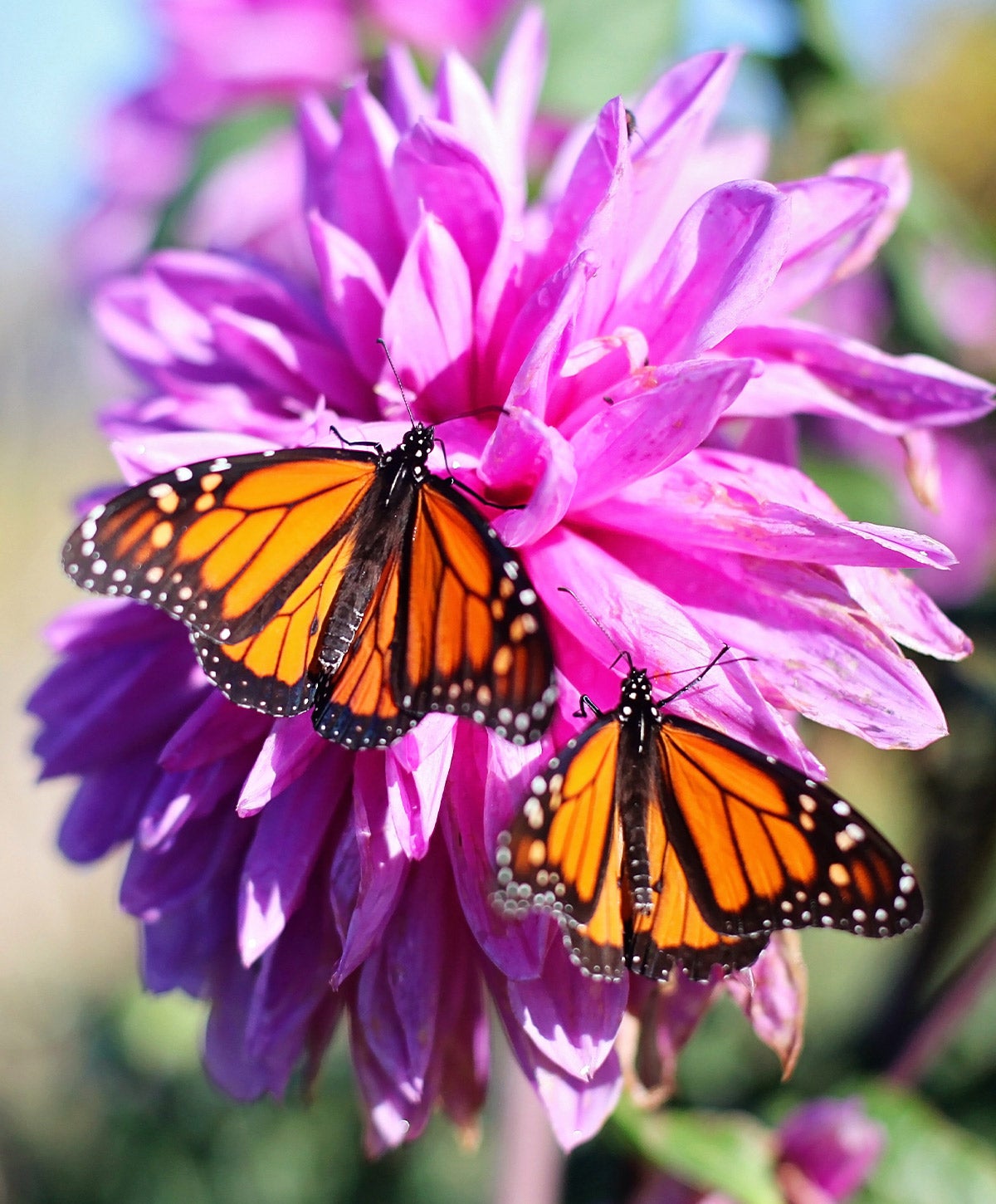 Designing Your Garden
As mentioned before, you'll want to consider where to place your garden. Will it be viewable from inside? How much sun will it get? How big will the garden be? All these questions should be considered before starting your garden.
If space allows, you may want to consider creating a path through your garden so all parts are reachable without having to walk through any plants to get to others. Smaller plants should also go in front of the bigger ones to ensure they won't compete for sunlight, and if you create a garden with a border, be sure to plant your plants in mounds as when it rains the runoff won't drown your plants.
The Butterfly Effect
You may be tempted to "go big" on your first try but starting small and slowly expanding will be key to make sure your garden succeeds. If you live in an apartment or just want a small garden, consider using plants that double as host and nectar plants, which include Dames Rocket, Kale, and all types of milkweed. It will take time to figure out what works and what doesn't for you and your garden. Enjoy!