Skip to content
Skip to navigation menu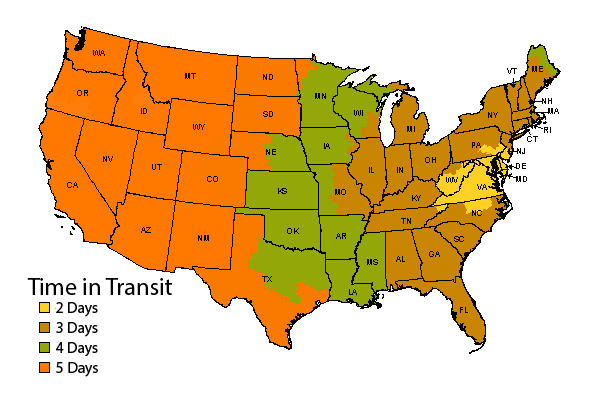 Delivery time estimates do not apply to personalized, large or heavy items (over 20lbs.) that require special shipping, items shipped directly from the manufacturer, or out-of-stock items.
Delivery estimates only apply to the contiguous United States. Saturday, Sunday and national holidays are not considered business days for these estimated transit days.
Best Woods For Outdoor Furniture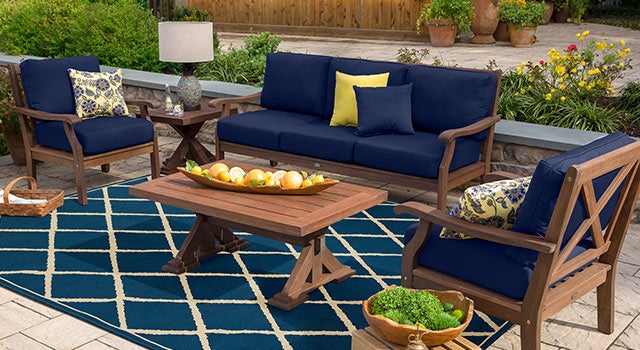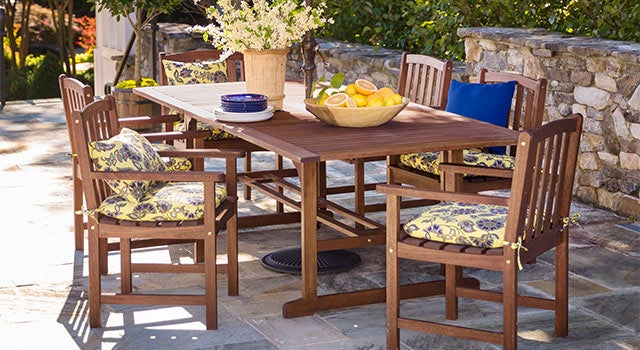 Not all woods are created equal when it comes to year-round outdoor performance. Only a few varieties, out of the hundreds available, are durable enough to withstand drenching rains or the harsh rays of the sun.
For a piece of Outdoor Wood Furniture to stand up to the ravages of nature long term - even in a relatively mild, balmy climate - it must be made of a wood with some natural resistance to rot and insect infestation.
How Woods Work to Resist Rot
Woods work in two very different ways to resist rot. Chemical compounds offer the first rot-resisting solution. Some woods, such as redwood, cypress, and the cedars, contain these chemical compounds that bugs, bacteria, and other agents of decomposition find offensive, so they look for their meals elsewhere.
Physical barriers account for the second form of rot resistance. Woods such as white oak and black locust feature structures called tyloses that fill the pores of the wood, preventing moisture, and the decay-causing creatures that thrive in moisture, from getting into the wood in the first place.
Whether chemically or physically, the result is the same - these woods stand up to the elements, season after season.
Wood Types

Northern White and Western Red Cedars
Both of these woods are native to North America and are traditionally used for boat building, house siding and furniture. They're valued for their combination of lightweight, interesting grain pattern and extreme durability in outdoor conditions. Although cedar will show knots and cracks in the grain, it maintains its durability for 20 years or more without warping, splitting or rotting. Its light-colored surface will weather to a silver-gray patina.

Teak
The king of durable woods, teak will hold up long enough to pass down to the next generation. It needs no maintenance (aside from the occasional light sanding or cleaning to remove surface dirt), is dense and straight-grained, and will not warp or crack over time. Because of its high mineral content, teak resists rotting even in the wettest conditions. Over time, the surface of the wood will weather to a beautiful silver-gray patina.

Eucalpytus
A renewable resource - eucalyptus is a plantation-grown hardwood that is sustainably harvested and in plentiful supply. This high-quality, kiln-dried timber is incredibly solid with great durability and strength and has beautiful grain and a smooth finish that requires minimal maintenance. Eucalyptus is extremely dense, rot- and decay-resistant with a high oil content that repels water and moisture. It also weathers to a soft gray if left untreated, however, it can be stained to maintain its rich tones.

Native White Oak
Its unique cell structure repels moisture, insects and rot. The famous American sailing ship, Old Iron Side, was built with white oak and could repel British cannon balls. Dense and straight-grained, white oak furniture has an oil finish and can be left to weather to a gray patina or cleaned and re-oiled annually.

Acacia (Locust)
Many varieties of acacia (or locust) grow around the world and are renowned for their long-term, outdoor durability. Locust fence posts are often the last thing standing long after the fence itself is gone. Acacia is a moderately heavy, dense wood with interesting variable grain patterns. An oil finish can bring out the character of the grain or it can be left to weather to a dark gray.

Taking Good Care
For unfinished woods, which generally turn a beautiful silver or gray as the years go by, a light sanding with 150- or 180-grit sandpaper once a year will knock down any fuzzy grain (caused by rain and/or snow), eliminate any larger fibers that could cause splinters, and generally give the wood a clean, smooth look. Don't be overzealous in sanding, however: You don't want to sand through the silver and expose the original color of the wood once the furniture is on its way to developing a natural patina. Furniture with an oil finish should be sanded in the same manner - once a year - then given a light coat of whatever oil the manufacturer or retailer recommends. To help refresh, brighten and protect your outdoor furniture, cushions and accessories, see our selection of easy-use, eco-friendly Outdoor Furniture Cleaners.
Protecting Your Investment
Outdoor Furniture Covers help extend the life of your outdoor furniture and keep the surface clean, smooth and ready-to-use when warm weather arrives. For painted wood or metal furniture, covers minimize annual maintenance and offer quick clean up. Simply take the cover off your patio furniture in the spring to reveal clean, beautiful, ready- to-use furniture.
Learn all about outdoor wood furniture and which kind of wood is most durable and long lasting. Plow & Hearth explains the differences in this quick article.
Learn all about outdoor wood furniture and which kind of wood is most durable and long lasting. Plow & Hearth explains the differences in this quick article.