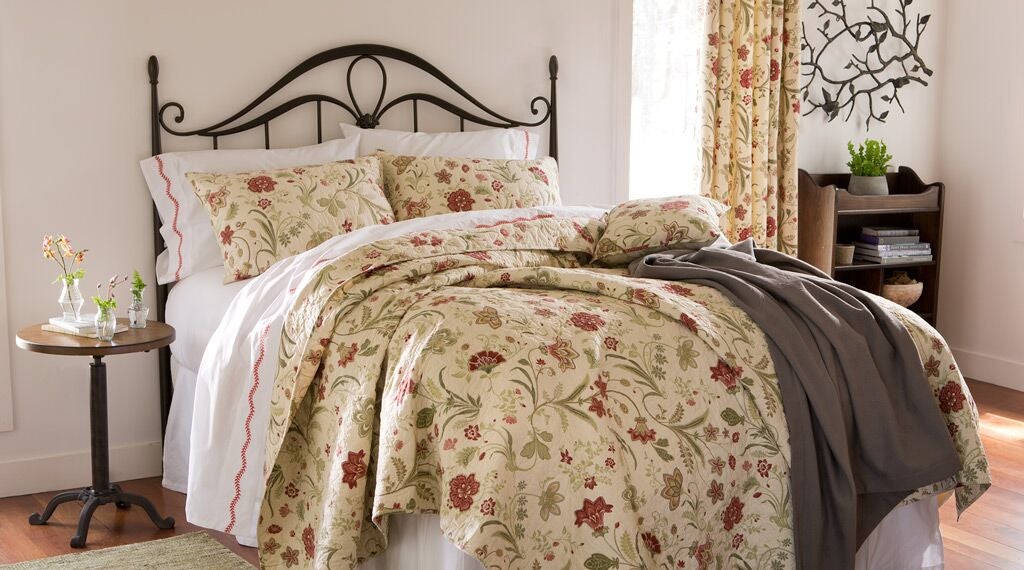 Buyers' Guide:
Need-to-Know Bedding Terms
Updating your bedding is one of the easiest, most cost-effective ways to make over your bedroom. But with so many bedding types and styles available, it can be difficult to narrow down the ones that will give you the look you're going for—and, most importantly, the ones that will ensure the best sleep possible.

Rest easy! Our bedding glossary will help you make sense of the myriad of bedding options out there so you can put together the ensemble that's right for you.
Bedding Basics
What do all those terms actually mean? If you've ever wondered about the difference between a quilt, a comforter, and a duvet cover, or why you should think about thread count, this section is for you.
bed skirt
A decorative piece used to cover the box spring and legs of the bed. Also known as a dust ruffle.
bedspread
A bed cover with sides that go to the floor, negating the need for a bed skirt. Also known as a spread.
box pleat
A pleat consisting of two parallel creases facing opposite directions and forming a raised section in between.
comforter
A bedcover filled with feathers, down or other natural or man-made fibers. Can be plain or feature colors, patterns, and/or decorative stitching.
What's the difference between a comforter and a duvet?

Comforters and duvets both offer thick, fluffy ways to add warmth to your bed without a lot of layers. Duvets are plain, filled inserts used inside a washable, decorative duvet cover (like a pillow in a pillowcase) that can be swapped out when you want a new look. Comforters are usually used alone. They're quilted, and come in various colors and patterns to blend with your bedroom decor.
drop
Commonly used in bed skirt measurements; refers to the length of the skirt measured from the box spring to the floor.
duvet
A soft, flat bag filled with feathers, down or other natural or man-made fibers that acts as an insert for a removable duvet cover.
duvet cover
A lightweight, removable cover with three closed sides and one open side that fits over a duvet. Also known as a comforter cover.
gusseted pillow
A pillow with rectangular panels along its four sides to increase loft.
hypoallergenic
Having a lower incidence of allergic reaction, either naturally or as a result of special washes/treatments.
Do I need hypoallergenic bedding?

If you are asthmatic or prone to allergies, definitely. But even if you aren't you'll still enjoy better, healthier sleep with hypoallergenic bedding. For bedding to qualify as hypoallergenic, the materials from which it's made must be naturally averse to dust and dirt in its raw state, washed of all impurities at a high temperature, then sterilized while drying. The result is a naturally clean, temperature regulating and moisture wicking bedding that will ensure easier breathing and sounder sleep.
loft
Refers to the thickness of a pillow, comforter, quilt, or fabric.
mattress pad
A padded fabric that fits over a mattress and under the bottom sheet for protection and/or padding.
Oeko-Tex®-certified
Fabric that has been tested for the presence of harmful substances by the OEKO-TEX® Standard 100, an independent testing and certification system.
quilt
Consists of fabric top and bottom layers with batting in between, stitched together in artful patterns for beauty and warmth.
sham
A decorative covering for a standard pillow, often designed with trims, ruffles, flanges, or cording. Note: a Euro sham is a decorative covering for a square pillow.
split corners
On a bed skirt, corners at the foot of the bed that are constructed without seams to create an opening to accommodate bed posts.
thread count
The number of vertical and horizontal threads per square inch in a woven fabric. Higher thread counts result in a tighter weave & a smoother, more durable fabric.
Is thread count important?

It is – but not as important as fiber quality. Some sheet manufacturers claim a thread count of 600-1000, but the fiber quality is much lower, resulting in a sheet that doesn't feel nearly as soft and smooth as a high-quality one with a lower thread count. A thread count of 180 is a good place to start when buying sheets made with high-quality fibers in a good weave (percale is an excellent choice), while going up to 280-300 will offer an extra-luxurious hand.
throw
Smaller than a standard blanket and used primarily as a decorative or coordinating accent.
weight
The thickness of a fabric based on its type and how it has been woven.
Fabrics & Fills
When it comes to bedding fabrics, you can choose based on the look you're going for, whether you're a warm or cool sleeper, how easy the material is to care for, and more.
acrylic
A synthetic fabric that is machine-washable and wrinkle-resistant.
bouclé
A woven or knitted fabric made with novelty yarn to create a rough, looped, or knotted textured surface.
brocade
A rich fabric, usually silk, woven with a raised pattern, typically with gold or silver thread.
brushed cotton
Cotton fabric that has been finished so as to raise the surface fibers (see also flannel).
down
The soft, fluffy substance culled from the underside of a bird (usually goose or duck), known for its lightweight, naturally heat-retaining properties.
Is "down" the same as "feathers?"

No! Down is the under covering of a bird; feathers are the outer covering. Feathers are fine for decorative pillows and cushions, but you definitely want down when it comes to comforters and other bedding basics. Down is warmer, softer, and doesn't have those sharp quills that come through the material to poke you in your sleep!
chenille
A luxuriously soft, textured fabric characterized by a thick pile.
combed cotton
An extremely soft version of cotton made by specially treating the cotton fibers before they are spun into yarn.
fill
A layer of insulation or cushioning between fabrics; also known as batting. Note: polyfill is a synthetic fiber used for this purpose.
flannel
A soft, very warm woven fabric made of wool, cotton or synthetic fibers.
Why do I see "weight" listed for flannel sheets instead of thread count?

Weight (not thread count) is what determines the quality and softness of flannel sheets. Flannel sheets with a weight of 5 ounces or higher per square yard are what you want for warmth, coziness and durability.
fleece
Fabric with a soft pile that imitates a sheep's furry coat.
hand
The feel of a material as the hand is rubbed lightly over the surface. For example, percale sheets with a high thread count have a cool, smooth hand.
memory foam
Synthetic foam that changes shape in reaction to body temperature, thereby "remembering" the shape of the user to provide body-contouring support.
microfiber
A synthetic weave of tightly woven fibers that offer a smooth, supple surface with a silky hand and natural water repellency.
percale
Closely woven, plain-weave cotton with a thread count of 180 or above. Offers a cool, crisp feel when used for sheets.
polyester
An easy-care, synthetic fiber that's machine washable, dries quickly, is wrinkle-resistant, and takes dye easily.
twill
A fabric with a surface of diagonal parallel ridges.
Embellishments & Finishing Touches
Fabrics don't have to be plain! Textured or patterned weaves, embroidery, embellishments, prints, and trim add visual interest so your bedding enhances your home's décor.
appliqué
A needlework technique in which pieces of fabric are embroidered onto a background fabric to create a design.
binding
A narrow length of fabric that is sewn on to cover seams or unfinished edges. (Referred to as "self-binding" when in the same color and fabric as the base fabric.)
diamond stitching
In quilting, contrasting stitches in a diamond pattern.
flange
A strip of fabric sewn around the outside of a blanket or quilt as a border or binding.
gingham
Lightweight, plain-woven cotton cloth, typically checked in white and a bold color.
hand-guided
When a person physically controls or guides the movement of a long-arm sewing machine head to create the stitching pattern.
hemstitch
A decoration used on woven fabric in which several adjacent threads are pulled out and crossing threads are tied into bunches, making a row of small openings.
jacquard
A weave creating an intricate, textured pattern within the fabric. Tapestries, brocades and damask fabrics are all jacquard weaves.
matelassé
A soft, jacquard-woven fabric with a quilted, puckered surface appearance that adds dimension and texture.
mitered corners
A method of hemming two edges so they meet evenly in a crisp fold that is not bulky.
ombre
A French term meaning "shaded" or variegated;" usually refers to a yarn or thread changing gradually from one color to another.
patchwork
Needlework in which small pieces of cloth in different designs, colors, or textures are sewn together.
pick stitching
A line of simple running stitches that catch only a few threads of the fabric, showing very little of the thread on the outer side of the cloth.
piping
A thin decorative trim used to finish a hem or seam, or as an outline.
self-bound edges
A seam that has been sewn so all raw edges are hidden inside the piece for a neater appearance.
stone washing
When fabric is washed with abrasives to produce a worn or faded appearance.
vermicelli stitching
Contoured stitching that never crosses itself.
Whipstitch

A simple stitch used to sew together two separate pieces of material with flat edges.
whole cloth
Refers to an item made from an entire single piece of cloth (as opposed to pieced together).