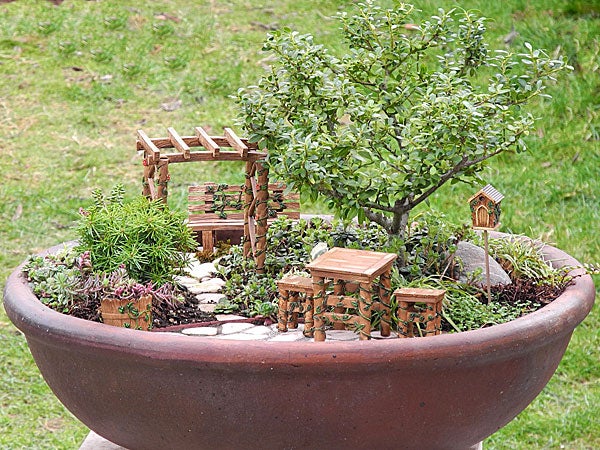 Sure to attract garden fairies and pixies to your yard, this Miniature Fairy Garden Ivy Furniture Set
is a fun and whimsical addition to flowerbeds and planters alike.
Tell your fairies to put on their jeans, tie back their wings and grab their garden gloves because it is time to get planting! Spring is the perfect reason to make a garden for all your fairy homes and accessories that you have collected over the winter. Here is a brief overview of soil and plant selection to get you off on the right fairy foot.
How to Begin
Starting with the right soil is important to give your plants the best environment to grow in. Not all soil is equal and the easiest way to judge is by looking at it. There should be composted material with small barks bits. It should look alive, dark, rich and full of organic matter. Dirt is the lifeless, gray sandy stuff between the cracks in the sidewalk.
If you are planting edibles (plants that you eat) in your fairy garden and you are not sure of the soil quality, you can get it tested first or ask an experienced gardener for advice. If you are planting ornamentals, like small trees and perennials, you don't have to be as cautious, but you still should see a nice blend of organic matter in the soil.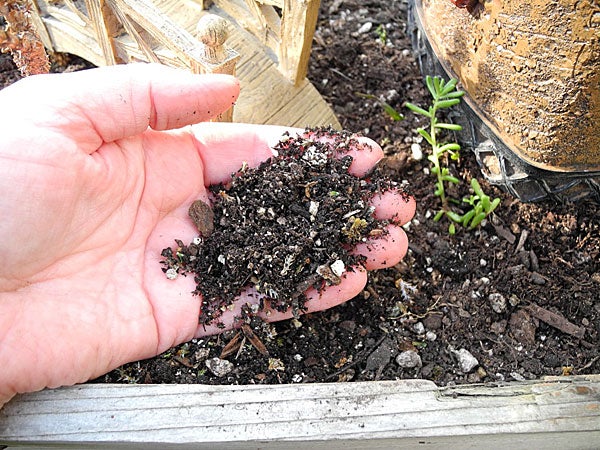 Your soil should have a good blend of compost and bark bits. For this container,
vermiculite, the white bits, are added to improve the drainage of the soil.
Starting New
A brand new garden is an exciting project because you can design it exactly the way you like, but still spend a bit of time on the soil before you begin. There are different types of garden soil in your garden bed: sandy, loamy or clay, for example. This depends on where you live and whether your garden bed has been cultivated, or used as a garden before, or not. Topsoil is meant for adding to garden beds, but compost may be a better choice to introduce more organic matter to the soil.
If the ground can be worked, meaning you can shovel it and loosen the soil; you may only need to add some compost to improve the quality for planting. If the soil is hard clay, consider building on top of the clay by using raised beds. Lasagna gardening is another ideal method for building raised garden beds on lawns without needing to rip-out the grass first.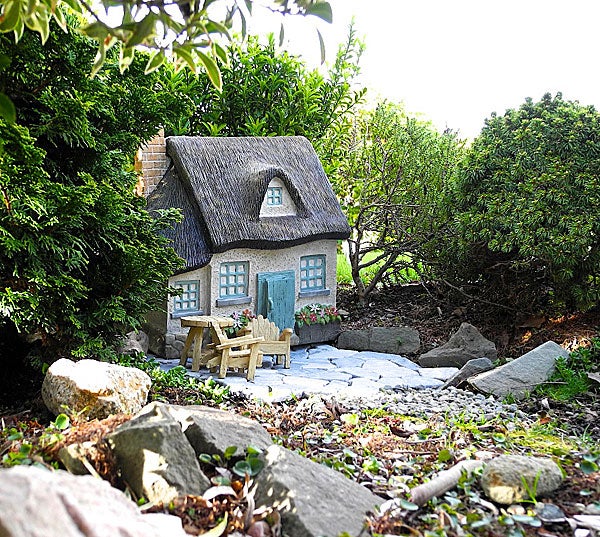 The Gray Fairy Garden Cottage is nestled into an in-ground garden. The creamy
Adirondack Furniture Set is a pretty combination with the blue trim.
Fairy Garden Pots
Potting soil is engineered to have everything that a plant needs to keep the plant healthy. Choose plain organic potting soil with out any added fertilizers or moisture-retention. Different kinds of plants like particular types of potting soil mixes. A cactus, succulents or sedums, for example, like dry roots and will need a different kind of potting soil than a spruce or pine tree where the roots of these conifers need the soil to stay damp. This information is usually noted within the plant's care instructions on the tag. Group plants with the same soil requirements together in the same pot. Note that topsoil, or soil from your garden bed, is not a substitute for potting soil.
Most plants like a bit of air around their roots. If the regular potting mix does not contain enough drainage material like vermiculite or perlite, you may need to add a handful or two to your soil mix. Providing a good blend of well-draining soil now, will help keep your potted miniature garden together for years.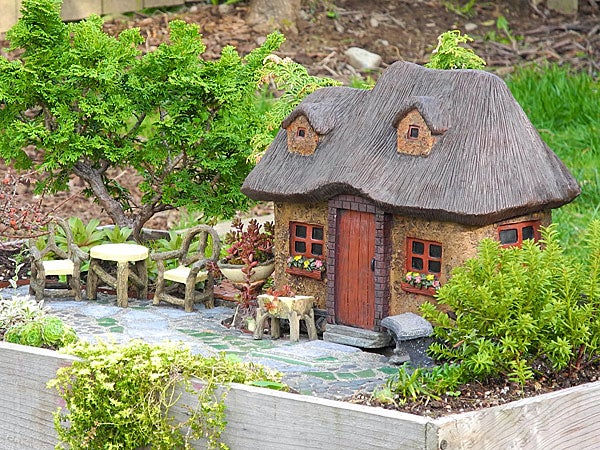 The Miniature Stucco Fairy Garden Cottage with Thatched Roof is a great match with the Woodland Fairy Garden Set.
The colors of the cottage and the woodsy-ness of the furniture add a country feel to this miniature scene.
Selecting Your Place, Selecting Your Plants
Once you start to look for plants for your fairy garden, you will find a lot of different choices that may be a little overwhelming. Narrow down your plant selection by deciding where you want to plant your garden. If you are working in-ground, is the garden bed in shade, part shade or full sun? If you are planting in a pot, where will the pot be placed? Indoors? Outdoors in part sun? Now you can go find the trees and plants to suit that location.
Indoor plants are different than outdoor plants for most regions. Indoor plants are tropical plants that need to stay 60 degrees or above all year, and they adjust their growth spurts and flowering time by the amount of daylight. Outdoor plants need the changes in temperatures to know when to go dormant, and when to grow. The golden garden rule, is "right plant, right place," follow this rule for the best success.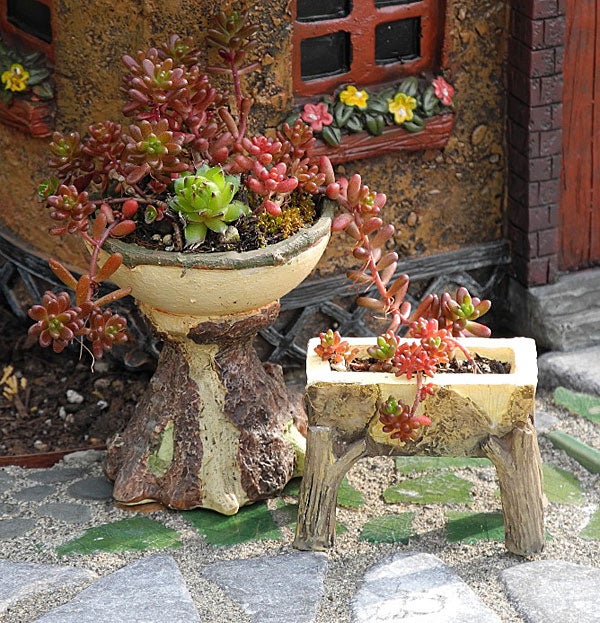 Use Sedum cuttings or small rooted drought-tolerant plant starts for your miniature planters because
that little amount of soil won't be able to say damp. Keep them out or the rain, so the plants don't drown.
---
Janit Calvo is the author of the Gardening in Miniature: Create Your Own Tiny Living World from Timber Press. For more great fairy gardening ideas, visit her web site, Two Green Thumbs Miniature Garden Center.