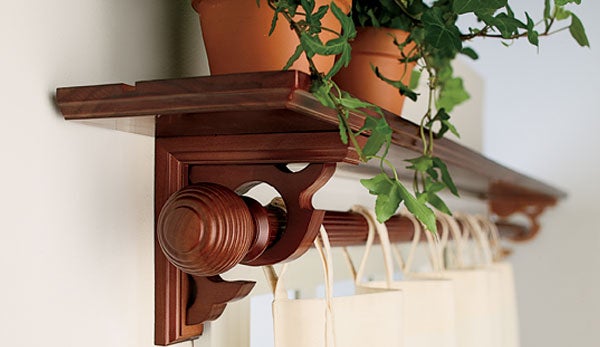 One of the easier and more cost-effective ways to give a room a whole new look includes adding new window treatments. But with so many types and styles of curtains, blinds and drapes to choose from, how can you find the ones that are best for your windows?
What makes shopping for new window treatments even more confusing is the myriad of unfamiliar terms used to describe and classify the different types and styles. (What is a cellular shade, anyway? What's the difference between a curtain and a drapery? And why is it important to know the depth of a rod pocket?)
To make your search easier, we've compiled a mini "dictionary" of some of the terms you'll find to describe common window treatments.
The Basics:
These terms describe the different types of window treatments and their basic components or parts used to describe them.
blinds: Refers to window treatments made of horizontal or vertical slats, kept in place with string, cord or fabric tape. Materials for blinds include plastic, metal, wood and heavy fabric.
curtains: Not to be confused with draperies, curtains are unlined, stationary window coverings. Curtains can be hung over windows using a curtain rod or decorative pole, and are most often held back with tiebacks or holdbacks to let in some light. Curtains can be made of most any lightweight, sheer or semi-sheer fabric.
drape: Not to be confused with draperies, "drape" refers to the way a fabric hangs on the window.
draperies: Draperies are window treatments made of fabric that's heavier than that usually used for curtains. They can be stationary or mobile, and can be used with fabric tiebacks or fixed holdbacks mounted on either side of a window. Draperies can be lined for the purpose of insulation or light blocking and used with a variety of decorative or non-decorative curtain rods. They also come in many hanging styles. Common materials for draperies include brocade, boucle, chenille, damask, suede and velvet.
Draperies are often lined, tailored, and pinch-pleated. They usually stretch from floor-to-ceiling, giving them a more formal look. Draperies are most often seen in a living room, master bedroom, or dining room. They often cost more due to the high quality of the fabric, the fact that they are lined, and the beautiful way they "drape" from the curtain rod to the floor.
hand: This refers to the actual "feel" and draping abilities of a fabric; for example, a fabric with a "soft hand" drapes easily and is soft to the touch.
rod pocket curtains: Also known as a pole top curtain or draperies. rod pocket curtains or draperies have a horizontal sleeve stitched across the top that opens to allow a curtain rod or decorative rod to be slipped through. The curtain or drapery is then arranged to create a soft, gathered look.
shade: "Shades" can refer to blinds, pleated shades, roller shades and other opaque window coverings that can be adjusted to fully or partially expose or cover a window.
sheers: Made of lightweight, translucent and finely woven fabrics, sheers can be used alone to obscure a view while letting in plenty of light or under draperies to create a layered look.
Styles for Every Window:
OK so you've decided whether or not to go with blinds, curtains, shades, or a combination. The fun doesn't stop there! Each of these very different treatments comes in a variety of styles from casual to formal, traditional to modern, classic to cozy. You can even choose styles based on how much or how little light you want to let in These terms explain the different styles available so you can best decide what works for you.
ascot valance: A triangular top treatment usually used between matching panels. A double rod would be used, with the panels on the inside rod and usually 3 ascots on the outside rod for a finished look. An ascot can also be inserted between the panels on a single rod.
blackouts: Blackout draperies are lined or coated window panels made from heavyweight fabric. Blackout draperies are designed to block light and insulate windows so that artificially warmed or cooled air doesn't escape and outside temperatures can't penetrate the rooms as easily. Blackout draperies also reduce exterior noise.
blouson/balloon valance: A straight-across valance that is sewn as a pocket that can be filled with tissue paper for a full, puffy look, or left unstuffed for a more tailored look.
café curtains: Also known as tiered curtains or kitchen tiers, these short, straight curtains cover the lower half of a window. Café curtains are usually paired with some sort of top treatment, such as a swag valance.
cellular shade: Known for a distinctive "honeycomb" fabric construction, cellular shades are multi-layered, pleated shades that trap air to provide a high level of window insulation.
crescent valance: A gathered, half-moon valance usually used with jabots or as top treatments to window panels.
grommet-top curtains: Grommets (or eyelets) are metal, plastic or rubber rings used to reinforce a hole in fabric. Grommet top curtains and draperies are hung using "grommets" or "eyelets" – metal, plastic or rubber reinforced holes in the top of the fabric through which decorative curtain rod can be threaded, instead of using a rod pocket to hang the window treatment.
insert valance: A valance that is usually shorter in width than a regular valance. It is used between two panels or a pair of swags.
panel: A panel refers to a single curtain or drapery. A conventional window treatment requires two panels, also known as a "panel pair."
pinch pleats: A pinch pleat is a three-fold, stitched pleat at the top of a formal drapery panel. The draperies generally are hung on a traverse rod using drapery hooks inserted into the back of the pleat.
roller shade/roll-up shade: Flat fabric, plastic or vinyl shades that roll up onto a cylinder. With roller shades, the cylinder is spring loaded, while with roll-up shades, the shade is drawn up with cords or strings. Roll up shades also can be made of wood.
Roman shade: This fabric window shade creates a tailored, flat look at the window. The classic Roman shade features a flat face fabric that forms pleats as the shade is raised; these pleats are formed by rings threaded with cords or tapes sewn on the back of the fabric that allow the shade to be raised and lowered.
swag: Also known as a jabot, it's a decorative window top treatment that features a soft, curving semicircle centered on the window with fabric hanging down on both sides. Multiple swags can be used on a window to create a highly decorative top treatment; longer swags can also be used alone as a simple window embellishment. Swags can be made from any fabric and are can trimmed with fringe, lace or tassels.
tab-top curtains: Tab top curtains and draperies are hung from fabric loops or tabs sewn across their tops. A curtain rod or decorative pole is threaded through the tabs, creating a window covering that hangs straight and flat.
tailoring: The term "tailored" or "tailoring" refers to panels or valances with simple, straight lines that hang straight down from the rod.
thermal backing: Thermal-backed draperies are coated on the back side of the material with an insulating layer to block light, heat, drafts or sound. They work similarly to thermal-lined draperies, which have a separate lining that acts as the insulating layer. Thermal linings can be obtained separately for regular draperies.
tie tops: Tie-top curtains and draperies have ribbons or tapes sewn across the top that are used to tie the panel to the rod or to rings and create a casual, homespun look.
valances: Valances are decorative window treatments that cover the top part of a window. They can be used as the top layer of a layered window treatment or as alone as a decorative accent.
Material World:
Curtains, draperies and even blinds come in a variety of materials that can add weight or lighten up a room, depending on the look you're going for. Whether a room's crying out for the luxurious warmth of chenille or the springy lightness of traditional gingham, Here are just a few of the most popular materials, along with their benefits.
acrylic: Acrylic is a lightweight fabric that looks and feels like wool, but is machine washable, wrinkle-resistant, and won't fade in the sunlight. Acrylic window treatments are easy to care for and hold up well over time.
bouclé: Boucle is a woven or knitted fabric made with popular novelty yarn to create a rough, looped or knotted textured surface.
chenille: A luxuriously soft, textured fabric characterized by a thick pile. Chenille is usually made from cotton or wool, but also can be constructed of acrylic, rayon or olefin.
damask: Damask is an elaborately patterned, jacquard-woven fabric constructed from silk, linen, wool, cotton or synthetic fibers. Common design themes in damask fabrics include flowers, leaves, fruit and animal figures. Metallic threads can be added to the pattern for effect.
eyelet: A lightweight curtain fabric decorated with small, embroidered holes; the holes are often laid out in a flower pattern. It is also known as "eyelet lace" and is often used as trim.
gingham: A casual cotton or cotton/polyester blend fabric that has a small-scale checkerboard design of colored squares alternating with white squares. Gingham frequently is used for tier curtains.
lace: Lace is a delicate, ornamental fabric woven in an open, web-like pattern, often combined with different types of embroidery.
linen: Linen is a flat-woven fabric made from the fibers of the flax plant. Linen is extremely strong and smooth with a crisp texture. It can also be blended with cotton, silk, and other natural fibers.
polyester: Polyester is an easy-care, synthetic fiber that's machine washable, dries quickly, is wrinkle-resistant and takes dye easily. Polyester is often blended with cotton or with other synthetic fibers.
rayon: A versatile, semi-synthetic fiber made from cellulose, rayon has a shiny finish and superior draping characteristics. Most rayon fabrics need to be dry-cleaned.
silk: Silk is a natural fiber that features a soft hand, lustrous appearance and superior draping qualities. Common types of silk include and dupioni.
suede: Sueded fabrics include cotton, silk or synthetic fabrics designed with a napped finish to resemble the look and feel of leather.
voile: A simple, lightweight, semi-sheer fabric made from cotton, polyester, silk or rayon, voile is a popular as an under-treatment in layered window treatment ensembles.
It's OK To Embellish A Little:
Add texture to a room by adding texture to your window treatments! Fabrics don't have to be plain – textured or patterned weaves, embroidery, embellishments and trim add visual interest to basic fabrics, making your window treatments as much a fashion statement as your furniture or area rugs.
appliqué: Appliqué refers to a needlework technique in which pieces of fabric are embroidered onto a background fabric to create a design.
basketweave: A basketweave is an allover textured design created by an under-and-over weaving process, resembling the weave used to make baskets.
box pleat: Box pleats are evenly spaced and stitched double pleats, with fabric folded under on both sides to create a box. Box pleats are often used as a header for draperies.
burnout: A fabric design produced by dissolving away one or more fibers in a fabric using a weak acid or chemical salt, which destroys some of the fibers to create a relief or silhouette pattern.
embroidery: Embroidery is decorative stitches used to dress up a base fabric. There are many different types of embroidery used to embellish curtains and draperies, including eyelet, chain stitch, cross stitch, crewel and satin stitch patterns.
jacquard: A jacquard weave creates an intricate woven pattern using multiple levels. Tapestries, brocades and damask fabrics are all jacquard weaves.
matelassé: A complex jacquard woven fabric with an embossed, quilted appearance.
slub or slubbed fabric: Small nubs or bumps in a fabric, woven to create a random, allover texture.
The Nuts And Bolts Of Hanging:
No need to settle for the traditional traverse rod if you don't want to (and we explain what that is and how it works, too): today's window treatment hardware options come in a wide array of decorative and functional styles and colors that are sure to add the perfect finishing touch to your ensemble.
brackets: A bracket refers to a piece of hardware attached to a wall or window frame used to support a curtain rod, decorative rod or drapery holdbacks. In wall-mounted brackets, plastic or metal screw anchors are used to install the bracket and add stability and extra support to the rod.
café rod: A café curtain rod is a narrow metal or plastic rod used to hang lightweight curtains that comes in two diameters (½" or ¾").
center draw: "Center draw" refers to drapery traverse rods that open and close from the center.
clip rings: Clip rings are small metal, wood or plastic rings with a clip that are used in hanging curtains or draperies. The rings slide onto the drapery pole or curtain rod and the clips attach to the fabric panels. Clip rings can be used with pinch-pleated draperies in place of hooks.
drapery hooks: Drapery hooks are inserted into the back of the pleats in pinch pleated draperies. The hooks are then threaded onto a carrier on a traverse rod.
finial: A finial is a decorative end piece used to finish or cap the ends of a drapery rod or top of a drapery holdback. Finials come in a variety of shapes, including balls, urns, pineapples, leaves, flowers, scrolls and fleur-de-lis.
holdbacks: Like fabric tiebacks, holdbacks let curtain or drapery panels to be pulled to the sides of the window and held there. Made of metal, wood, resin or plastic, holdbacks are mounted on the sides of the window and come in virtually any shape and design.
tension rod: Tension rods are adjustable, spring loaded curtain rods that mount on the inside of a window frame or between two walls. Most tension rods are telescoping rods with rubber tips, which anchor the rod and eliminate the need for tools when installing.
tiebacks: Tiebacks are slim strips or loops of fabric that fasten drapery or curtain panels to the sides of the window. The most common type of holdback (see above), tiebacks are often made of a fabric that matches the window panel. They can be trimmed with tassels or fringe to create a more decorative look.
traverse rod: Traverse rods are drapery rods (usually hidden) that allow the panels to "traverse," or open and close" across the window. They are usually hung on drapery pins or hooks, which are threaded onto small carriers on the inner side of the rod, allowing the carriers to slide on a draw cord to open or close the draperies.
Back to Top