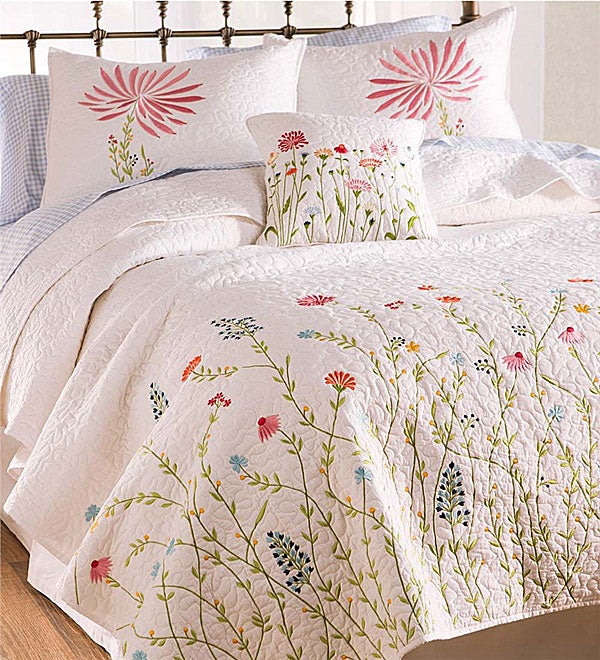 We've come a long way in bedroom décor since the Egyptian pharaohs first moved their beds up off the ground around 3400 BC! One of the easier and more cost-effective ways to give your bedroom a whole new look includes selecting all-new bedding. But with so many bedding types out there, how do you find the ones that are best for you?
What makes shopping for new bedding even more confusing is the myriad of unfamiliar terms used to describe and classify the different types and styles. (What's the difference between a quilt and a comforter? How do you know whether or not you'll need a bed skirt? And what's included in a quilt or comforter set?)
Rest easy – to make your search easier, we've compiled a mini "dictionary" of some common bedding terms.
The Bed



Beds come in different sizes and styles and have different parts – some common to all beds, others optional or decorative. Familiarity with the different sizes and parts will ensure you get the right bedding and let you know exactly what you're getting.

California king bed: A bed that accommodates a mattress size that is 6" narrower and 4" longer than a conventional king-size mattress (also known as a western king).
canopy bed: Similar to a four-poster bed, a canopy bed has a post at each corner that is 4 feet high or taller, with a decorative cover or cloth suspended between the posts.
crib mattress: Most crib mattresses measure approximately 51½"W x 27"L.
finial: A decorative ornament at the top, end, or corner of an object.
footboard: A upright panel forming the foot of a bed.
four-poster bed: a bed with a post at each corner, sometimes supporting a canopy.
frame: Also known as a bedstead, a bed frame is the part of a bed used to position the mattress and base (foundation), and includes head, foot, and side rails. Usually made of wood or metal.
futon: a type of low sofa that can be unfolded for use as a bed.
full bed: At 54"W x 74"L, a full-size bed is the same length as a twin bed, but is about sixteen inches wider (also known as a double bed).
headboard: A upright panel forming or placed behind the head of a bed.
king bed: At 80"W x 76"L (inches), a king-size bed is the same length as a queen bed, but is sixteen inches wider (also known as an eastern king).
queen bed: At 80"W x 60"L (inches), a queen-size bed is six inches wider and six inches longer than a full or double bed.
spearhead: The a rail along the side of a bed connecting the headboard to the footboard.
twin bed: At 39"W x 74"L, a twin-size bed is the smallest size mattress available for adults (also known as a single bed).
twin XL: At 39"W x 80"L, a twin XL bed is six inches longer than a standard twin, making it a more comfortable choice for taller individuals.



Sorting Out the Different Types of Bedding
What do all those terms actually mean? If you've ever wondered what's the difference between a quilt and a comforter, whether or not you really need a bed skirt, or what comes with a quilt set, this section will help you.
bed-in-a-bag: A pre-assembled set that typically includes a comforter, bed ruffle, sham, sheets and pillowcases.
bed skirt: Also known as a dust ruffle, a bed skirt is a decorative piece used to cover the box spring and legs of the bed. It fits between the mattress and box spring and hangs to the floor. See also detachable bed skirt.
bedspread: Also known as a spread, a bedspread is a bed cover with sides that go to the floor. Bedspreads do not require a bed skirt.
comforter: Also known as a duvet, a comforter is a thick, quilted bedcover filled with feathers, down or other natural or man-made fibers.
comforter cover: Also known as a duvet cover, a comforter cover is a sack-like covering with three closed sides and one open side that fits over a comforter to give it a new look.
comforter set: An ensemble that includes a comforter, bed skirt and two standard shams (twin has one sham; queen and queen have two shams).
coverlet: A coverlet is traditionally a lightweight, woven spread used on the top of the bedding. It can be big enough to hang down the sides of a bed or just cover the top of the mattress so that the bed skirt or bed frame is exposed.
detachable bed skirt: A bed skirt that features a hook-and-loop attachment so it can be fitted around the box spring for easy removal.
duvet: See comforter.
duvet cover: See comforter cover.
Euro sham: A decorative casing for square pillows. These are often placed behind the standard size pillow shams as a backdrop, or on top of standard pillows as a coordinated set with a duvet cover.
fitted sheet: Used as a bottom sheet, a fitted sheet's four corners (and sometimes two or all four sides) are fitted with elastic so it "hugs" the mattress, staying in place more firmly. See also flat sheet.
flannel sheets: Sheets made of brushed cotton fabric for extra warmth and softness.
flat sheet: A simple rectangular piece of cloth used as either a top sheet or bottom sheet on a mattress. See also fitted sheet.
mattress pad: A padded fabric that fits over a mattress and is used under the bottom sheet. It both protects the mattress and adds extra softness or padding to the bed.
pillowcase: A removable cloth cover for a pillow.
pillow sham: A decorative cover for a pillow when it is not being used.
quilt: A quilt is a bed cover made up of three layers: a top, the batting (usually cotton or polyester fiber fill) and a backing. The layers are held together with stitching through all three layers. The top layer is usually artfully patterned; the bottom layer can either match the top or offer a contrasting look.
quilt set: A coordinated bed ensemble that includes a quilt, two standard shams (one sham with a twin quilt) and, in some cases, a decorative throw or toss pillow.
reversible quilt: A two-sided quilt that can be used on either side. The pattern may be the same on both sides, or one side may be a coordinating alternative or solid pattern.
sham: A decorative covering for a pillow, often designed with trims, ruffles, flanges, or cording. Pillow shams are normally placed in front of the pillows used for sleeping, which would be covered with regular pillowcases.
sheet set: A complete set that includes a flat sheet, fitted sheet and two standard pillowcases (twin has one pillowcase; full and queen have two standard pillowcases, king has two king pillow cases).
throw: Smaller than a standard blanket, a throw is usually about 50" x 60" and is used primarily as a decorative or coordinating accent when draped over a sofa, chair, foot of a bed, or hung on a wall or rack. Used less for warmth when sleeping, throws a usual for providing warmth while relaxing on a couch or chair.
throw pillow: also known as a toss or accent pillow, a throw pillow is a small, decorative pillow placed on a chair, couch or bed.
Bedding-specific Terms
Here is a list of terms commonly used to describe bedding characteristics, and exactly what they mean.

cotton batting: A layer of compressed cotton fibers used as a fill in quilts.
drop: Commonly used in bedskirt measurements, the drop refers to the length of the skirt measured from the box spring to the floor.
fill: Also known as batting, fill is a layer of insulation or cushioning between fabrics.
flange: A strip of fabric sewn around the outside of a blanket or quilt as a border or binding.
gusseted: Refers to a pillow with rectangular panels along its four sides to increase thickness.
hypoallergenic: Having a lower incidence of allergic reaction - either naturally or as a result of special washes or treatments.
loft: Refers to the thickness of a pillow, comforter, quilt or fabric.
memory foam: Synthetic foam than changes its shape in reaction to body temperature, thereby "remembering" the shape of the person using it and providing more comfortable/body-contouring support.
pockets: The corners of a fitted sheet, sized specifically to accommodate thicker mattresses.
shell: The outermost layer or cover of a comforter.
split corners: On a bed skirt, corners at the foot of the bed, from the platform to the hem, constructed without seams to create an opening to accommodate bed posts. Used on beds without posts, the edges at the corners overlap to conceal the opening.
thread count: The number of vertical and horizontal threads per square inch in a woven fabric. Higher thread counts result in a smoother, more durable fabric.
Materials & Fabrics to Help You Relax



Boucle, jacquard, percale…they sound lovely, but what do they really mean? What can you expect to see when you hear the words, "Jacobean pattern," and what are the advantages and disadvantages of down versus polyfill?
When it comes to bedding fabrics, you can choose based on the look you're going for, whether you're a warm or cool sleeper, how easy the material is to care for, and more. Knowing what the following terms mean can help you make a more informed decision.
acrylic: Acrylic is a synthetic fabric that is machine washable, wrinkle-resistant, and won't fade in the sunlight.
bouclé: Boucle is a woven or knitted fabric made with popular novelty yarn to create a rough, looped or knotted textured surface.
brocade: A rich fabric, usually silk, woven with a raised pattern, typically with gold or silver thread.
brushed cotton: Cotton fabric that has been finished so as to raise the surface fibers (see also flannel).
chenille: A luxuriously soft, textured fabric characterized by a thick pile. Chenille is usually made from cotton or wool, but also can be constructed of acrylic, rayon or olefin.
combed cotton: Combed cotton is an extremely soft version of cotton made by specially treating the cotton fibers before they are spun into yarn.
cotton: Derived from the cotton plant, cotton is a soft, lightweight and breathable fabric that is ideal for bedding because it can be woven into a wide range of patterns, colors, weights and textures.
cotton-rich: Blended fabric with a higher percentage of cotton to give the fabric more of cotton's natural characteristics, such as softness and breathability.
down: The soft, fluffy substance culled from the underside of a bird (usually goose or duck) that is used to fill pillows, comforters and mattress toppers. Known for its lightweight, thermal properties, down naturally contracts to retain warmth when the temperature drops.
eyelet: type of decorative cutwork in which the edges of a small hole are finished with embroidery.
flannel: Flannel is a soft, light, woven fabric made of wool, cotton or synthetic fibers. Flannel sheets, while soft, are often exceptionally warm.
fleece: Fabric with a soft pile in imitation of a sheep's furry coat.
gingham: Lightweight plain-woven cotton cloth, typically checked in white and a bold color.
lace: Lace is a delicate, ornamental fabric woven in an open, web-like pattern, often combined with different types of embroidery.
Microfiber: A synthetic weave of tightly woven fibers that offer a smooth, supple surface with a silky hand and natural water repellency.
percale: Closely woven, plain-weave cotton with a thread count of 180 or above
plush: A fabric having a cut nap or pile the same as fustian or velvet.
polyester: Polyester is an easy-care, synthetic fiber that's machine washable, dries quickly, is wrinkle-resistant and takes dye easily. Polyester is often blended with cotton or with other synthetic fibers.
polyfill: A synthetic material used as cushioning in pillows and bedding.
sateen: A luxury fabric woven very tightly, using the satin weave technique, which imparts a subtle sheen and a soft, silky hand.
satin: Fabric woven and finished to create a very smooth, lustrous face appearance.
silk: Silk is a natural fiber that features a soft hand, lustrous appearance and superior draping qualities.
suede: Sueded fabrics include cotton, silk or synthetic fabrics designed with a napped finish to resemble the look and feel of leather.
twill: A fabric with a surface of diagonal parallel ridges.
It's Okay to Embellish a Little



Fabrics don't have to be plain – textured or patterned weaves, embroidery, embellishments, prints and trim add visual interest to basic fabrics so that your bedding adds to the look of your home's décor.
appliqué: Appliqué refers to a needlework technique in which pieces of fabric are embroidered onto a background fabric to create a design.
binding: A narrow length of fabric that has been sewn on to cover seams or unfinished edges. Referred to as "self-binding" when in the same color and fabric as the base fabric. Contrasting binding is of a different color, pattern or fabric.
box pleat: A pleat consisting of two parallel creases facing opposite directions and forming a raised section in between.
damask: Damask is an elaborately patterned, jacquard-woven fabric constructed from silk, linen, wool, cotton or synthetic fibers. Common design themes in damask fabrics include flowers, leaves, fruit and animal figures. Metallic threads can be added to the pattern for effect.
diamond stitching: In quilting, contrasting stitches in a diamond pattern.
embroidery: Embroidery is decorative, ornamental needlework stitches used to dress up a base fabric. Embroidery can be machine woven or done by hand.
ground: Background color or fabric against which a fabric is overlaid.
hand-guided: Hand guiding is when a person physically controls or guides the movement of the long-arm sewing machine head to create the stitching pattern.
hand stitch: Sewing done by hand instead of a sewing machine.
hemstitch: A decoration used on woven fabric, especially alongside a hem, in which several adjacent threads are pulled out and the crossing threads are tied into bunches, making a row of small openings.
Jacobean: Jacobean patterns refer to the floral scrolled designs popularly appearing on fabrics during the reign of King James I of England during the early 17th Century.
jacquard: A jacquard weave creates an intricate, textured pattern within the fabric. Tapestries, brocades and damask fabrics are all jacquard weaves.
machine woven: Fabric that has been created by interlacing two distinct threads on a machine.
matelassé: A soft, jacquard-woven fabric with a quilted, puckered surface appearance that adds dimension and texture. Used most often in coverlets.
mitered corners: A method of hemming two edges so they meet evenly in a crisp fold that is not bulky.
Oeko-Tex®-certified: Fabric that his been tested for the presence of harmful substances by the OEKO-TEX® Standard 100, an independent testing and certification system for textile raw materials, intermediate and end products at all stages of production.
ombre: A French term meaning "shaded" or variegated;" usually refers to a yarn or thread changing gradually from one color to another.
patchwork: Needlework in which small pieces of cloth in different designs, colors, or textures are sewn together.
pick stitching: A line of simple running stitches that catch only a few threads of the fabric, showing very little of the thread on the outer side of the cloth.
piping: A thin decorative trim used to finish a hem, seam or as an outline. Can be the same or contrasting fabric.
print: In fabric, color bonded with the fibers in pictures or patterns to resist washing and friction.
pre-washed: Fabric that has been washed before being sewn to reduce the likelihood of shrinking.
quilting: the process of sewing of two or more layers of fabric together to make a thicker padded material.
self-bound edges: A self-bound edge or seam is a seam that has been sewn so that all the raw edges so that the inside of the piece for a neater, tidier appearance.
silk screen printing: A printing technique whereby a mesh is used to transfer ink onto a surface.
stone washing: When fabric is washed with abrasives to produce a worn or faded appearance.
tapestry: A piece of thick fabric with pictures or designs formed by weaving colored weft threads or by embroidering.
upholstery: Fabric added to furniture as a cover.
vermicelli stitching: Contoured stitching that never crosses itself.
weight: The thickness of a fabric based on its type and how it has been woven.
whipstitch: A simple used to sew together two separate pieces of material with flat edges.
whole cloth: Cloth of the full size as manufactured, as distinguished from a piece cut off for a garment or other item.